Oscar Isaac Wants Moon Knight To Team Up With This Classic Avenger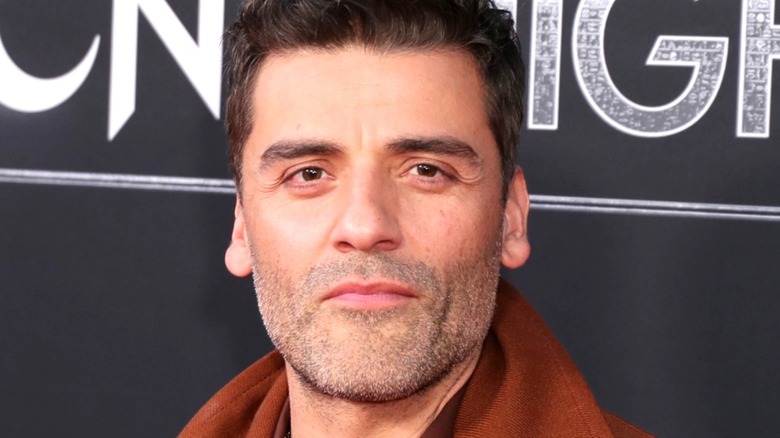 Bennett/Getty
Episode 1 of "Moon Knight," which is the latest Disney+ Marvel series, premiered on March 30. As of the episode's airing, its protagonist Moon Knight (Oscar Isaac) is now officially a part of the Marvel Cinematic Universe. Naturally, then, some viewers are already speculating how Moon Knight might ultimately fit into the bigger MCU picture, given the frequency with which its heroes cross over with one another.
Moon Knight happens to fall in the mystical camp of Marvel heroes, meaning that some fans expect a team up with Dr. Strange (Benedict Cumberbatch) at some point in the character's future. However, "Moon Knight" showrunner Jeremy Slater claimed that there are no current plans for Moon Knight to join the Avengers, suggesting that, at the very least, crossovers with other MCU properties may ultimately be limited. In fact, Episode 1 of "Moon Knight" was notably light on references to other Marvel shows, further indicating that its titular character may largely stand on his own — at least for the time being.
As it turns out, a recent interview about the series revealed that Isaac himself is among those with thoughts about a potential Moon Knight crossover, specifying one Marvel hero in particular he wants his character to meet.
Isaac wants Moon Knight to meet up with the Hulk
In conjunction with the premiere of "Moon Knight" Episode 1, Screen Rant published an interview with producer and director Mohamed Diab, during which they asked if there's another Marvel character he might be interested in directing. Diab revealed that The Incredible Hulk (portrayed by Mark Ruffalo in the Marvel Cinematic Universe) would be his first choice, citing Oscar Isaac's desire to see Moon Knight and the Hulk team up as his principal reason.
"I love a lot of people. I love everyone in the MCU," Diab said. "Oscar said this idea about teaming up with the Hulk. It's a crazy idea to have two people, in a way, who have two characters interacting with each other. Just imagine that back and forth, back and forth, between the four of them. It would be so interesting. I like Mark Ruffalo, for sure. I love everyone, but I'm telling you that interaction could be very interesting."
The four characters Diab is referencing are the split personalities of Bruce Banner and the Hulk embodied by Ruffalo's character, and the dual identities of Marc Spector and Steven Grant that manifest in Isaac's character. The Hulk and Moon Knight, then, are uniquely suited for one another, given that they're the only MCU protagonists to house multiple personalities, hence Isaac's desire to unite the two of them one day.