The Last Movie Helen McCrory Was In Before She Died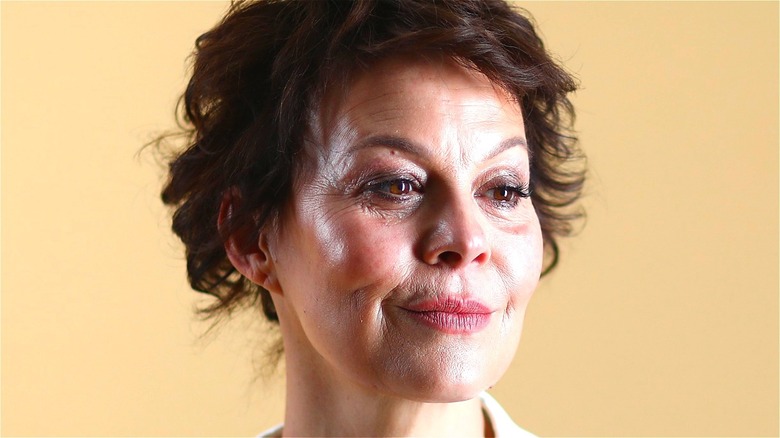 Tim Whitby/BFC/Getty
An accomplished actor for over two decades, Helen McCrory has appeared in everything from independent films to some of the biggest franchises in screen history. With such a large body of work and a reputation as an intelligent and strong person, it was a major loss when the actor passed from cancer in 2021, survived by her husband, fellow actor Damian Lewis, and two children (via The Guardian). Highly respected in the entertainment community, many friends and peers lamented the loss, with "Prodigal Son" star Michael Sheen calling her "one of the greatest actors of our time."
McCrory has appeared in properties such as "The Count of Monte Cristo" and "Penny Dreadful," but she is perhaps most recognized for her work in both the Netflix period drama "Peaky Blinders," in which she plays the formidable Polly Gray, and the "Harry Potter" film franchise (via IMDb). "Harry Potter" has employed many familiar faces in the series, including McCrory, who appears as Narcissa Malfoy, the matriarch of the Malfoy clan of Death Eaters. 
The actor has left behind an impressive career, as well as one last role that audiences have yet to see her in. So what is McCrory's final film, set to come out this year?
Her last movie is an upcoming animated feature
McCrory's final film is one of incredible substance and based on a true story. Entitled "Charlotte," the film depicts the real-life story of Jewish artist Charlotte Salomon (voiced by Keira Knightley) who had aspirations of becoming an artist in Germany during World War II (via The New Yorker). 
Because of her lineage, Charlotte escapes Germany to live in the south of France during the war. There, she cultivates her art, using it as an outlet and a way to comment on her experiences. "Charlotte" already premiered at the Toronto Film Festival last September and has many acclaimed actors involved, including Knightley, who has been nominated for two Oscars (via Deadline). Marion Cotillard, Mark Strong, Sam Claflin, and Jim Broadbent all lend their voices alongside Knightley and McCrory. The late actress plays the part of Paula Lindberg-Salomon, Charlotte's stepmother (via IMDb).
The film tells a tale of art's purpose in the middle of extreme hardship and tragedy, an impactful story that will only add to McCrory's legacy. Fans will be able to experience it for themselves when the film premieres for U.S. audiences in April (via Collider).