The Staggering Amount Of Time Netflix Viewers Spent Watching Bridgerton Season 2's Debut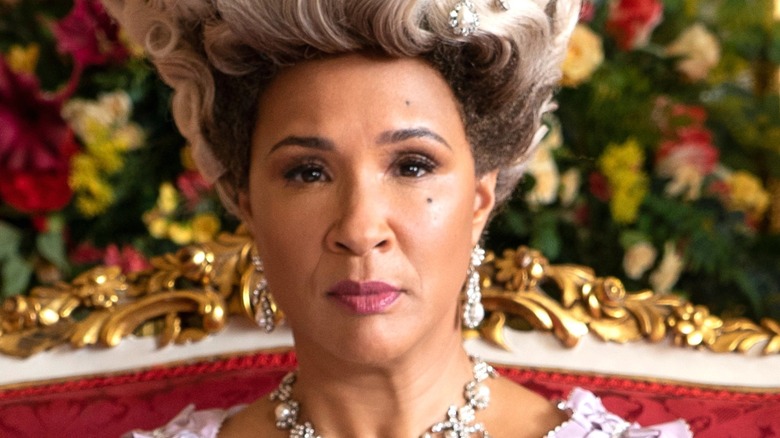 Liam Daniel/Netflix
Not many of the TV shows that were released in 2020 or 2021 ended up being quite as popular as "Bridgerton." The period drama from creator Chris Van Dusen and producer Shonda Rhimes premiered its first season in December 2020 and quickly broke viewership records for Netflix in its first month on the streaming service (via The Hollywood Reporter). The series made stars out of its two leads, Regé-Jean Page and Phoebe Dynevor, and was quickly renewed for a second season.
Fortunately, after waiting a little over a year for its return, "Bridgerton" fans were finally treated to the series' second season in late March. The show's sophomore season shifts its focus away from the central couple of its first and, instead, centers on the love affair that grows between Viscount Anthony Bridgerton (Jonathan Bailey) and Kathani "Kate" Sharma (Simone Ashley) after the former sets out to try and marry Kate's younger sister, Edwina (Charithra Chandran).
While it still remains to be seen whether or not "Bridgerton" Season 2 will make as lasting of a pop-cultural impact as the show's debut season did, fans don't need to wonder any longer about the series' return performance on Netflix.
Netflix viewers spent over 193 million hours watching Bridgerton Season 2
Throughout the week of March 21, Netflix subscribers spent 193,020,000 hours watching "Bridgerton" Season 2. In case that number wasn't impressive enough, it's worth noting that "Bridgerton" Season 2 officially premiered on Netflix on March 25, which means it racked up nearly 200 million viewership hours in just three days. According to The Hollywood Reporter, that also means "Bridgerton" Season 2 has done better in its first three days on Netflix than any of the streaming service's English-language shows. The only season that has ever topped it is Part 5 of "Money Heist," which Netflix subscribers spent over 201 million hours watching in its debut weekend.
Taking all that into account, it probably goes without saying that "Bridgerton" Season 2 easily beat its competition in the Netflix Top 10 rankings for the week of March 21. Season 1 of "Is It Cake?" placed second in the week's English-language TV rankings with 48,940,000 viewership hours, while the first season of "Bridgerton" placed third, thanks to Netflix viewers dedicating a little over 32 million hours to it.
Based on the show's viewership numbers, it seems safe to say that Netflix made the right decision when it chose to hand out third and fourth season renewals to "Bridgerton" back in April 2021 (via Deadline).