Charlie Cox Talks About What's Next For Daredevil After The Defenders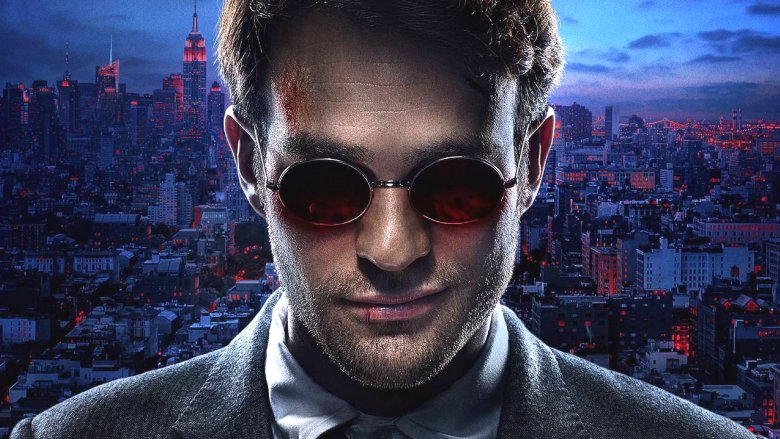 Warning: This article contains spoilers for The Defenders.
The Defenders pulled out quite a few surprises throughout its run, but the most shocking one came halfway through the finale, when Daredevil (Charlie Cox) ditched the rest of the team to keep duking it out with Elektra (Elodie Yung) under Midland Circle, despite the fact that the building was about to go down. The rest of the team assume that Matt died in the explosion, but, after clips of them mourning pass by, it is ultimately revealed that he somehow survived, with the camera zooming out on a bruised but definitely alive Matt laying in a bed in a nunnery. 
Matt's survival isn't all that surprising, considering the fact that Daredevil season three was officially ordered way back in 2016. Cox, who is set to begin production on the upcoming season by the end of the year, said in an interview with The Hollywood Reporter that knowing Matt would be back made reading through his death in the Defenders finale much less scary, while also opening up a lot of doors for what's ahead.
"It was an interesting way to end it," Cox said of the decision to show Matt waking up. "It's kind of a cliffhanger, and kind of not. I don't know what it means for season three, going forward for Matt. It obviously presents him with some pretty interesting options when he reengages with life. Will he reconnect with people? Will he find Foggy and let him know he's okay? Will he not? I'm very excited to find out what his game plan is going to be, once he gets his s*** together."
Cox saying he's excited to find out what's next makes it seem like he's still in the dark for what's coming, and he basically confirmed as much by saying that he doesn't want to speculate on what could be up next because he's been wrong in the past. However, he did comment on the idea that the final shot of the series and the mention of a Maggie (the name of Matt's mother) could connect to the Born Again arc in the comics.
"That's such an amazing story," he said. "Having said that, I know we don't tend to follow any story blueprints too closely, because if you do, then you become a foregone conclusion. There may be elements from Born Again, but I'm sure there will be elements that are unfamiliar and surprising and different in order for the show to be compelling to fans who know the comics very well."
Cox also commented on the idea that Danny Rand (Finn Jones) could at least temporarily take over the Daredevil moniker while Matt is away, saying that the relationship between Matt and Danny was one of his favorite parts of The Defenders. "That friendship, there's definitely a lot of room for it to grow," he said. "I loved working with Finn. We had a great time. He's a true professional. If he's involved somehow further on, wearing the Daredevil suit? Yeah, for sure."
Daredevil season three doesn't have a release date yet, although 2018 seems like a safe bet. While we wait to learn more about Matt's fate, see some Easter eggs you may have missed in the team-up series.