Mrs. Davis - What We Know So Far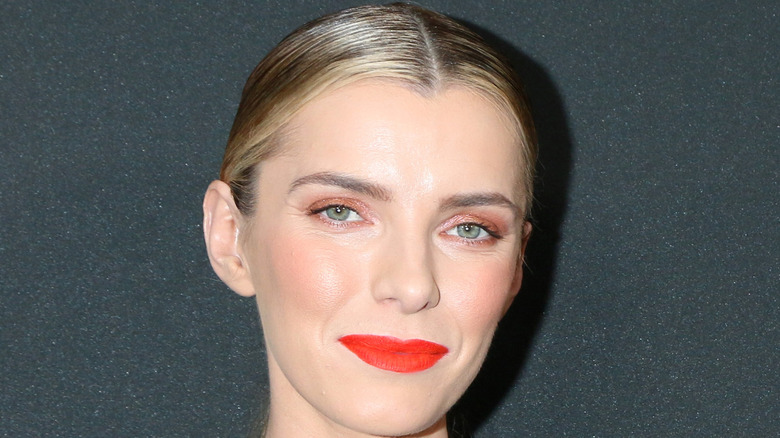 Kathy Hutchins/Shutterstock
Damon Lindelof has his fingerprints all over science fiction film and television from the past two decades, whether it's the seminal ABC drama "Lost," the controversial "Alien" prequel "Prometheus," or his HBO television sequel to the comic of the same name, "Watchmen." Now he's developing a project for NBC streamer Peacock alongside former "Young Sheldon" writer Tara Hernandez.
"Mrs. Davis," a new genre series for the service, will be co-written by Lindelof and Hernandez, and Hernandez will serve as showrunner (via Variety). Hernandez told Variety when the series was first ordered in 2021 that "In a year that has felt totally surreal, partnering with Damon to craft the world of 'Mrs. Davis' truly takes the cake." The writer also commented that "I am at a loss for words. I promise to find them as we bring this wonderfully weird story to life."
So far, there's not too much information known about the upcoming show, though there is sure to be new casting announcements and plot information as "Mrs. Davis" heads to production.
Betty Gilpin will play a dangerous nun up against an A.I.
"Mrs. Davis" was first announced in the spring of 2021 by the network as a straight-to-series order (via Variety), but casting of the lead was only announced very recently. Betty Gilpin has already demonstrated her passion and range in a number of projects, including her vengeful wife turned wrestler in "G.L.O.W." and her role in a previous Lindelof collaboration, "The Hunt." Now she'll play the title character of "Mrs. Davis" for the Peacock series. Her casting here is not only excellent but shouldn't be a surprise to anyone who has noticed her outstanding performances over the past five years. Unfortunately, no other cast members for the series have been announced as of March 2022.
Few of the plot details for the Peacock sci-fi series "Mrs. Davis" have been officially announced, but we know that Gilpin will play the title character, "a nun who goes to battle against an all-powerful A.I." (Variety). One article also described the show as "an exploration of faith versus technology and an epic battle of biblical and binary proportions," while Hernandez described the tone as being "wonderfully weird" (via Variety). It sounds like the upcoming Peacock series is in keeping with Lindelof's other ambitious shows about faith versus reason, including "Lost" and "The Leftovers," and fans of his are likely very excited to learn more as "Mrs. Davis" gets closer to release.