Millie Bobby Brown Reveals Her Favorite Season Of Stranger Things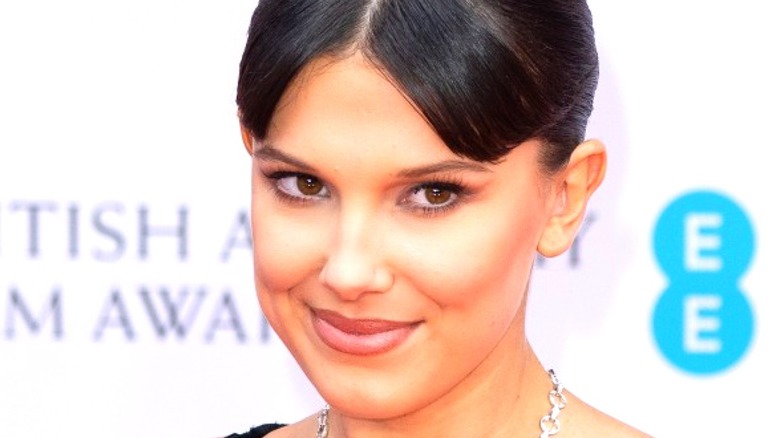 Jeff Spicer/Getty
Set in the fictional town of Hawkins, Indiana, "Stranger Things" evokes the eighties with nuanced storytelling, incredible costume design, a reminiscent score, and exemplary cinematography. The sci-fi series gripped audiences from the beginning, thanks in part to stellar performances from an all-star cast that features Hollywood veterans like Winona Ryder, Sean Astin, Matthew Modine, and David Harbour.
"Stranger Things" also introduced audiences to a few young newcomers. Actress Millie Bobby Brown stole the show as Eleven from the moment she appeared on screen in Season 1. Brown's portrayal is superb, and Eleven is one of the most interesting characters on the show. She has telekinetic powers that give her a strong connection to the Upside Down and the creatures that lurk there, a plot point that's been central to the show's overarching story since its premiere in 2016. Eleven is definitely the show's breakout character and Brown is on her way to becoming a bonafide star.
Considering how unique the series is, it's almost hard to imagine that "Stranger Things" was almost a very different show. Every season of "Stranger Things" has been interesting, but in Millie Bobby Brown's mind, there's a clear winner. 
Millie Bobby Brown prefers Season 3
Third time's the charm! Millie Bobby Brown revealed in a now-deleted Instagram post that the third season of "Stranger Things" was her favorite, both to watch and to make (via Showbiz CheatSheet). 
"I'll let you in on a little secret ... this was my favorite season to film and my favorite season to watch. This year 011 is growing up. She is evolving into a real teenager. To watch her progression with fashion, relationships, and personal trauma is so beautifully written and directed and I was so lucky to be able to portray El in the way she deserved," the actress wrote on Instagram. It's great to see that Brown is just as excited about the show as fans are! 
By Season 3, Eleven has changed a lot since viewers were first introduced to her. She's finally started to live a more normal life, although she's retained her supernatural powers. The third season allowed Eleven to develop new relationships, like her blossoming romance with Mike (Finn Wolfhard) and her friendship with Max (Sadie Sink). Fans got to see a happier, more carefree side to Eleven and it was a joy to watch. It makes sense that Season 3 is Millie Bobby Brown's favorite. 
Hopefully, Eleven's character development will continue in future episodes. Now it's time to get back to thinking about all the things we want to see happen in the show's highly anticipated fourth season!