This Is How Much The Walking Dead's Norman Reedus Is Actually Worth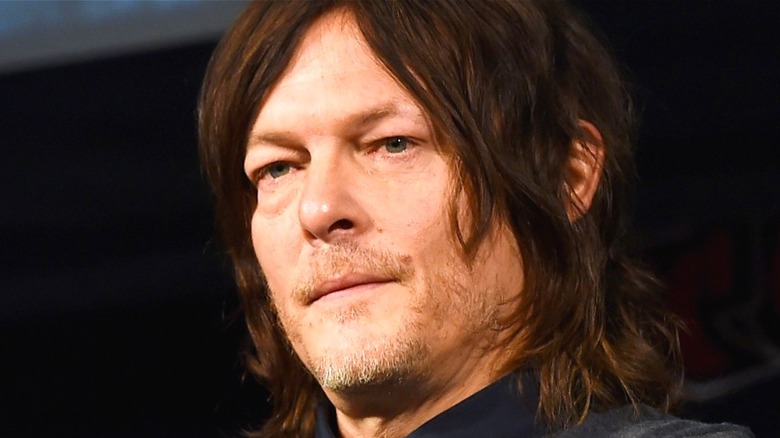 Ilya S. Savenok/Getty
If television fans set out to comprise a list of the most beloved small-screen characters from the 2010s, the name Daryl Dixon would almost certainly make the cut. And if we're all being honest, he might even merit a spot in the top five. Because even if the once fervid fandom of AMC's "The Walking Dead" has faded a bit in recent years, people still adore the series' motorbike riding, crossbow slinging, dog-loving everyman.
That has a lot to do with the work of one Norman Reedus, who's been playing Daryl since the very first episode of "The Walking Dead." And after the postapocalyptic zombie drama airs its finale later this year, he's reportedly in line to ride on to his very own spin-off series with long-time co-star Melissa McBride. While Reedus had already found success prior to landing his role on "The Walking Dead," the hit series made a legit household name of him. And as you might expect, it's also significantly bolstered Reedus' net worth. Here's how much the "Walking Dead" star is actually worth.
Norman Reedus has reportedly made a lot of money riding bikes and killing zombies
It may come as a bit of a shock, but according to Celebrity Net Worth, Norman Reedus has amassed a massive $25 million fortune over the course of his career. And yes, it would appear that a significant portion of it comes from his decade-plus run on "TWD." While Reedus was surely doing well for himself over the first eight seasons of the hit show, his per-episode pay got a massive bump when longtime star Andrew Lincoln left the series early in Season 9 (via Us Weekly). That departure left Reedus' Daryl to step into the role of the primary protagonist of "The Walking Dead," and he's been earning a whopping $1 million per episode ever since.
On top of his substantial "Walking Dead" salary, Reedus is surely getting paid well to front another AMC program, "Ride with Norman Reedus." That globe-trotting travelogue follows the actor and various celebrity counterparts as they travel the world by motorcycle and take in the local flavor. "Ride with Norman Reedus" debuted in 2016 and has since aired five seasons on AMC. Reedus has, of course, continued booking acting gigs since his "Walking Dead" breakout too and no doubt earned a solid payday for starring in the 2019 hit video game "Death Stranding." And given what lies ahead for Reedus, it's safe to assume that his already robust fortune will only continue to grow.