How Sandra Bullock Supported Michael Oher After The Blind Side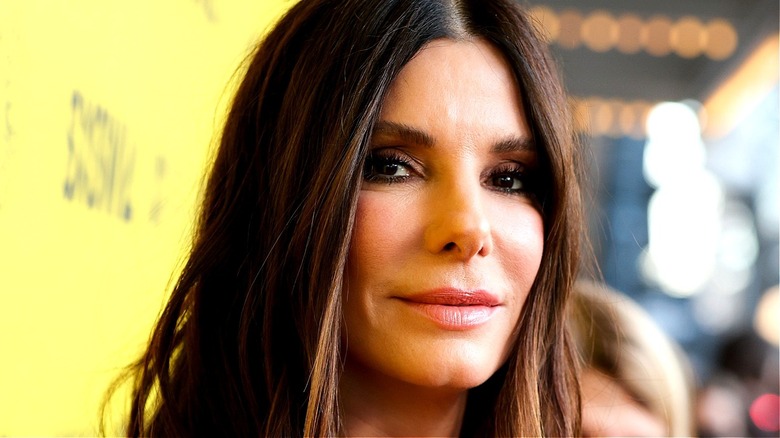 Rich Fury/Getty Images
Actress Sandra Bullock played a fictionalized version of Leigh Anne Tuohy in the Academy Award-nominated movie, "The Blind Side." The 2009 film focused on Leigh Anne and her husband, Sean Tuohy's (Tim McGraw) decision to adopt Michael "Big Mike" Oher (Quinton Aaron) when he was a teenager. According to the movie, the Tuohys supported the defensive lineman so that he could graduate from high school and attend Ole Miss. 
Bullock hit it off with the Tuohys during the production of "The Blind Side." During a behind-the-scenes interview, the actress complimented Leigh Anne and shared that her presence was appreciated on the film's set. "You come on set, it's like people don't want you to leave. It's like this beacon of light arrives at set, all the crew and all of us hang around Leigh Anne," shared the mother of two.
Bullock also thanked the Tuohy family in her acceptance speech after snagging the Academy Award for Best Actress. "To the family that allowed me to play them, the Tuohy family, I know they're in here and you'll probably hear them in a minute, maybe not, thank you for giving me the opportunity," said the "While You Were Sleeping" star.
According to Us Weekly, Bullock also took a page out of Leigh Anne Tuohy's book and proudly supported Oher in 2013.
Sandra Bullock watched Michael Oher play at Super Bowl XLVII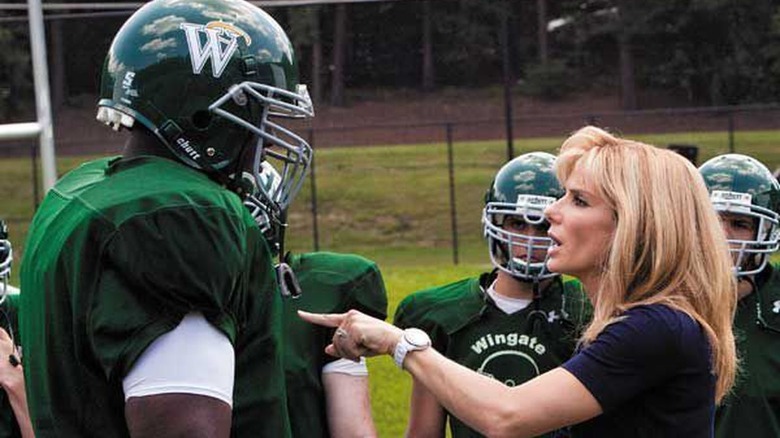 Warner Bros. Pictures
Us Weekly reported that Bullock supported Oher and his team, the Baltimore Ravens, as they played against the 49ers during Super Bowl XLVII. Her adopted son, Louis, who was 2 years old at the time, had on a replica of Oher's jersey while inside the Mercedes-Benz Superdome. Bullock, Louis, and the Tuohy family spent time together during the game. The publication shared that the actress's presence at the Super Bowl was not surprising, as she and Oher stayed on good terms after filming for "The Blind Side" wrapped. An insider revealed Bullock would regularly send the former NFL player text messages "about football."
During a 2013 interview with ABC News, Leigh Anne Tuohy spoke about her experience watching Oher at Super Bowl XLVII. She shared that following the Ravens' win, she and her adoptive son "darted for each other." 
"He picked me up. He was just so excited and I was just sobbing. I mean I was absolutely sobbing," said the mother of three. The Tennessee native also shared that she adored Oher and asserted that "you don't have to look like someone else to love them."
"The thing that needs to be addressed here is there are wonderful kids all over this country and this world that want a forever family and we believe that there are no unwanted kids, there are just unfound families," Tuohy continued.