Stranger Things Was Originally Supposed To Be A Movie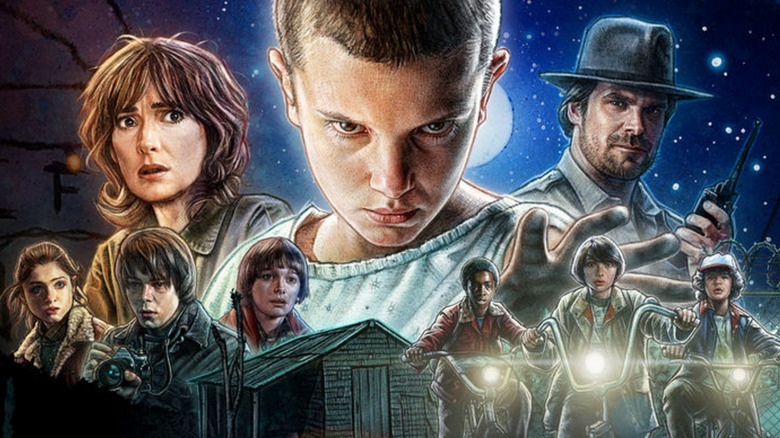 Netflix
If the Duffer brothers had their way, Stranger Things would've hit the big screen instead of becoming an Emmy-nominated TV series.
Creators Matt and Ross Duffer said during a recent panel that they originally set out to make a feature film before Netflix picked up the series, according to Variety.
They wanted to make a film that combined elements of Stephen King novels and Steven Spielberg movies that paid homage to '80s pop culture. The only problem? "Nobody wanted to hear movie ideas," Matt Duffer said. "They wanted to hear television ideas."
So instead of throwing out the plans, executive producer Shawn Levy said they just adapted it into a cohesive eight-hour film that could be turned into a TV show. "You could choose to take breaks," Levy said. "But if you opted to watch it straight through, as many people have, we wanted it to feel of one unique piece of film that happens to be on a television screen."
Even then, however, the networks didn't jump at their pitch. Ross Duffer said they would hear, "'I haven't read it yet, but it sounds amazing.'"
Once Netflix jumped aboard, the producers met with thousands of kids to cast in the four leading roles. "The only guiding principle in those days was nobody who feels generic," Levy said. "It wasn't just about talent. It had to be singularity. It had to be kids who looked and felt authentic."
It definitely seems like everything worked out in the end. Stranger Things didn't just become a cult phenomenon and a breakout hit, it also picked up an impressive 18 Emmy nominations for the debut season. The TV format also lends itself to an expansive and evolving storyline that will pick up in the second season, which premieres on Netflix on Oct. 27.
While we try to wait, take a look at everything we know about the upcoming season so far.