The Important Harry Potter Character Who Might Make A Cameo In Fantastic Beasts 3
"Fantastic Beasts: The Secrets of Dumbledore" is set to expand the wizarding world even further when it is released in theaters on April 15. The previous movie in the series, "Fantastic Beasts: The Crimes of Grindelwald," featured Albus Dumbledore (Jude Law) tasking Newt Scamander (Eddie Redmayne) with finding Credence Barebone (Ezra Miller) after Gellert Grindelwald (Johnny Depp) escapes from captivity. The second film takes place in 1927, ending with the series' heroes ultimately failing to capture the Dark wizard in Paris and a shocking reveal that Credence may be a member of Dumbledore's family. According to Deadline, the third film in the franchise is expected to be set sometime in the 1930s, while Italian "Harry Potter" fansite Portus posted graphic art prints created by MinaLima for the new movie on Twitter, including a Daily Prophet broadsheet dated 1932, making for a gap of five years for the power struggle between Grindelwald (Mads Mikkelsen) and the rest of the wizarding world to intensify by the new movie's start.
The "Fantastic Beasts" franchise has made a distinct point of spending time with historical characters about whom Harry Potter and co. learn or only briefly meet in Rowling's original series. The series' second film brought Nicolas Flamel (Brontis Jodorowsky), creator of the Sorcerer's Stone and longtime friend of Dumbledore, to the big screen for the first time. While no similar cameos have been teased in trailers, it's easy to wonder whether a certain Dumbledore family friend could appear in the new film.
Bathilda Bagshot could hold the key to some of Dumbledore's secrets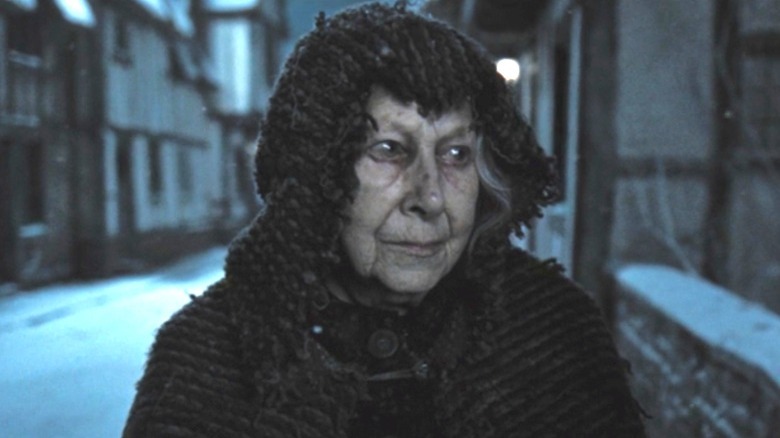 Warner Bros. Pictures
While the official synopsis for the new movie remains vague, its title and the ending of "Crimes of Grindelwald" make it likely that the new film will explore some of Dumbledore's dirty laundry. The nature of Dumbledore and Grindelwald's blood pact against dueling one another is likely to be explored, as is the truth behind Grindelwald's assertion that Credence is actually a member of the Dumbledore family.
Historical "Harry Potter" character Bathilda Bagshot (Hazel Douglas) — known best as the author of the in-universe textbook "A History of Magic" — plays a small but crucial role in uncovering Dumbledore's backstory in "Harry Potter and the Deathly Hallows" as the source behind Rita Skeeter's (Miranda Richardson) biography on Dumbledore's life (and lies). Bagshot befriended Dumbledore's family when they moved to Godric's Hollow in Albus' youth; she even introduces Dumbledore to Grindelwald, her grandnephew, shortly after Dumbledore graduates from Hogwarts, paving the way for their friendship and subsequent falling out in the duel with Aberforth Dumbledore that killed their sister, Ariana.
It's unclear exactly to what extent Bagshot might know about Grindelwald and Dumbledore's relationship or blood pact, but as a Dumbledore family friend, she could hold information related to the legitimacy of Credence's alleged Dumbledore identity. To be clear, there is no official casting for Bagshot in the new movie, but the character plays an important role in both Dumbledore and Grindelwald's backstory, and it's likely she's kicking around in Godric's Hollow writing a history book or two when "Secrets of Dumbledore" takes place.