Mark Gatiss Discusses His New Film The Road Dance, Sherlock, Doctor Who, And Mission: Impossible 7 - Exclusive Interview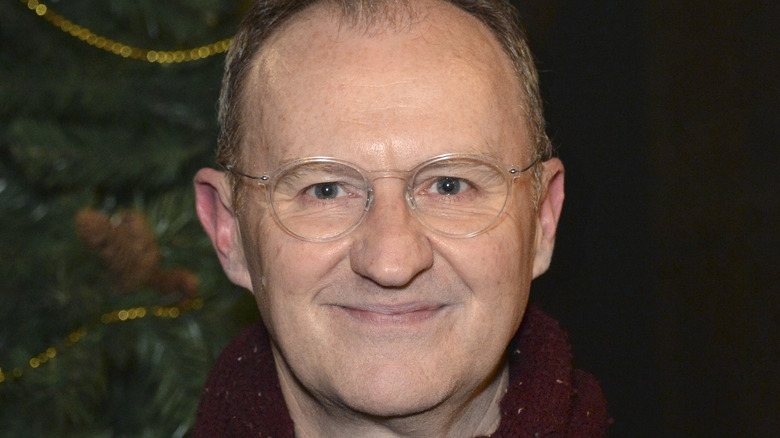 David M. Benett/Getty Images
This interview contains references to sexual assault.
Mark Gatiss wears many hats. In addition to a lengthy list of acting credits that includes a stint on "Game of Thrones" as Tycho Nestoris, as well as parts in acclaimed films like "The Favourite" and "The Father," Gatiss is also an accomplished writer, producer, and director who may be best known for co-creating the BBC series "Dracula" and "Sherlock." Gatiss is equally at home with comedy and drama, and even timey wimey adventure, having written and performed in several episodes of "Doctor Who."
In his latest film, "The Road Dance," Gatiss wears his actor's hat to take on the role of Doctor Maclean, the physician in a small village in the Scottish Hebrides at the start of World War I. The movie tells the story of young Kirsty Macleod (Hermione Corfield), whose life takes a tragic turn on the evening of a town dance, just a day before her boyfriend Murdo (Will Fletcher) is set to leave for the Western Front. Doctor Maclean plays an important role in Kirsty's story, and Gatiss portrays him as a warm, avuncular member of the community whose trustworthy demeanor hides other parts of who he is. It's a sad and stirring film that showcases Gatiss' impressively versatile talent.
In a wide-ranging interview with Looper, Gatiss discussed his experience on "The Road Dance," looked forward to his upcoming appearance in "Mission: Impossible 7," and reflected on his work on "Sherlock," "Dracula," and "Doctor Who."
Filming the difficult, but powerful The Road Dance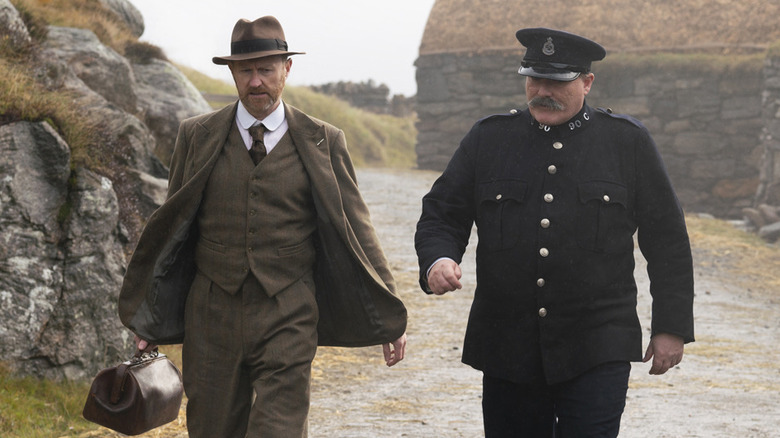 Parkland Entertainment
"The Road Dance" is a difficult film. What drew you to the role?
A couple of things. I really liked the script. I thought it was, in the best sense, a very old-fashioned film, a kind of weepy, really. I liked the idea of the character. I love the background of the war. Particularly for me, I have a real soft spot for anything set in what I call the mystical island, Scotland. Movies like "Local Hero" or "I Know Where I'm Going!" or "Whiskey Galore" — it's not comic, like any of those movies — but there's something about that part of Scotland, and I've literally always wanted to do something there. I've always wanted to go there.
Michael Powell famously made a documentary about it, called "The Edge of the World." That's what it feels like: You're at the edge of it. It had that, and it really delivered for me and for all of us personally, because it was an elemental experience being there. It was like a weird time out of mind where everything was in lockdown, where we escaped to this island, and it had a magic to it, the whole experience.
Did it feel like you were isolated when you were shooting there?
Yes, because we really were, but in a good way. Weirdly, there weren't many COVID cases on the island, so it was quite relaxed compared to the rest of the country, but within the film set, because we were tested all the time for safety, it was actually quite rigorous. It helped throw everyone together. The kids, as I call them, the younger cast were all living together or very close together and they really bonded over that. It was very special. The weather was so wild that it literally threw us together like in a hurricane.
The story is quite difficult, as you say. It's a quite difficult watch, it's quite harrowing, but it's really powerful. I saw it on a computer screen first, and then I was at the Manchester Festival with Will [Fletcher] and Hermione [Corfield] the day for its Manchester screening, and it's the first time I've seen it as a movie on a big screen. The bit that really stayed with me is when Kirsty, after what's happened, is walking down the high street and she flinches from all the men who pass her, all of them.
It seemed to me that the film is about men going away and how the women survive, and yet they're not safe, even when they're on their own, from men and from the destructive power of men. That's what we are living with at the moment, isn't it? We're seeing more boys sent away by stupid old men with inferiority complexes, and here we go again.
How The Road Dance speaks to today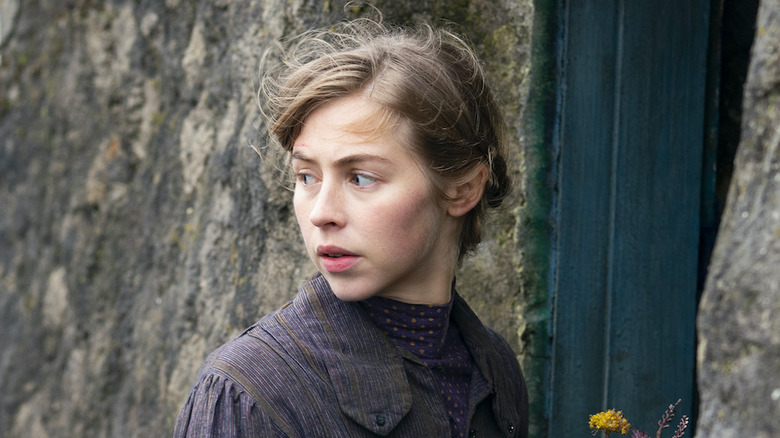 Parkland Entertainment
You have a long filmography, but you're working with younger actors. What was the experience of working, particularly with Hermione Corfield? Was it challenging to work with someone with more limited experience?
Oh God, no. She's an absolute pro and she's a wonderful actress. She's kind of luminous, isn't she, on screen? Literally, like in an old-fashioned sense, her skin glows. She's beautiful and brilliant, and Will and Ali [Fumiko Whitney who plays Annie in "The Road Dance"] and they were all so lovely.
It really does you good to work with young people because I'm such a jaded old hack and it's delightful because they're full of energy and they're full of ideas and they're full of invention and an amazing work ethic as well. More than anything, that je ne sais quoi, you can't fake it and they all have it. It was really lovely to be around that kind of energy. It keeps you young, it does. I sound like Yoda now. [Laughs]
The story deals with some really heavy issues that are still with us today, unfortunately, and really all too common still. What do you hope the film says about the topic of sexual assault in terms of speaking to today from this time period we don't really think about that much anymore?
There are obvious differences. The big question, apart from physical survival, for Kirsty, is what it does to her reputation. I guess that's very different now. People don't have a reputation in that way. It's a staggering fact to me that in [the UK], 1% of rapes are prosecuted. 1%. It seems amazing to me that when there have been so many strides elsewhere — the #MeToo movement, for instance — that, as it were, that the most dramatic and ghastly part of all that is so little prosecuted, almost to the extent where it's almost normalized now. It might be expected.
There was an appalling case [in the UK] last year where a woman was abducted and murdered by a policeman.
Yes. I remember reading about that.
Sarah Everard. The police really closed ranks about, and there was a protest and the policing of the protest was so heavy handed. It was disgusting. I remember thinking then, "What on earth is this saying to people and particularly to young women?" It's staggering. This is fiction, but based on a true story, and the circumstances are very different — it's about an isolated community and then what happens to a young girl's potential reputation, etc. — but it has a wider resonance for all those reasons. It could be now as well.
If you or anyone you know has been a victim of sexual assault, help is available. Visit the Rape, Abuse & Incest National Network website or contact RAINN's National Helpline at 1-800-656-HOPE (4673).
The joys of working with Tom Cruise on 'Mission: Impossible 7'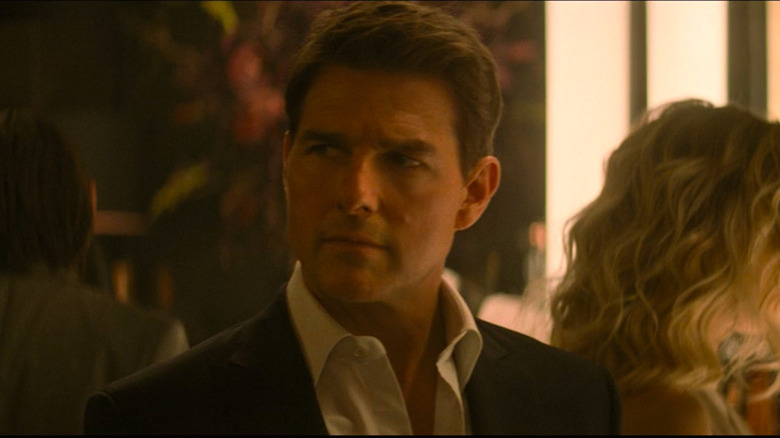 Paramount Pictures
On a lighter note, you're also going to be seen in "Mission: Impossible 7," which hopefully will come out soon.
One of these years.
Can you tease anything about your character in the movie, how he fits into the plot line?
No.[Laughs] All I could tell you, which is really funny, is that we had to sign an NDA. Really, there was lots of back and forth — it was like "Mission: Impossible," disappearing ink and all these things. Then, on the third day on the set, [director] Chris McQuarrie was taking pictures of us and said, "Do you mind if I put this on Instagram?" [Laughs] I thought, "Well, I thought we were secret." Anyway, that's how it happened. All the pictures are out there, but I can't say anything else except it was a lovely experience and intimidating in the sense that the scale of the movies is absolutely mind blowing. It was like being in a "James Bond" movie. It was so huge.
Tom Cruise was so completely available and lovely that you pinch yourself when you realize that you are actually talking to him every day for quite a long time, and then you go, "But it's Tom Cruise." Every now and then, you go, "Hang on, that's Tom Cruise." It's not a little thing to say that he has been part of my moviegoing life since I was about 14, and to actually then be doing a scene with him, it really is amazing. It was a bit like — I don't if you've ever had this — where you go somewhere, you go to the Eiffel Tower or the Leaning Tower of Pisa or the Statue of Liberty and you actually go, "Is that really it?" Because you've only ever seen it on postcards. You stand next to Tom Cruise and go, "Is that really him? Yes, it is." It was lovely.
The hardest working man in show business
BBC
You act in both "The Road Dance" and "Mission: Impossible 7," but you're also a writer, a producer, a showrunner, a director. You seem like the hardest working man in show business. Why have you chosen to pursue each of those different avenues?
I'm a control freak. [Laughs] No, I'm very interested in all kinds of things. I've always acted and written, that was how I started, and it's been extremely good to me. Weirdly, I was saying that all the young cast of "The Road Dance" were all writing and they're all making their own movies. There's been a real shift in terms of people making their own work, partly because of technology, but it's really exciting because that's how you do it. It's much better to try and generate your own stuff than waiting for the phone to ring. That's always stood me in good stead.
In terms of other stuff, I fell into producing by a dint of [his comedy troupe] "The League of Gentleman" being our own show, and therefore, we were naturally doing that, and then "Sherlock" as part of that etc. I've always wanted to direct, I think it's a natural development in that sense. Having said that, I don't want to be a director for hire. There are certain things I want to do and I think you've got to be led by your passion if you can. If you're lucky enough to actually say, "I want to do this because I can see it from beginning to end, I've got a vision for the whole thing," then there's nothing like it.
I wrote and directed "The Amazing Mr. Blunden" last year for [British network] Sky TV at Christmas. It's a remake of one of my favorite movies. I enjoyed it so much, holistically, the whole experience, from writing it, to casting it, to choosing the team, and the shoot itself. It's a wonderful feeling to see something through absolutely from beginning to end.
One of my favorite stories is [from] the director's commentary on "The Silence of the Lambs." As [Hannibal] Lecter is walking away, the camera pulls back and you hear bird song. The last thing before it goes to black, there's just bird song. Jonathan Demme, in his director's comment, said, "The bird's song is just the sound of a director who can't bear to stop fiddling with his movie." [Laughs] I love that. It's absolutely true. Like, "Oh, is there something else we could do?"
How Sherlock led to Dracula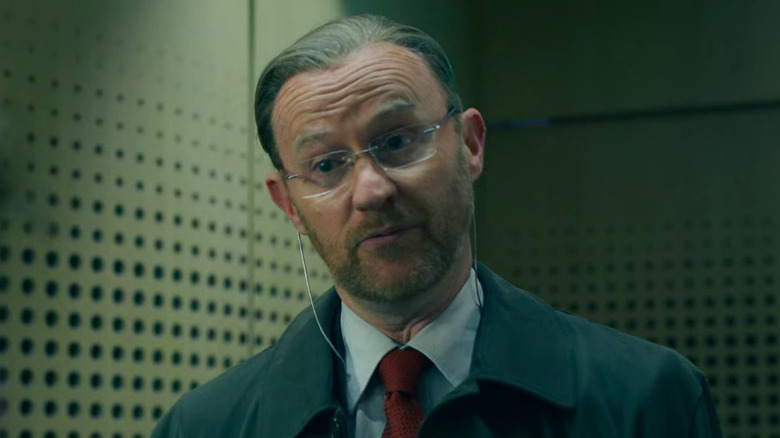 Netflix
Speaking of "Sherlock," you created [it], you created Netflix's recent series "Dracula," both based on stories written in the late 1800s. Is there something that draws you to literature from that period?
No. I've always loved the Victorian era and that's stuff I grew up reading, "Sherlock Holmes" and "Dracula" and a lot of other stuff. It wasn't a plan. Weirdly, ["Sherlock" and "Dracula" co-creator] Steven Moffat and I had this idea of updating "Sherlock Holmes" because we were huge "Sherlock Holmes" fans. 
"Dracula" — it was a strange thing. It started as a joke. We were filming the third series of "Sherlock" and we literally just started and we had to come back to London for an award ceremony. I had a photograph on my phone of [Sherlock Holmes actor] Benedict [Cumberbatch] silhouetted against Mrs. Hudson's door with his collar up, and I showed it to the then-Head of Drama Commissioning at the BBC. I said, "It looks like Dracula, doesn't it?" He said, "Do you want to do it?" These things are rarely that easy and we didn't start working straight away, but when we stopped doing "Sherlock" we thought, "I wonder, maybe we could do 'Dracula.'" That's how that came about.
So why wasn't Benedict Dracula?
Because he was a star. We wanted to find someone that no one knew. 
On adapting 'Sherlock' and if another season could happen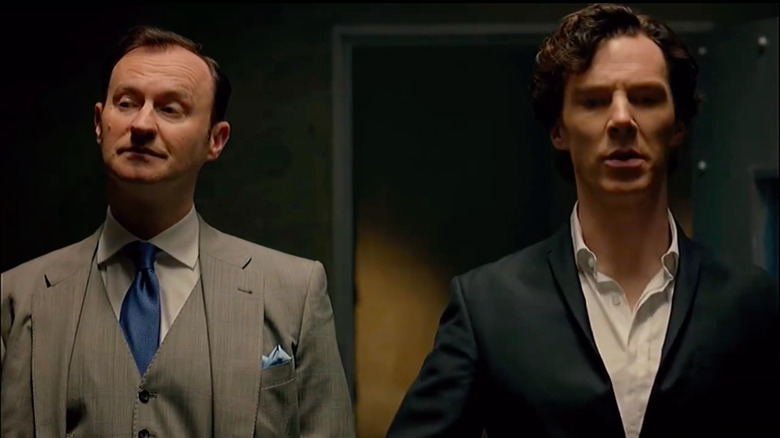 BBC
In creating those series and the stories around them you tinker with the timeline, the plot points. What inspired those different ways of looking at the story? I would imagine a lot of people would adapt such famous works in a more straightforward manner.
It's an interesting question. Jonathan Miller made a very famous version of "Alice in Wonderland" for the BBC in the '60s, I don't know if you've ever seen it. It's an extraordinary piece of work [with] Ravi Shankar music. It's very, very 1966. I think it is. It's very hippy, and it's ravishing and strange. But he said, "If you just want to film the book, why don't you just read the book?" And I think there's a lot to be said for that. Not in a kind of perverse way.
It also depends on how familiar people are with the original. If you took a rare Charles Dickens [story] like "Dombey and Son," which is never done, the story is unfamiliar enough for you to do a straight adaptation. But if you do something like "Dracula," which has been done very, very many times, I think our principle, as with "Sherlock Holmes," was to get back to the essence of it and then also play with it. That's what people respond to, really.
[The reason] we're thrilled with "Sherlock" was how many people thought that an awful lot of this stuff, which we'd taken from ["Sherlock Holmes" creator Arthur] Conan Doyle, was us. It started with a throwaway remark about how odd it was that we were in the middle of another Afghan war, like Dr. Watson, and that was [an] "oh" moment. Tons of Conan Doyle people gave us credit for, and then they read the stories and went, "Oh, I see. That's where you got it from."
The joyous thing about that is Doyle, particularly, was fantastically casual about his creation. I love that. He didn't treat it like an edifice. There's a famous telegram he sent when William Gillette wanted to adapt it into a play. He wrote to Conan Doyle and said, "Do I have your permission to marry Sherlock Holmes?" And he replied, "You may marry him, murder him, do what you like with him." If the creator thinks that, then I think you have plenty of room to play around.
Now I have to ask, is there any chance that we'll get another season of "Sherlock?"
It all depends on whether Benedict wins the Oscar on the weekend. [Laughs] I don't know. We've not shut the door. We've talked about whether we could do a one off or something. I think that would be nice. I think everyone's up for that, and it'd be nice to leave it long enough for people to really miss it, I suppose. We've also lost Una Stubbs [who played Mrs. Hudson] and it would feel very different. Never say never. I hope he wins the Oscar anyway. [Laughs]
Celebrating the future of Doctor Who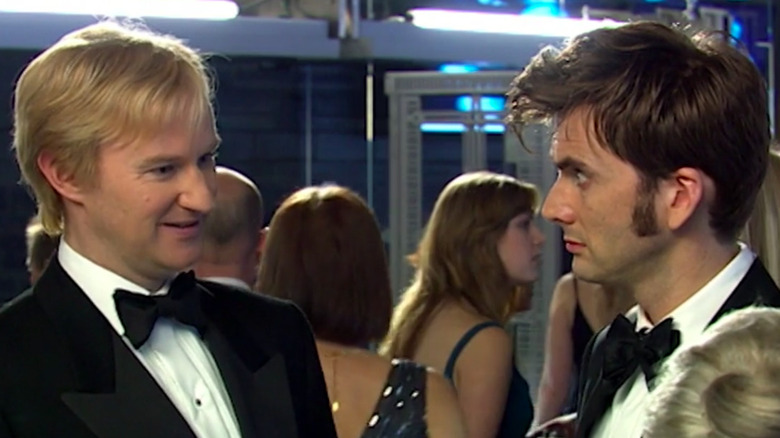 BBC
You have also done several episodes of "Doctor Who," both writing and performing. Is there any chance you'll be involved in future seasons of that?
I have no idea. I haven't been asked, but I'm very excited about Russell [T. Davies] coming back [as showrunner after previously serving in that role from 2005 to 2010]. Absolutely, you could have knocked me down with a feather. I'd never. It was the least expected thing. I was thinking, "Well, who's going to take over?" My friend sent me a text message saying, "Russell's going back to 'Doctor Who,'" and I literally had to sit down. I was in the middle of a field. I didn't expect it at all, but if anyone can do it, it's Russell. If anyone can go back to their greatest hit and do it again, it's Russell. It's very exciting.
To wrap up, you've worked with several different doctors, so who is your favorite version of the character?
What did the Brigadier say [in a widely used misquote from the "Doctor Who" episode "The Five Doctors"]? "Splendid chap. All of them."
Mark Gatiss can next be seen in "The Road Dance," which had its US debut at the 2022 Santa Barbara International Film Festival; "Operation Mincemeat," which will be available on Netflix sometime in 2022; and "Mission: Impossible 7," which is scheduled to be released in 2023.
This interview has been edited for length and clarity.