Better Call Saul Should Feature Breaking Bad Scenes, Says Series Star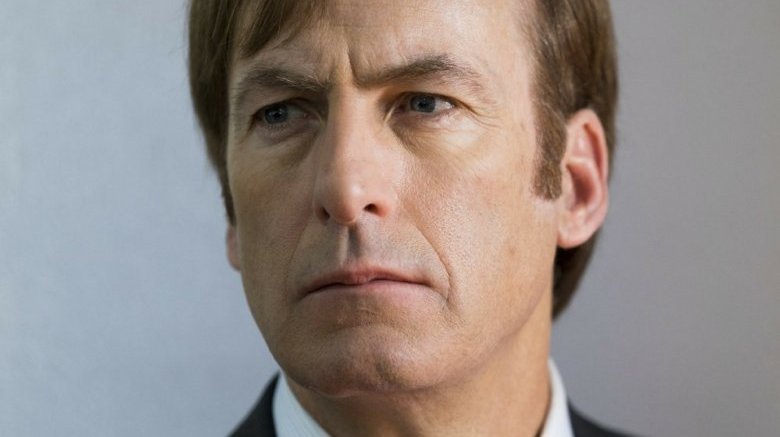 Warning: This post contains spoilers for season three of Better Call Saul. 
When a spin-off references its well-loved source material, everyone wins. And if it were up to Bob Odenkirk, the Breaking Bad off-shoot Better Call Saul would do just that. 
Odenkirk, who plays the fast-talking, quick-witted lawyer Jimmy McGill in the series, spoke with The Hollywood Reporter this week to discuss his hopes for the next season of Better Call Saul. When asked about his character's burgeoning metamorphosis from Jimmy to Saul Goodman, the criminal lawyer Breaking Bad fans know and love (and sometimes love to hate), Odenkirk stated he wants Better Call Saul to include a handful of scenes shown in the original series. 
The actor first discussed the shift his character is experiencing. "He's already become so much more dimensional," said Odenkirk, "and while there's going to be, I think, aspects hidden away as he chooses to present himself as Saul to the world and to try to steal and take from the world as much as he can, [showrunners] Peter Gould and Vince Gilligan and the writing is going to get me there into that place. I wouldn't be surprised if they show us a few more dimensions of Saul himself."
Odenkirk then revealed that in order to properly tell Jimmy/Saul's story and show multiple sides of the character, sequences from Breaking Bad should be included. "In Breaking Bad, we only saw Saul at work, which makes sense because he was working for Walter and that was his value and purpose in the story of Breaking Bad," Odenkirk explained. "But if we're going to get to know him as well as we have in Saul, perhaps [using] some of those sequences in Breaking Bad, we might get to see behind Saul's story a little more. His side of the story that might make him a different character in the course of seeing that—[a side] even I haven't seen yet."
Starring Jonathan Banks, Rhea Seehorn, Patrick Fabian, Michael Mando, and Giancarlo Esposito, Better Call Saul picked up a ton of Emmy award nominations this year, including Outstanding Drama Series, Outstanding Writing for a Drama Series, and Outstanding Lead Actor in a Drama Series. The show was recently renewed for a fourth season.
Better Call Saul is anticipated to make a formal return to television sometime in 2018. Until then, find out all the ways the show could connect to Breaking Bad.