Who Played Dice In Sam & Cat?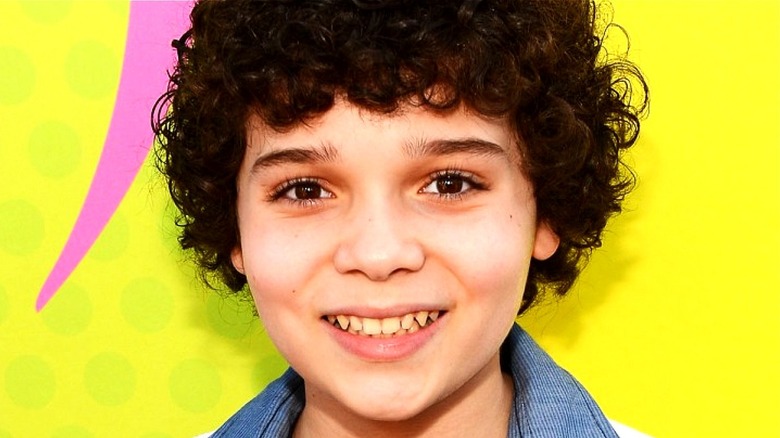 Mark Davis/Getty Images
We may receive a commission on purchases made from links.
In "Sam & Cat," two of Nickelodeon's stars from previous shows — Jennette McCurdy and Ariana Grande — teamed up together for a comedy that lasted 36 episodes during one very long season in 2013-2014, including a two-episode story that included actors from both their previous series, "iCarly" and "Victorious," respectively. The teen motorcycle-riding delinquent and the quirky Hollywood Arts High School student started a babysitting business, and their questionable hijinks included not just the kids they cared for but a neighbor named Dice. 
Dice is a hustler from the get-go, but a rather nice and innocent version of one — when fans meet him, he's selling celebrity hair. During the course of the series, he gets kidnapped by "iCarly" stalker Nora (Danielle Morrow), wins 1,200 pounds of tuna in a poker game, loses $500 to a pair of young British con artists, almost has his dog taken away by its previous family, and competes for a hair modeling gig — among other misadventures designed to entertain the tween set. But who is the actor who plays the slick, curly-haired character? His name is Cameron Ocasio, and even though "Sam & Cat" ended in 2014, it's still the show this actor (and now streamer) is still known for. 
He still acts, but hasn't been very prolific since Sam & Cat ended
Ocasio, who was born in 1999, was 13 and 14 years old when "Sam & Cat" aired — and already an acting veteran at the time. He started his acting career on "Sesame Street," according to a tweet he posted in 2015. He also made his Broadway debut in a production of "Bloody Bloody Andrew Jackson" (via Playbill) in 2010-2011, then moved to television. Prior to winning a spot on the Nickelodeon show he also made guest appearances on shows like "Gossip Girl," "Saturday Night Live," "Law and Order: Special Victims Unit" and did commercial work, according to his International Modeling and Talent Association (IMTA) bio and IMDb page.
Although Ocasio has starred in a handful of projects since "Sam & Cat" ended in summer 2014, you probably wouldn't know many of them. Several are short projects, and one was a pilot picked up by Disney XD in 2014 but never ordered to series called "Crash Commando," which was meant to be a spinoff of Disney XD's "Crash and Bernstein" (via Deadline). But he does continue to act sporadically. Most recently, he did a 2021 independent movie called "Project Pay Day" that's currently available on Amazon Prime and Apple TV. He plays a teen who, along with his friends, fakes getting a job and then embarks on some get-quick-rich schemes to make up the income. 
He may not be as visible as he once was, but he's still on social media and Twitch
Other than those few projects, Ocasio has mostly disappeared from the public eye. His social media indicates that for a while after "Sam & Cat," at least he remained involved with the educational side of acting by participating in IMTA events and coaching kids on acting. Since then, though, he appears to be living a normal life; he posts pictures with friends and pets, living in New York, going to anime conventions, taking vacations, and enjoying family get-togethers. The actor is also a gamer, and is known to stream on Twitch occasionally as well — but not just about games. He also leverages his previous celebrity on his Twitch and YouTube channels. 
In one 2021 Twitch stream he posted to YouTube as well, Ocasio is pretty much unrecognizable. He discusses his previous career in a fairly irreverent way, noting that he doesn't currently like signing autographs and showing that he's a bit saltier and probably somewhat less wholesome than his younger TV self from a decade or so ago. When asked what he thought Dice would be doing today, he said, "He's an up-and-comer drug dealer, 100% ... or maybe when he gets older he just turns a new leaf and opens a humble donut shop or some s***."