Questionable Things We Ignored In Victorious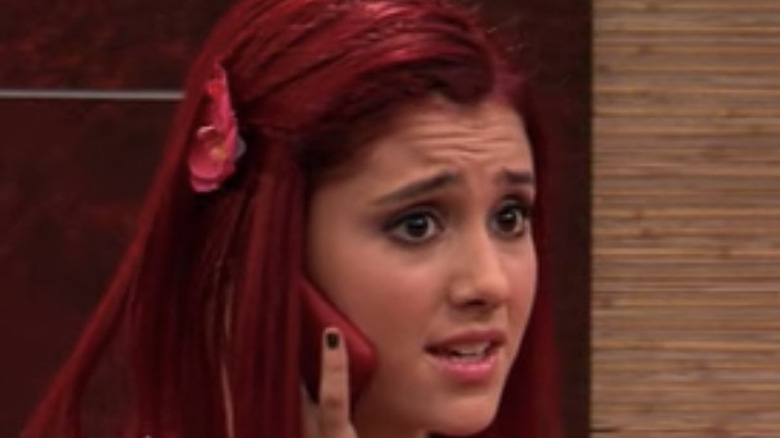 Nickelodeon
Let's face it: No one watches "Victorious" for superb storytelling and deep plots, but fans just can't help but get roped in by its fun bops and kooky characters. The Nickelodeon series about a performing arts high school debuted a year after the success of the first season of "Glee." And like "Glee," "Victorious" focuses on the talents of one singer, Tori Vega, while leaving the rest of the characters in the dust.
However, some of the problematic ways the show tackles adult issues are even more concerning: The show often stigmatizes mental health and glorifies unhealthy relationships and stalker behavior. When kids and teens watch TV, they often internalize the messages of their favorite characters, and it's not exactly ideal to have children parroting some of the toxic lessons from the show.
In addition to the problematic nature of many characters, so much of the series is unrealistic and borderline absurd. For a show that centers around Hollywood and the arts scene, you'd expect "Victorious" to get things a little bit right — but every industry scene is straight-up bonkers. From problematic to just plain ridiculous, here are the most questionable things we ignored in "Victorious."
World's worst teacher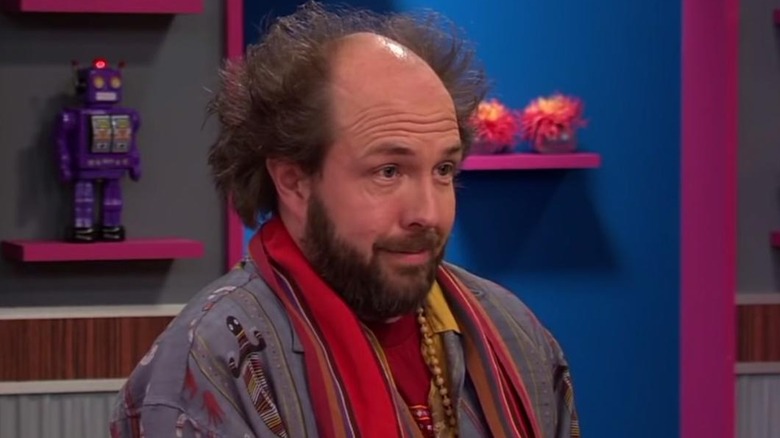 Nickelodeon
Like most "Victorious" characters, the show paints Hollywood Arts drama teacher Erwin Sikowitz as an unconventional but lovable weirdo (and even a great instructor beneath it all). But realistically, his actions would lead to automatic firing from any competent school that actually monitors its teachers. At Hollywood Arts, however, the principal and guidance counselor are fairly incompetent in their own right, so it's not surprising Sikowitz gets away with a heap of inappropriate behavior — like having an unsanctioned sleepover alone with his students.
Method acting is a useful (albeit often dangerous) skill. But there's no need for students to practice it in what amounts to an escalating bet — and overnight stay — with their teacher in "Sleepover at Sikowitz's." Most school districts would immediately fire him for something like this, though it's unsurprising that none of the notably uninvolved parents report it. We know for sure that Tori's mom knows about the sleepover, but all of the core teens' parental figures are negligent in their own right.
Among a litany of other questionable behaviors, Sikowitz also commits fraud by using a sports budget for a fake table tennis team to go out to a fancy restaurant with his students. Forget getting fired: That could lead to jail time. Overall, he has no business leading a classroom.
The Tori Vega Show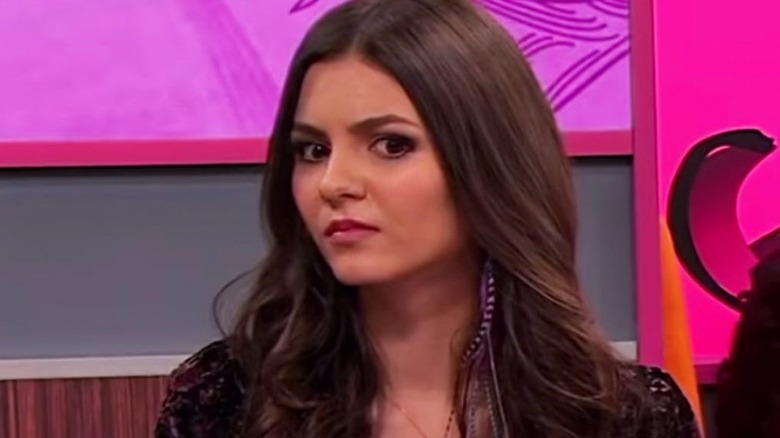 Nickelodeon
There's no arguing that Victoria Justice displayed a serious amount of talent on "Victorious." Still, Tori gets the spotlight in almost every major performance in the show, while the series underutilizes massively talented performers like Ariana Grande (Cat Valentine). Some of the best songs in "Victorious" come from other characters, like Elizabeth Gillies' Jade-centric rock ballad, "You Don't Know Me," and the "Give It Up!" duet between Gillies and Grande. Those numbers are two of very few that don't include Justice, and the series could have used many more of them.
Even Matt Bennett and Leon Thomas III as Robbie and Andre display dynamite singing talent in their few vocal features. When we remove the Tori from "Victorious" for five minutes, other characters can "let it shine," and the show is all the better for it.
The series also positions Tori as a kindhearted character with flawless morals even when she does things like kiss her friend's boyfriend or handcuff Cat to a railing, opting to leave her there when she goes to class. All in all, what could have been an epic collaboration between myriad performers becomes The Tori Vega Show — which can be expected given the name of the series. But it's a missed opportunity nonetheless.
Trina's rude awakening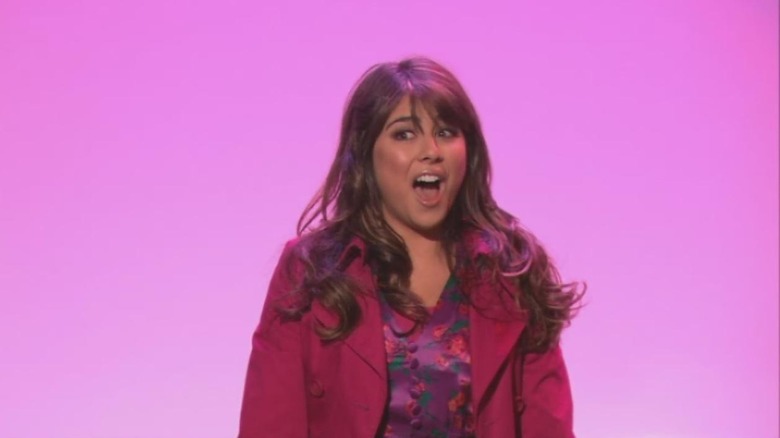 Nickelodeon
While Tori's sister Trina is annoying to the main characters, she's unbearable for audiences to watch, too. We're supposed to laugh at her stardom-seeking syndrome, but it's more sad than funny. Trina can't sing, she can't dance, and she certainly can't act, but that's all she's ever wanted to do her entire life. So how is it that no one sits her down for a serious talk about her capabilities? Sure, she gets inklings when people plead with her to stop singing, but no one ever has an honest conversation with her about her talent — at a performing arts school.
In "The Birthweek Song," even the recording booth producers don't tell Trina she's awful when she steals Tori's song. They hurry her out and demand the original singer, but they don't actually say, "You suck." Producers are notoriously savage and have no reason to spare feelings.
There's even an entire episode where Tori's friends ponder how Trina got into Hollywood Arts: We discover that Sikowitz was high on stale coconut milk and hallucinated a mind-blowing audition. When she re-auditions, she gets in because she saves the new principal from a mugger — not because she's a good performer. Rather than helping Trina foster skills in the many behind-the-scenes aspects of performance she can pursue instead, the school and her friends set her up for failure after graduation by letting her maintain this false stardom mentality.
Robbie: Creep-in-training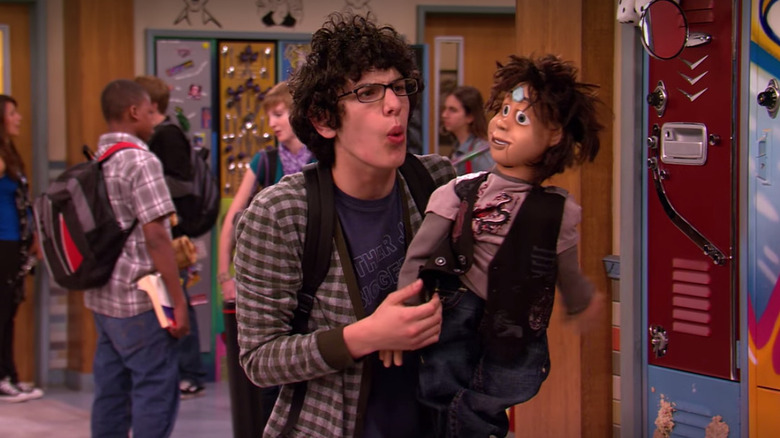 Nickelodeon
"Victorious" frames Robbie as the helpless nerd who can't exist without his dummy, but when you peel back the layers of his behavior toward the girls, a much darker picture emerges. Robbie frequently uses ventriloquism to put himself down and sexually harass the female students at his school. Beyond the fact that none of the adults in his life try to wean him off this crutch as a 16-year-old, he gets away with this behavior in the classroom.
You'd think that most teachers would stop a student from continually sexually harassing his classmates with a dummy. Still, Sikowitz doesn't try to curb this behavior even once, nor does Robbie ever get help from the guidance counselor to pursue healthier coping mechanisms. Robbie has, on numerous occasions, forcibly kissed and full-on stalked girls in his school, waiting outside of their houses and hiding in their bushes. He even insists that Trina is in love with him because of a scripted kiss, attempting to force himself on her numerous times. That's not cute nerd behavior — it's the origin story of a predator.
Marketing gone wrong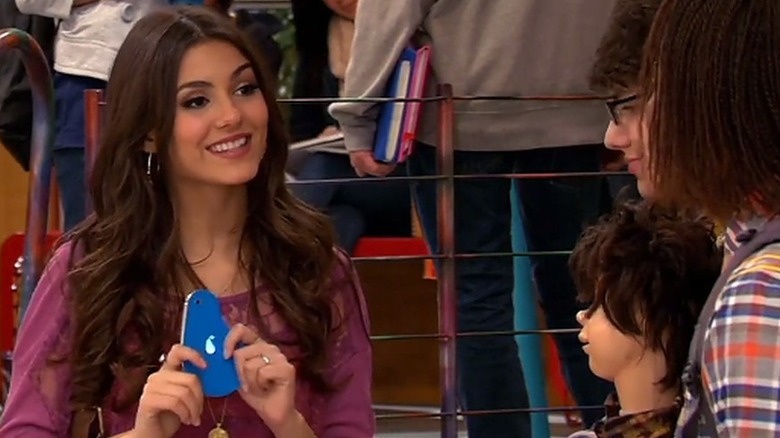 Nickelodeon
The knockoff product placement in "Victorious" is downright ridiculous. We're used to TV shows and movies finding clever ways to avoid marketing real-life products on-screen, but "Victorious" takes this to the next level with meme-like knockoff names for well-known brands. Perhaps the most transparent is the PearPhone, am obvious spoof meant to mirror Apple. The phones are even impractically shaped like pears to add an extra level of absurdity.
Outside of tech companies, "Victorious" spoofs both "American Idol" and "The Voice" with an in-series show called "American Voice." We also see Tori do stunt work for a spoof of Paramount Studios called Paramour Studios. Then, there's the Bed, Bath, and the Yonder store. Most egregiously, when Tori learns about hockey to impress Beck's Canadian friend Moose in "Three Girls and a Moose," they even try to play off some fake hockey team as the LA Kings on TV. It's not subtle whatsoever: These players could never reach Jonathan Quick's or Anže Kopitar's level of suave on the ice. Also, Tori, you're pronouncing Kopitar's name wrong. That's an unforgivable offense and should be the only clue Moose needs to know you're faking it.
No LGBTQ+ representation in a performing arts show?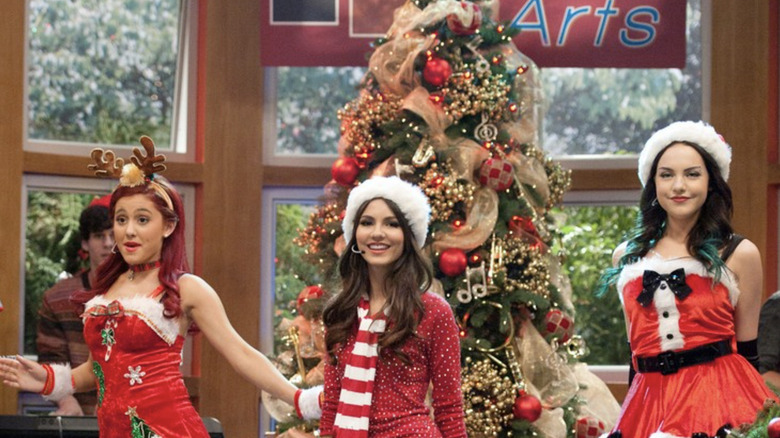 Nickelodeon
Maybe if "Victorious" had aired before "Glee," the show could get a pass for the egregious lack of LGBTQ+ representation at a performing arts school. However, with all the headway "Glee" made from 2009 to 2013 in displaying LGBTQ+ representation in a TV show aimed at kids, there's really no excuse. The competing performing arts TV show set at William McKinley High not only gives a voice to the gay community, but also features bisexuality, the trans community, and an incredible coming-out arc for Santana (played by Naya Rivera) that tackles the pushback from her religious Latino family.
Yet despite its predecessor carving a path, "Victorious" doesn't include a single LGBTQ+ student ... at a performing arts school. Performing arts are often a safe haven for members of the queer community to express themselves, and it's both unrealistic and grossly negligent that the show has zero representation. We were past the early aughts when it came out — it's not like "Victorious" was a '90s show with little precedent for representation in its era. Additionally, the Nickelodeon series didn't even bother including some "up to interpretation" gay characters or scenes. Even Disney did that with Ryan Evans in "High School Musical" in 2006.
Innuendos, ahoy!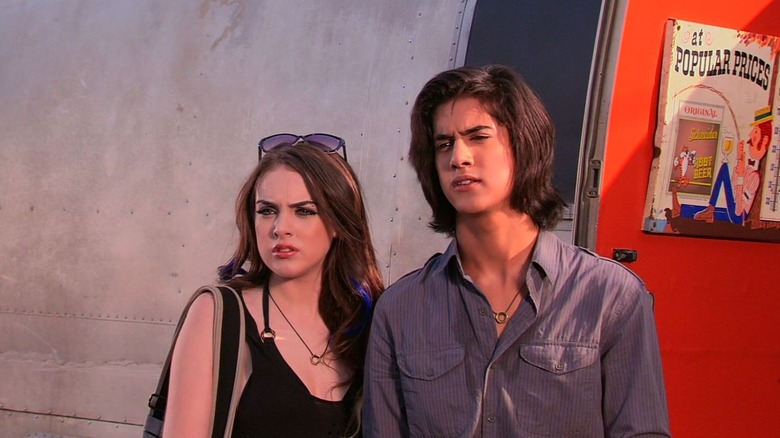 Nickelodeon
Shockingly, in a series set in high school, we don't see much hooking up or dating among the main characters of "Victorious." Throughout its run, there's really only one long-term pairing: Beck and Jade. And every single aspect of their relationship is toxic. Jade is horrendously possessive to the point of screaming at Beck any time she sees him so much as talk to another girl, and we're supposed to laugh and say that's just Beck and Jade. But that kind of behavior is rampant enough in society without flaunting it to an impressionable young audience. Even worse, there's not a single healthy relationship in the show to counterbalance their toxic mess.
Instead, the show features overwhelmingly problematic mentalities about dating, with quotes like, "Is it just me or did Tori get hotter now that she's crazy?" And for a kids' show, there's an alarming number of barely-shrouded sexual innuendos, including sucking jokes, an entire episode centered around feet, and copious phallic object placements. They couldn't have any LGBTQ+ representation, but Tori suggestively holding two coconuts up to her teacher is chill.
That's not how stunts work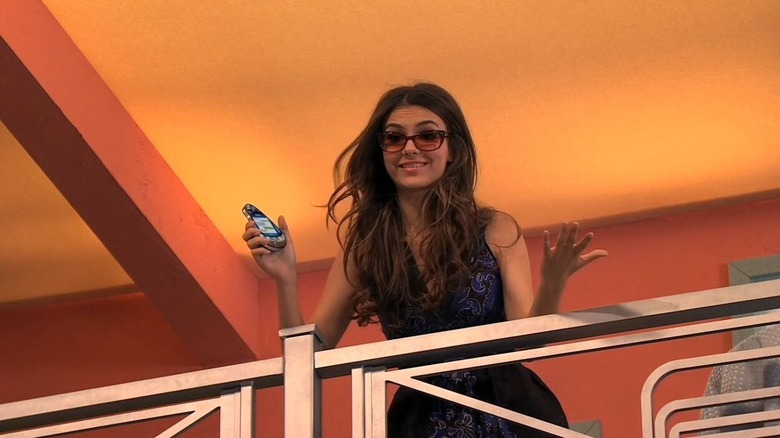 Nickelodeon
Not much is accurate about the depiction of showbiz on "Victorious." Contrary to the Hollywood Arts students' ease in getting movie auditions and meetings with studio producers, it's just not that easy to get into showbiz in the real world. No one comes to your school handing out nationally-televised opening acts for big award shows: Sorry, Hollywood hopefuls.
Even more ridiculous, Tori gets a stunt double position for a movie randomly handed to her after lying about special skills on her resume. You can work as a stunt performer without official qualifications, but it's almost unheard-of to get a major stunt gig without a stunt reel or an actual display of skills. Plus, there's no way Tori, a minor, would receive a dangerous stunt role without parental permission. Given that the in-universe film's main actress is an adult, producers would certainly go with an of-age stuntwoman to replace her, rather than an underaged high school student. There are loads of rules and regulations regarding child performers, and it's often not worth the hassle — especially for a performer whose stunt work you've never even seen.
No parenting to see here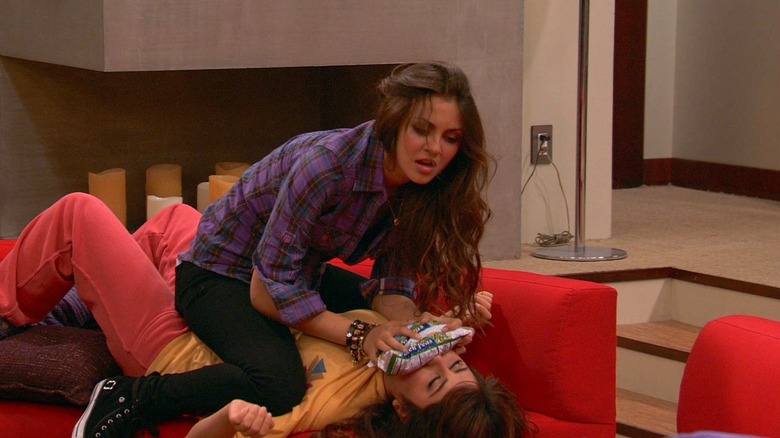 Nickelodeon
Tori and Trina's parents are highly negligent. Not only does Trina never receive any discipline (even for smashing her dad's face in with a golf club!), the Vegas bail on any kind of parenting a good 90% of the time. At one point, they decide to go out of town and force Tori to look after Trina when she gets her wisdom teeth pulled, leaving an ill-equipped Tori to deal with her unruly sister fighting her at every turn. Things get so bad that Tori has to wrestle and then tie up Trina. This isn't safe for either sister, and bailing on your kids when one is dealing with a medical emergency is pretty reprehensible.
It's no secret that the elder Vega is a handful, but it's usually Tori who ends up dealing with the fallout from Trina's reckless and selfish choices instead of their parents. The Vegas straight-up leave town whenever their kids are fighting or dealing with a rough situation — and they never seem to know or care why their children are out until morning.
Mocking war-torn countries isn't funny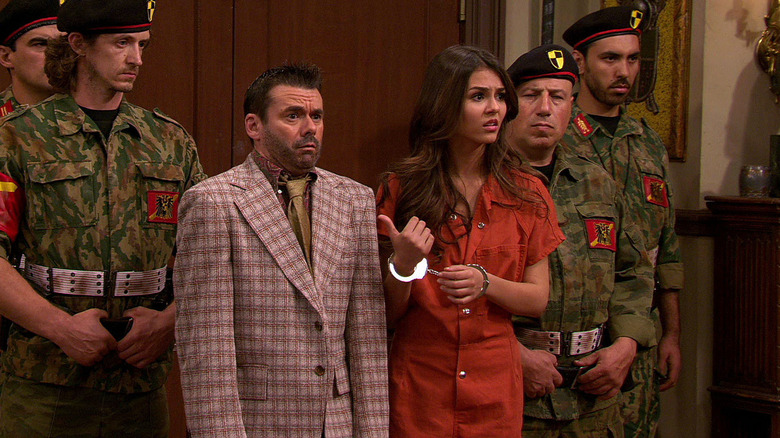 Nickelodeon
The show uses the premise of a war-torn country for cheap laughs, and it's incredibly uncomfortable for everyone watching the episode "Locked Up!" The core Hollywood Arts crew takes a vacation to the fictional country of Yerba, which seems like a tropical paradise when they check the website (and fail to do any additional research). But when they arrive, they find an impoverished country in the hands of a ruthless unnamed dictator known as the Chancellor. 
While this entire premise is cringe-y at best, the worst comes at night when bombs continuously go off outside the hotel, and we're just supposed to laugh as the crew respond characteristically: Jade sleeps through it while Robbie hides in the girls' bed. But this kind of violence is a harsh reality that many countries face, and to use it for comedic value (and a prison dance number when the kids get arrested) is in really poor taste. 
Bad blood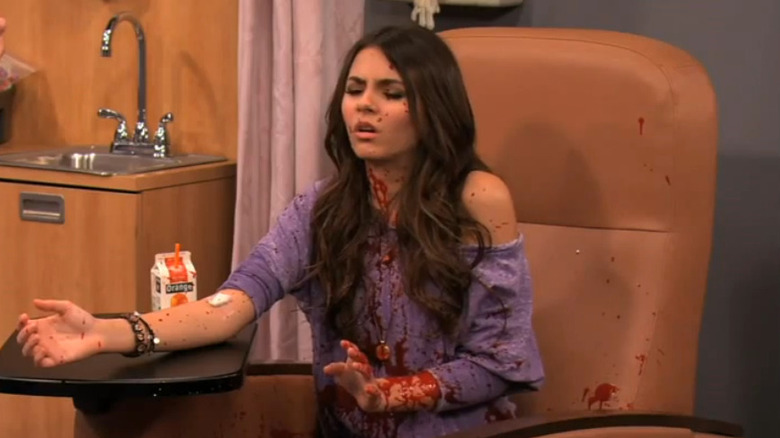 Nickelodeon
There's only so much blood you can donate at one time — you kind of need a certain amount to survive. In "Tori Gets Stuck," she gives the hospital three pints of blood when Robbie is in the hospital for an operation, as she has Type O (universal donor) blood. Of course, Jade lends a helping hand to the negligent doctors, making sure they lose the first pint Tori donates. Then, Robbie breaks the second when he decides to toss it around like a toy, bursting the bag all over Tori. That should have been the end of it — Robbie made his bed, and he should lie in it. But (literally) bleeding-heart Tori offers yet another pint.
Giving a third pint of blood, for someone as young and petite as Tori, would undoubtedly result in her being hospitalized herself. It's clear that the doctors here are beyond incompetent, so it's not inconceivable that they would allow her to give the extra blood. But if she did, she certainly wouldn't be in any shape to perform in a play. In fact, her life would likely be in danger. But the doctors just let her jet off to her performance, where she faints on-stage — a much less serious side effect than she would have in any realistic scenario.
That's not how mental health intake works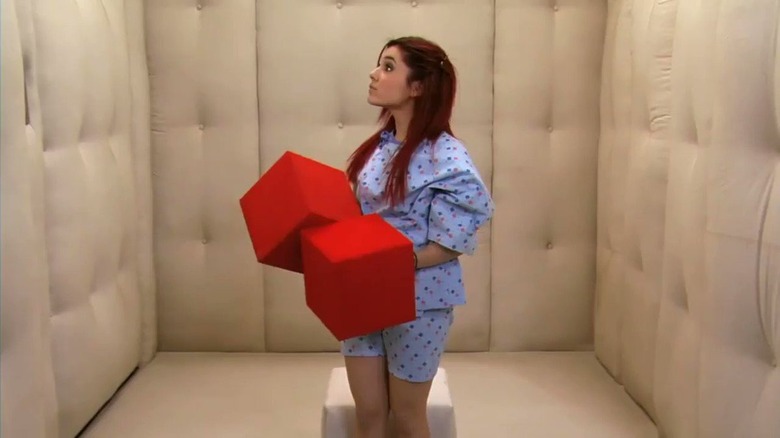 Nickelodeon
Cat's ditziness is a running joke in "Victorious," but sometimes the show takes it too far. Many fans have debated whether Cat has some kind of undiagnosed mental illness. While certain elements point in that direction — like obsessions, erratic moods, and impulsivity — there are realistic and unrealistic ways to address that. Of course, "Victorious" opts for the unrealistic way, turning mental health into a joke rather than tackling it beneficially for the many teens going through similar struggles.
In "Tori Gets Stuck," Cat is thrown into the hospital's psych ward on a staff member's whim, making the process into a joke. Granted, she makes seemingly out-of-this-world statements to a nurse about a puppet getting hurt and her friend failing to start a tornado, but that wouldn't be enough to cart her off with no further questions.
Beyond being highly problematic, it's incredibly unrealistic. You can't just escort an underage girl to the psych ward without a parent — and you definitely can't take her to a padded room for no reason. Cat isn't fighting anyone or resisting, and that room is only for worst-case scenarios when someone is threatening themselves or others. You don't get tossed in there for fun: The hospital would have to do an intake and proper evaluation before bringing Cat to the psych ward at all. The staff don't even try to ID her or call her parents — they just watch her like a science experiment.
If you or someone you know is struggling with mental health, please contact the Crisis Text Line by texting HOME to 741741, call the National Alliance on Mental Illness helpline at 1-800-950-NAMI (6264), or visit the National Institute of Mental Health website.
Yay, adultery?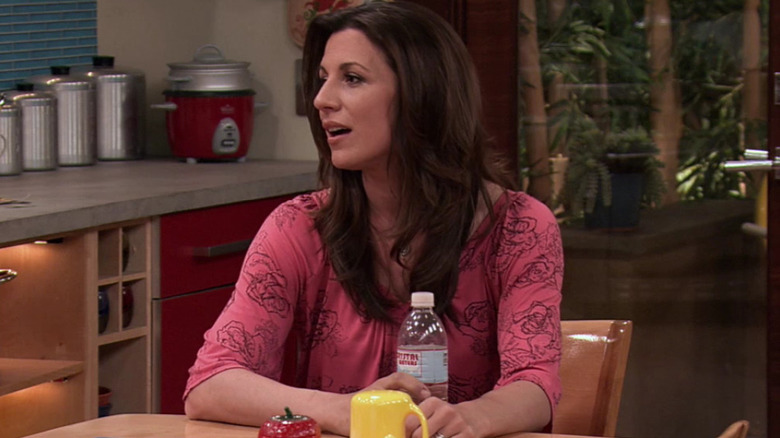 Nickelodeon
Hey, kids! You know what's cool? Adultery! Without the series outwardly announcing it, we glean that Tori and Trina's mom is having an affair with their dad's police partner Gary. Throughout the last season, we hear their mom waxing poetic about Gary. The biggest revelations on this front comes from the Season 3 episode "Crazy Ponnie" when Tori's dad is out of town and she's being stalked by a former Hollywood Arts student.
When Tori pleads with her mom that she just wants someone to listen to her about her stalker, it's heavily implied that her mom is texting Gary rather than paying attention to her terrified daughter. When Tori's mom brings up enlisting Gary for help, her mom openly says, "I know, he's handsome, right?" That's a pretty uncomfortable thing to say to your daughter's face.
Once Gary apprehends Tori's stalker, he says with a smirk, "Just tell your mom I send her my best." Tori is not amused, and neither is the audience. It's almost certain that they're having an affair, a suggestion that's played out for laughs ... on a kid's show. It's not like children or teens are unaware that cheating exists, but the episode chooses to glorify it. This adds salt to the wound of all the critical "adult" topics the show fails to explore, like LGBTQ+ characters and mental health treatment. But sure, it'll grant screen time to adultery.