This Look At Alexandra Daddario As The X-Men's Rogue Is Incredible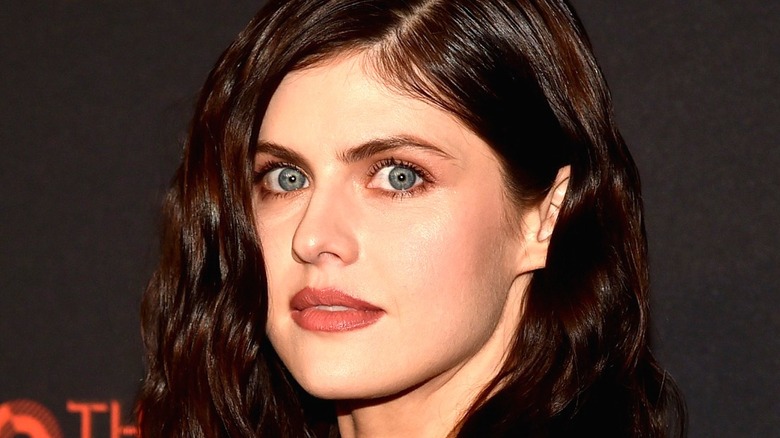 Alberto E. Rodriguez/Getty Images
Alexandra Daddario is immediately recognizable to viewers with even a passing familiarity with her work, thanks in equal part to her piercing blue eyes and her skill as a performer. Over the course of her career, she has played a formerly entombed vampire in "American Horror Story: Hotel," a descendant of an Olympian god in the "Percy Jackson" movies, and a court reporter involved in some shenanigans in the dark HBO drama "True Detective," to name just a few of her numerous acting roles (via IMDb). But what if, in theory, she got to play one of the more notable heroes in Marvel's "X-Men" franchise?
The exceptionally powerful character of Rogue previously graced the silver screen when Anna Paquin lent her talents to the role, beginning with the first live-action "X-Men" released in the year 2000 and continuing into a few of its sequels. One of the defining aspects of Rogue is that her superpowers allow her to immediately siphon the strength and abilities from whomever she physically touches, and even the slightest contact is enough to leave some of the strongest heroes in a weakened state. Normal individuals, meanwhile, end up inches away from death following her merest touch. In what may well be a treat for fans of Daddario and Rogue alike, one concept artist online once provided an absolutely fantastic look at how the actress might look while portraying the "X-Men" character.
This is what Alexandra Daddario would look like as Rogue from the X-Men
Posting his work on Instagram, concept artist Stuart Cooper created an image of Daddario as a version of Rogue resembling her appearance in the "X-Men" comics of the 1990s. Showing off the potent gaze of the famous actor with the iconic suit-and-jacket look of Rogue, this particular image is a stunning representation of what could be. The artist elaborated and said that Rogue is one of his favorite characters, adding that Daddario would be the perfect choice for the popular X-Men member. Cooper even went so far to note that his image of Daddario as Rogue has a great deal of white hair, which, in the comics, came from Rogue taking energy from Ms. Marvel. (In the earlier "X-Men" movies, her hair was white on account of an encounter with Magneto.) Either way, Daddario absolutely looks the part.
Considering that the "X-Men" intellectual property is back in the hands of Disney following the company's acquisition of Fox, it may only be a matter of time before we get to see the diverse group of mutants join the Marvel Cinematic Universe (via Vox). The "X-Men" movies of the early 2000s were instrumental in what is now an outright boom of superhero movies, and it's been said that the MCU would not exist had it not been for those films (via Den of Geek). Who will end up playing the likes of Rogue in any future "X-Men" films is anybody's guess, but if this concept art has anything to say, it should be Alexandra Daddario donning the costume and a Southern accent to match.
Fans want Daddario to portray Rogue too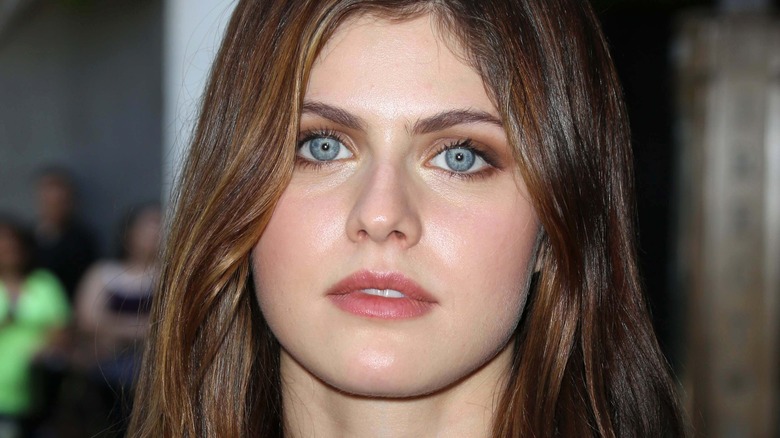 s_bukley/Shutterstock
In the comments section below Stuart Cooper's Instagram post of Alexandra Daddario as Rogue, a number of followers voiced their agreement with the concept artist's proposition that the "True Detective" actor would make for a welcome addition to the "X-Men" franchise. User batboy_customs, for example, replied, "awesome logic and Design Style Dude. i reeaaallly hope to see Daddario cast as Rogue, cant see no one else for the Role." Similarly, user tonys_spookymuseum wrote, "This is awesome! Great choice and great art!"
This isn't the only time an artist has mocked up what Daddario might look like as the X-Men's Rogue either. An artist with the username yesthatmj shared a post to the Marvel Studios subreddit roughly a year after Cooper's Instagram post depicting Daddario as a more cartoonish version of Rogue, garbed in a colorful costume as she was in the animated "X-Men" TV series. Users in the comments section below that post likewise responded in largely positive terms to the idea of Daddario joining the "X-Men" universe. For instance, the most-upvoted comment in the thread, by ArchTemperedKoala, reads, "I'd be fine with her as anything in the MCU." User lowfreq33, meanwhile, commented, "That's actually a pretty good choice."
Disney has yet to reveal any concrete plans for the "X-Men" franchise since acquiring the rights to adapt it. So, until they say otherwise, it appears Daddario may well be the frontrunner for the role of Rogue should the X-Men one day return to the silver screen.