Did Lady Gaga Ever Visit The Chicago Fire Set?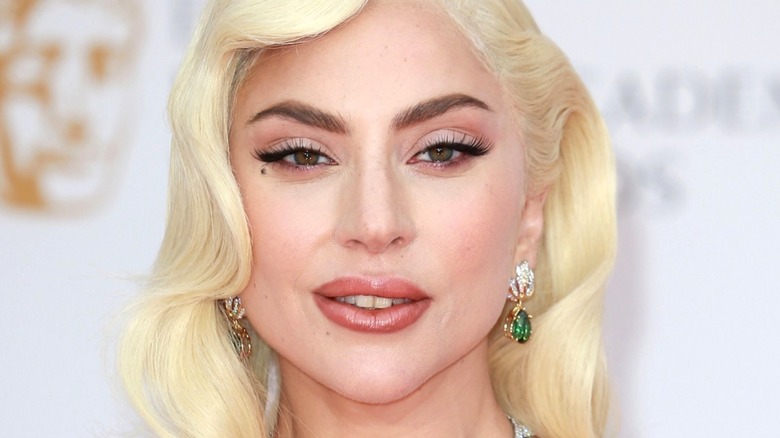 Cubankite/Shutterstock
The first to kick off Dick Wolf's illustrious "Chicago One" universe, NBC's "Chicago Fire" is one of many successful procedurals. The series was followed shortly after by the spinoffs "Chicago P.D." and "Chicago Med," and "Chicago Fire" continues to grab fans well into Season 10. Viewers gravitate towards fan-favorite characters, including firefighter Kelly Severide, played by Taylor Kinney. Severide has been a familiar face at Chicago Firehouse 51 since Season 1. 
While Kinney's acting credits are extensive, with over 200 episodes of just "Chicago Fire," the actor also has another claim to fame. During the early years of filming the popular NBC show, Kinney was dating and eventually became engaged to world famous pop star Lady Gaga (via InStyle). During their time together, Gaga frequently celebrated her connection to Kinney on social media, even posting her support in one tweet from 2012, promoting the airing of "Chicago Fire," which was a new show at the time. 
Gaga has an immense fanbase and busy schedule herself, but did her support extend to visiting the "Chicago Fire" set in person?
Taylor Kinney said that Gaga supported him on set
By all accounts, Gaga's support was immeasurable. In an interview with Extra's Renee Bargh from 2012, Kinney reported that Gaga has seen him work. "Yeah, she's been to set, it's been great," Kinney smiled. He went on to expand on what made her presence so important. He complimented her, saying that he appreciated "having someone in your corner and someone who believes in you." While the two seemed very happy together at the time, the public eventually learned that their relationship had ended, breaking off a marriage engagement, which Gaga revealed on her Instagram in 2016.
Touched on in Gaga's Netflix documentary "Gaga: Five Foot Two" in 2017, her relationship with Kinney didn't work out for unknown reasons (via Cosmopolitan). Gaga explains many of her trials in the documentary. In addition to healing from the breakup, Gaga also deals with her chronic pain disorder, fibromyalgia. Despite the couple's obstacles, Kinney still attempts to show her support by sending her flowers before her half-time performance at the Super Bowl. Though he is not pictured in the documentary, the former relationship is still clearly a significant factor in Gaga's life, at least at the time of filming.