Paul Wesley Confirms What We Suspected About Christopher Meloni's On-Set Behavior On Law & Order: SVU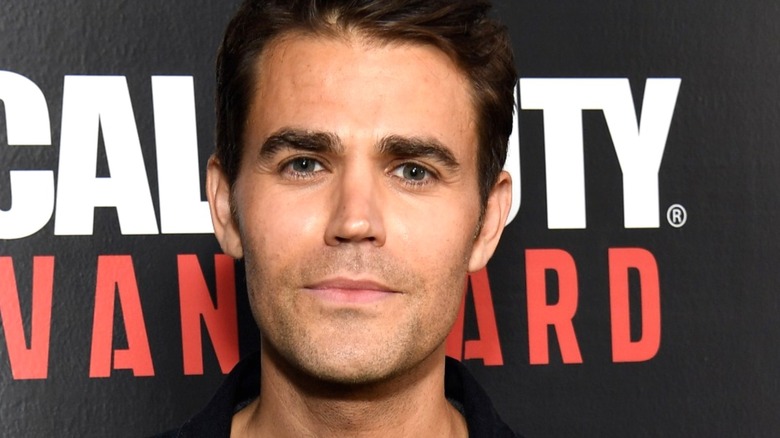 Jon Kopaloff/Getty
Christopher Meloni's Detective Elliot Stabler has always been a favorite character for "Law & Order" fans, even when he's away from the franchise. Debuting on "Law & Order: Special Victims Unit" in 1999 opposite Mariska Hargitay's Detective Olivia Benson, Stabler was something special from the beginning. Meloni brought an intensity and a lived-in personal touch to the character that never seemed to leave. He could bring emotion to even the most expository of dialogue. 
When Meloni left the show after Season 12, it was a heartbreaking moment for fans. The true diehards never stopped hoping for a return, even as Meloni was working on other series like "Happy!" and popping up in motion pictures like "Man of Steel" during his time away from the crime procedural franchise. In Season 22, Stabler returned, more mature, but as intense and intolerable of heartless criminals as ever. He now even headlines his own spin-off with "Law & Order: Organized Crime." 
Every "Law & Order" iteration provides a plethora of guest stars for actors like Meloni to work off of. One such "SVU" guest was "The Vampire Diaries" star Paul Wesley, who, in true "Law & Order" fashion, actually appeared on the series twice as two separate characters. In an interview that touched on his time on the series, he recalled learning an integral lesson from Meloni that confirms what we already suspected about the veteran actor's work ethic. 
Christopher Meloni appreciates his costars
Paul Wesley appeared on "Law and Order: SVU" in two separate storylines. His second appearance was in the Season 7 episode titled "Ripped," where Welsey guest-starred as a young man on steroids who attacks a girl. The story brought forth some of Stabler's own personal issues with his childhood, and it led to some tense moments. 
In one of the final scenes, Wesley's character is holding a gun and ready to end his own life when he's confronted by Stabler. According to Wesley, Meloni gave him far more than he expected in the scene and he left the young actor with a valuable lesson. After Meloni's coverage had been shot, cameras turned to Wesley. With Meloni off-camera, he could be free to flatly deliver his dialogue as simple cues to Welsey, or someone else could even stand in. But that's not Meloni. 
"He was really giving me a lot of emotion. He was really working hard," a surprised Wesley recalled during an interview with TV Guide. He added that he then thanked Meloni for his help, to which the actor told him, "I'm only as good as you are in the scene ..." 
It should come as no surprise that Meloni was bringing such commitment to the character. It's part of the reason Stabler has been such an iconic figure in the land of Dick Wolf dramas for over 20 years now. More importantly, Wesley said he took Meloni's actions to heart and learned how "important" it is to "be there for another actor."