The Unresolved Crime In Hawaii Five-0 That Still Has Fans Scratching Their Heads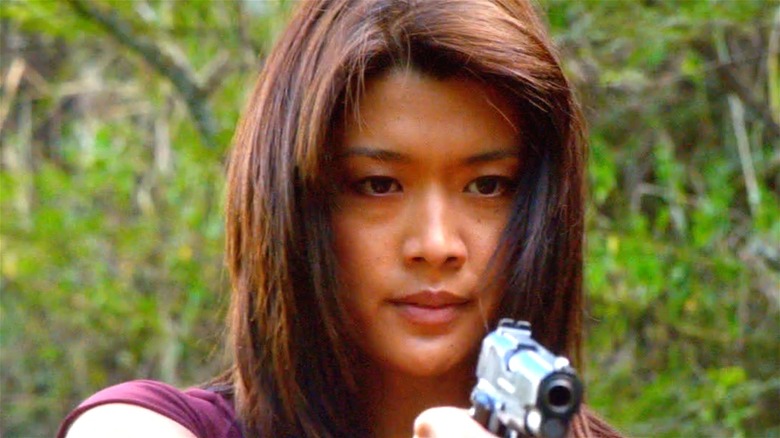 CBS
When CBS announced a reboot of the TV series "Hawaii Five-O," many viewers were likely skeptical. The original series, which also aired on CBS, ran for 12 seasons, and focused on Detective Steve McGarrett, played by Jack Lord. In the series, the ex-Navy lieutenant heads up a special division of the Hawaii State Police that answers directly to the governor. He also works alongside his friend Danno Williams (James MacArthur).
The rebooted series, titled "Hawaii Five-0," sees Alex O'Loughlin playing a modernized version of McGarrett, with Scott Caan as Williams. The series also featured "Lost" alum Daniel Dae Kim and "Battlestar Galactica" actor Grace Park in main roles, before a contract dispute led to the departure of both cast members. Fellow "Lost" performers Jorge Garcia and Terry O'Quinn also show up in supporting roles, alongside Masi Oka, Michelle Borth, and Mark Dacascos.
Despite any initial skepticism, the show managed to gain its own fans, and ended up running for a total of 10 seasons. Over the course of its run, the team solved a number of crimes, while being unable to find solutions to others. One of the unresolved crimes still has fans scratching their heads.
Danny was involved in a hit and run that was never resolved
In the subreddit r/Hawaii50, user u/JayIsADumbSloth asked about an accident that occurred in Season 10 of the series, posting, "So did Danny ever find out who hit his car and left himself and Joanna (I think that's what her name was) to die? I don't believe I saw him find the guy."
The episode in question is Episode 14 of Season 10, titled "I ho'olulu, ho'ohulei 'ia e ka makani," directed by "Robocop" actor Peter Weller. The episode revolves around Danny (Scott Caan) meeting a woman named Joanna, played by Kate Siegel, and going for a drive with her. The two, however, end up in a car accident in a remote area with the other driver fleeing from the scene. Danny is able to get free from the wreckage and manages to get help, but is unable to keep Joanna from dying.
User u/555nosey replied that the perpetrator did, in fact, go free, as survival, rather than catching the criminal, was the focus of the episode. They commented, "no, I don't think so. but the way I remember the episode, I don't think that was what they focused at all. I think it was just a hit and run and the 'point' of the ep was him trying to keep her alive etc. but it's been a while since I last saw it."
This episode was the last one Weller directed for the series. Beginning with the Season 3 episode "Hookman," he directed a total of 15 episodes over the course of the show's run (per IMDb).