Madeleine Albright Once Played Herself On This Beloved NBC Sitcom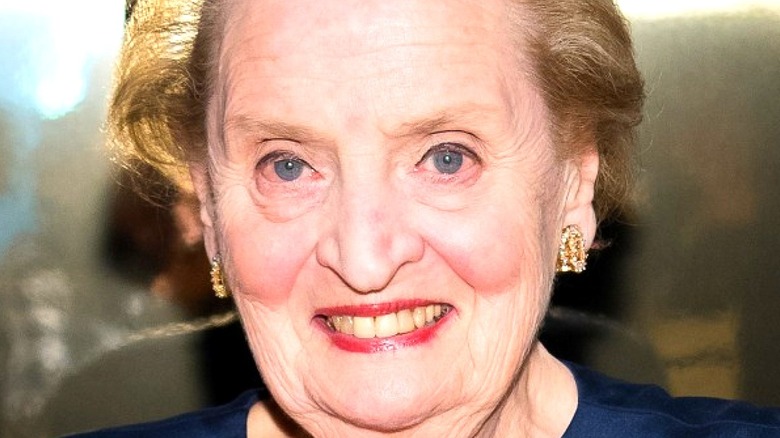 Mike Pont/Getty
Former Secretary of State Madeleine Albright passed away on Wednesday, March 23, at the age of 84, per CNN. Without a doubt, the career politician left her mark on Washington, D.C., thanks to her work during President Bill Clinton's administration. In January 1997, Albright became Secretary of State during President Clinton's second term after serving as the United States ambassador for the United Nations. Although Albright had an admirable and impactful career in politics, you probably didn't know that she also did a fair amount of work in an entirely different town — Hollywood.
Albright appeared on several television shows after the Clinton administration left the White House, appearing in everything from dramas to comedies, according to her IMDb profile. There's one particular TV comedy appearance we're thinking about in the wake of Albright's passing, and it's a show that was as politically astute as the late ambassador, plus it enjoyed a lengthy run on NBC in the early to mid-'00s. Here's another hint: Many other politicians also appeared, as fictional versions of themselves, on the program, much to the delight of the program's central character, who dreamed of climbing the political ladder and landing herself a job in Washington. 
So, which much-loved NBC sitcom did Albright appear in?
Albright gave advice to Leslie Knope on Parks and Recreation
NBC's "Parks and Recreation" was set within the political world, though it mainly focused on small-town governance instead of Washington, D.C.-style wheeling-and-dealing. Albright was one of several real-life politicians who showed up on the sitcom. Famous figures, including former First Lady Michelle Obama, former Vice President Joe Biden, and the late Senator John McCain, also popped up during the mockumentary's seven-season run (per Insider ).
Albright played a version of herself in Episode 8 of Season 7, "Ms. Ludgate-Dwyer Goes to Washington." This installment of "Parks and Rec" is actually quite pivotal to the show's final season, as April Ludgate-Dwyer (Aubrey Plaza) comes to realize she doesn't want to continue working for the National Parks Service after taking on a business trip to Washington, D.C. with Leslie Knope (Amy Poehler). In need of some guidance on how to handle this earth-shattering revelation, Leslie seeks out the counsel of a close friend — Albright. The pair convene at a diner, and Albright tries to help Leslie figure out how to let her former protégée April go to follow her own career path.
In addition to her "Parks and Rec" cameo, IMDb reminds us that Albright also portrayed herself on the WB dramedy "The Gilmore Girls," and she appeared in two episodes of the CBS political drama "Madame Secretary."