The Most Awkward On-Screen Love Scene In Ozark According To Fans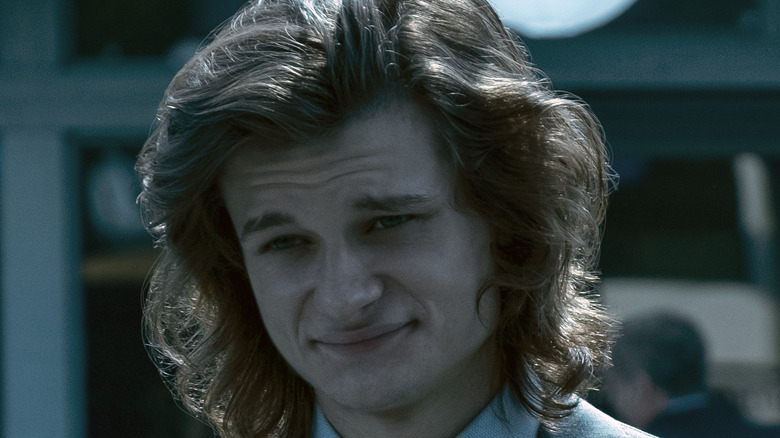 Steve Dietl/Netflix
Believe it or not, shows about drug dealers, murderers, and other related ilk don't often make fertile ground for the most romantic subplots of all time. However, Netflix's "Ozark" is unique in that it has actually managed to fit a number of notable romances into its narrative of blood, violence, and tragedy. Of course, it should also be noted that not all of these storylines are created equal.
While many fans were undoubtedly supportive of the ultimately doomed relationship between Ruth Langmore (Julia Garner) and Ben Davis (Tom Pelphrey), the exact opposite can be said about the relationship between Ruth's brother, Wyatt Langmore (Charlie Tahan), and Darlene Snell (Lisa Emery). Somewhat surprisingly, sometime after murdering her husband, Jacob (Peter Mullan), Darlene begins to look for love in decidedly unexpected places. Although most viewers probably hoped to see young Wyatt eventually move onto college, he instead moves in with Darlene, a woman old enough to be his grandmother. 
A YouTube video depicting a particularly noteworthy scene between the two sparked a variety of interesting conversations about the unlikely duo's relationship.
Many fans did not enjoy Darlene and Wyatt's relationship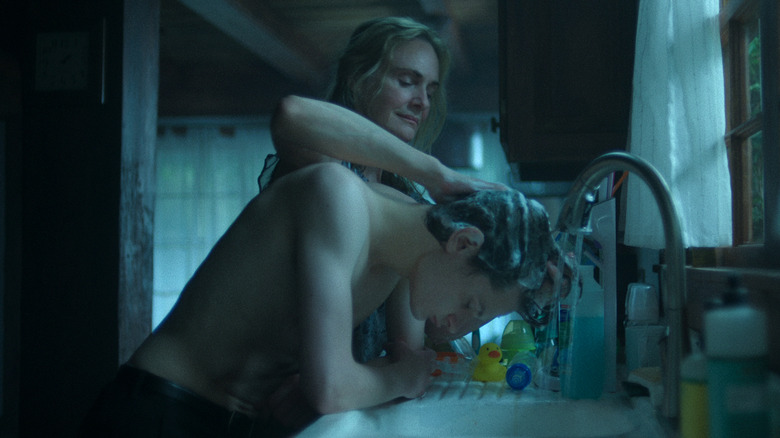 Courtesy of Netflix
In "Ozark" Season 3, Episode 5 ("It Came from Michoacán") (via IMDb), Darlene and Wyatt consummate their relationship in surprisingly graphic detail. If YouTube comments are representative of the general audience's response, most fans were not only unhappy with this development, they were actually downright sickened by it.
Someone under the YouTube username "I3illiejoe Armstrong" left a long, explicit comment that said in part, "This is gross to the max." Similarly, Ricki Hosein left a comment that read, "I couldn't finish watching this scene, cause I gotta be honest, it was pretty disturbing." Others were even more creative in their expressions of disgust. In a comment that received nearly 30 upvotes, Aaron Devine said, "I almost threw up at this scene."
Interestingly, amid a sea of complaints, explicit jokes, and vomit emojis, Heel Moxley seemed to stand directly on the boundary of support and revulsion, admitting, "I was grossed out at this scene at first but I kinda like them together now."

We'd certainly be curious to hear what each of these commenters thought about Wyatt and Darlene's most notable scene in "Ozark" Season 4, Part 1.

"Ozark" Season 4, Part 2, the final seven episodes of the series, will be released on Netflix on April 29 (via IMDb).