Is This The One Cobra Kai Character Hawk Can't Beat?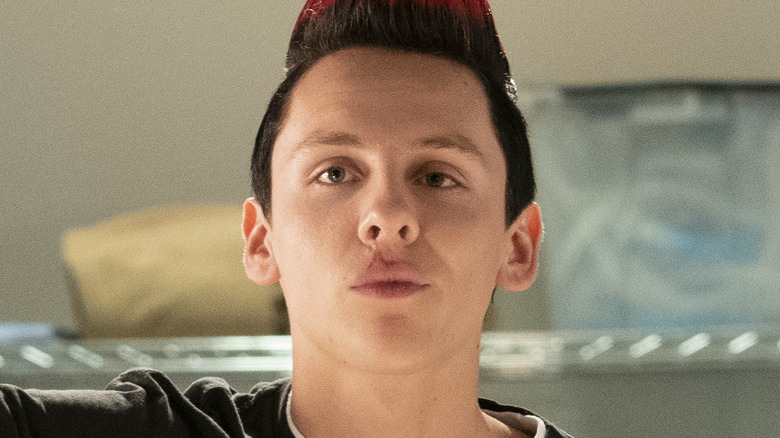 Tina Rowden/Netflix
In the first "Karate Kid" film, teenage protagonist Daniel LaRusso (Ralph Macchio) studies karate with the stoic Mr. Miyagi (Pat Morita) in order to stand up to Johnny Lawrence (William Zabka), a bully at his new high school in Los Angeles' San Fernando Valley. When "Karate Kid" sequel series "Cobra Kai" opens, Daniel and Johnny are adults, but karate quickly becomes a way for high schoolers to resolve interpersonal dramas once again.
Eli Moskowitz, nicknamed Hawk (Jacob Bertrand), is one of the high schoolers at the heart of the ongoing San Fernando Valley karate wars in "Cobra Kai." In its first few episodes, Eli is soft-spoken and reserved. Once he identifies karate as a way to stand up to his bullies, however, he adopts the nickname Hawk, reflected in both a large back tattoo and a dyed mohawk atop his head.
Through the four seasons that thus far comprise "Cobra Kai," Hawk has undergone numerous transformations, oscillating between heroism and occasional villainy. One user online, however, identified one aspect of Hawk's character that has remained practically constant throughout his lengthy "Cobra Kai" tenure: he can't ever seem to outright win a fight against Robby Keene (Tanner Buchanan).
Hawk and Robby have clashed throughout Cobra Kai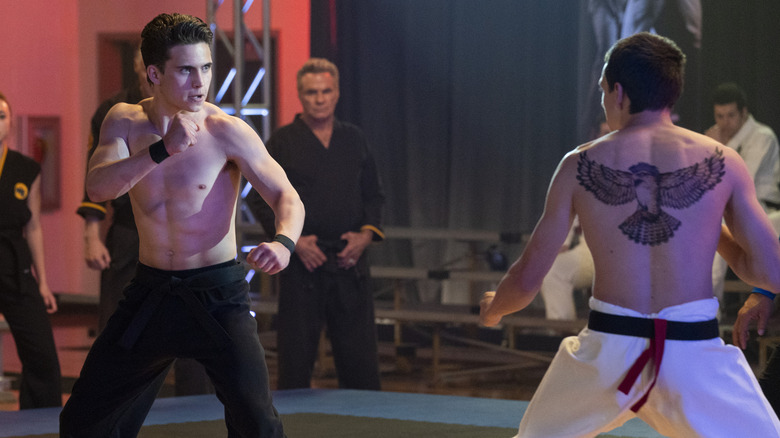 Curtis Bonds Baker/Netflix
Contains spoilers for "Cobra Kai" Season 4
In August of 2021, prior to the premiere of "Cobra Kai" Season 4, user obarehair started a thread on the "Cobra Kai" subreddit titled "I just realized Hawk always loses to Robby." In it, they described each time Hawk and Robby clash with one another throughout "Cobra Kai" Seasons 1 through 3, and how Robby always wins in either a physical or moral victory.
User trialanderror93 offered some justification for these two characters' ongoing conflict. "They are both characters with troubled beginnings and one embraced the anger and aggression of Cobra Kai and the other embraced supposedly, the inner peace of miyagi do," they wrote. "It's just a rehash of miyagi versus kreese. Johnny versus Daniel, even that general guy versus miyagi from karate kid 3."
All of that said, viewers who have finished "Cobra Kai" Season 4 are well aware that Hawk defeats Robby in its final episode. One major contributing factor to Hawk's win, however, is the fact that Robby is distracted mid-fight by young Kenny (Dallas Dupree Young), seemingly overtaken by bloodlust. Robby acts as a mentor to Kenny throughout the season, and witnessing his pupil in a fit of violent rage that he doesn't want to encourage ends up aiding Hawk's win. So, whether or not Hawk can defeat Robby in a fight without distractions remains to be seen, and may even impact the plot of the upcoming Season 5.