The Real Reason Squid Game Fans Are Fuming Over Steven Spielberg's Hot Take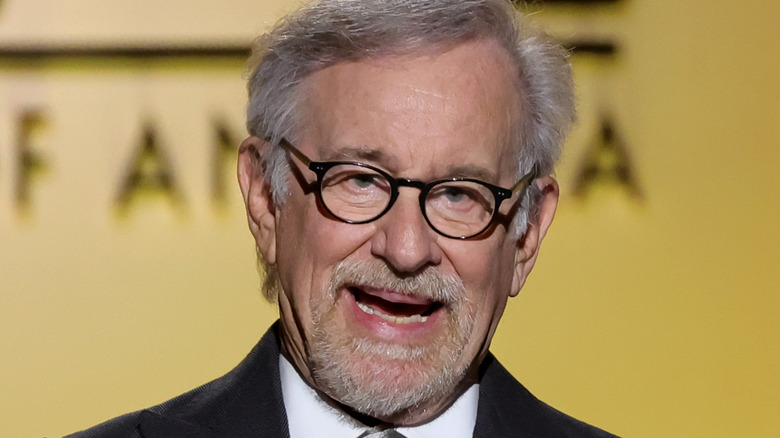 Kevin Winter/Getty Images
Netflix's South Korean dystopian drama "Squid Game" emerged as one of the most popular television series of last year when it was released on the streaming service in September 2021. According to Deadline, Nielsen ratings showed that "Squid Game" was the second-most streamed original series last year, with its 16.4 billion minutes streamed only falling behind the Netflix original series "Lucifer" (18.3 billion minutes streamed across six seasons total). 
Western audiences have seemingly taken a keen interest in international film and television productions in recent years, with South Korean productions like Bong Joon Ho's 2019 film sensation "Parasite," "Squid Game," and the recent hit "All of Us Are Dead" helping lead the way. Major production companies have taken notice: as far back as 2018, Netflix CEO Ted Sarandos told Vulture in 2018 that he would be most excited "if the next 'Stranger Things' came from outside America." In the same story, the company said American streaming numbers for non-English language content rose 71% since 2019.
"Squid Game" was on the mind of legendary American film director and producer Steven Spielberg at a recent Producers Guild of America panel in advance of its annual awards show. During the panel, Spielberg thanked Sarandos for helping bring "Squid Game" creator Hwang Dong-hyuk's vision to audiences, saying that the series "changes the math entirely for all of us" (via Deadline). While Spielberg's comments toward the series were overall very positive, one small note spawned unintentional backlash toward what some see as an American-centric view of the entertainment industry.
Squid Game fans took issue with Steven Spielberg's comments about 'unknown' actors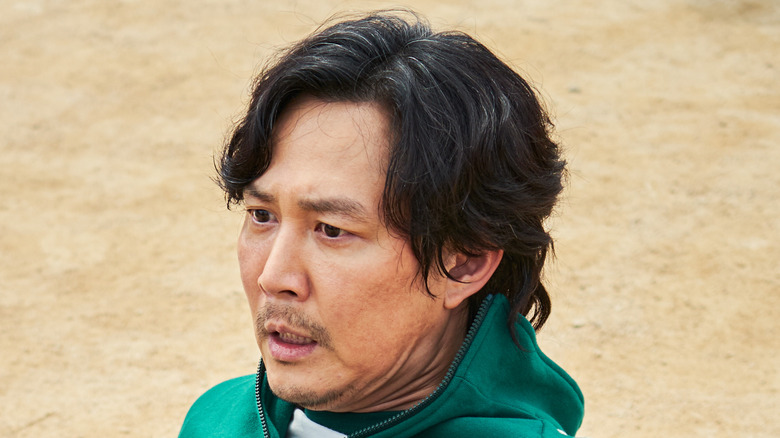 Noh Juhan/Netflix
In praising the success of "Squid Game," Spielberg noted that the rise of streaming television and film platforms has given productions massive success with American audiences, without distinct name recognition. Spielberg then stated that in the past, "it was domestic stars that brought the audience" to see popular American cinema in the theaters and television on the small screen. "Today, it's interesting, unknown people can star [in] entire miniseries, can be in movies," the legendary director said (via Deadline).
Even though Spielberg showered praise onto Netflix and "Squid Game" during the panel discussion, his use of the phrase "unknown people" in reference to the show drew some response online. The Independent reported that "Squid Game" fans online fervently noted that a significant amount of the series' main cast are experienced and popular South Korean actors. Lee Jung-jae, who portrays Seong Gi-hun in the show, is one of the country's most successful actors — although the popularity of "Squid Game" has skyrocketed the entire cast's name recognition internationally.
Whether or not the cast of "Squid Game" should've been considered "unknown" talent before, they certainly can't be hit with that label now. Cast member O Yeong-su won a Golden Globe for Best Supporting Actor in a television series, the first Golden Globe to ever go to a Korean actor (via CNN). Lee and Jung Ho-yeon both took home Screen Actors Guild awards for Outstanding Performance by a Male Actor in a Drama Series and Outstanding Performance by a Female Actor in a Drama Series, respectively, and the show's ensemble cast received a nomination for its overall performance (via The Hollywood Reporter).