This Look At Steven Yeun As Marvel's Mr. Negative Is Flat-Out Incredible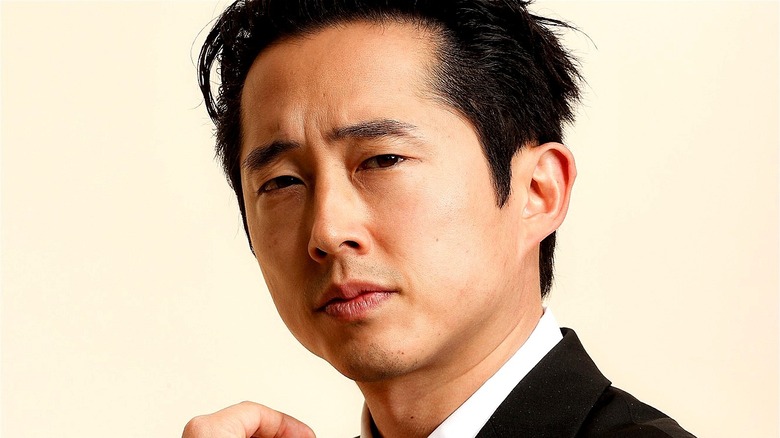 Rich Fury/Getty
"Spider-Man: No Way Home" was one of the biggest films of all time. It brought together the multiverse as multiple Spider-Men from different franchises came together to take down their respective villains. It was an incredible piece of blockbuster filmmaking that scratched every itch fans could possibly have out of this concept, so the question that inevitably comes up is, "What's next?"
Naturally, there will be more "Spider-Man" movies in the future. But how do you possibly follow up one of the biggest films of all time, especially one that brought together 20 years of Spider-Man stories into one epic set piece? Those behind the Marvel Cinematic Universe will have to give it a shot, and there's certainly no shortage of Spider-Man villains to pull from to get the job done.
One pick who would feel right at home in the MCU is Mr. Negative, who's made quite a splash on fans ever since he appeared in the Insomniac "Spider-Man" video game for the PS4. There have been rumors he could be the next big bad in a feature-length "Spider-Man" movie, and while there are plenty of actors who could do justice to the character, one Instagram artist has envisioned what it could look like for "The Walking Dead" star Steven Yeun to take on the role. 
Steven Yeun looks menacing as Mr. Negative
Instagram artist @akithefull has ample examples of fan casting on their social media profile, and Steven Yeun as Mr. Negative is one in a long line of castings that look great and make sense. Yeun broke out into the mainstream with a role in "The Walking Dead," but after his character was dispatched on that show, he's gone on to appear in a slew of indie projects, like "Sorry to Bother You" and "Minari." A jump to the world of Marvel wouldn't be out of the question, and Mr. Negative would be a juicy role for him to sink into. 
Mr. Negative comprises duality as the light side of him, Martin Li, founded F.E.A.S.T. to help the homeless, while the dark side of him, Mr. Negative, is a crime lord who commands the Inner Demons gang. Depending on the adaptation, his powers include healing, charging weapons, firing off energy blasts from his hands, and controlling others' minds. 
According to the artist, it could only be a matter of time until we're introduced to Mr. Negative in the MCU, as they state, "Since F.E.A.S.T. has been introduced in ['No Way Home'], that just confirms the existence of Martin Li aka Mr Negative in the MCU, and [I] think it's very likely that he'll be one of the villains in the new college trilogy."
Many people seem to be in agreement that the casting makes sense, as some of the comments under the photo include, "Heck yeah he'll be awesome" and "This actually blew my mind." It could be a while until we get any updates on the MCU's "Spider-Man 4," so for now, fans will have to sit back and ask themselves, "What if?"