What Liev Schreiber From Scream 2 Is Doing Now
With the recent release of this year's "Scream" movie, otherwise known as "Scream 5," many fans are likely taking the time to rewatch the entire series before they see the most recent installment of the horror classic. It all started back in 1996 with Drew Barrymore, Neve Campbell, Courteney Cox, David Arquette, and Matthew Lillard, among others. The original "Scream" received mostly positive reviews from critics and audiences alike, with some noting that it puts a humorous and meta spin on the slasher genre. Fast forward to 2022, and this year's "Scream" is receiving similar praise, earning fresh scores on Rotten Tomatoes. Of all the "Scream" movies, however, only the original, this year's "Scream," and "Scream 2" have mostly positive feedback from audiences and critics. "Scream 3" and "Scream 4" seemed to miss the mark for most, with the third installment being "Certified Rotten" and its follow-up barely making it over the fresh 60% mark on Rotten Tomatoes, with the average audience rankings sinking even lower. 
"Scream 2" is actually the most critically approved film in the entire series and follows Sidney (Campbell) and Gale (Cox) after they survived the events of the first film, discovering that a copycat killer of Ghostface is now on the loose. "Scream 2" had some more returning names in its cast as well, such as Liev Schreiber. Schreiber notably plays Cotton Weary — the man exonerated for the rape and murder of Sidney's mother. He actually becomes pivotal at the end of "Scream 2" in saving Sidney and Gale from their deaths, although his motives are grounded in aspirations of fame. Schreiber's follow-up appearance in "Scream 3" is brief, however, given his character's murder early in the film. Here's what the actor has been doing since playing Cotton in the "Scream" movies.
Liev Schreiber just finished an adaptation of Ernest Hemingway's final novel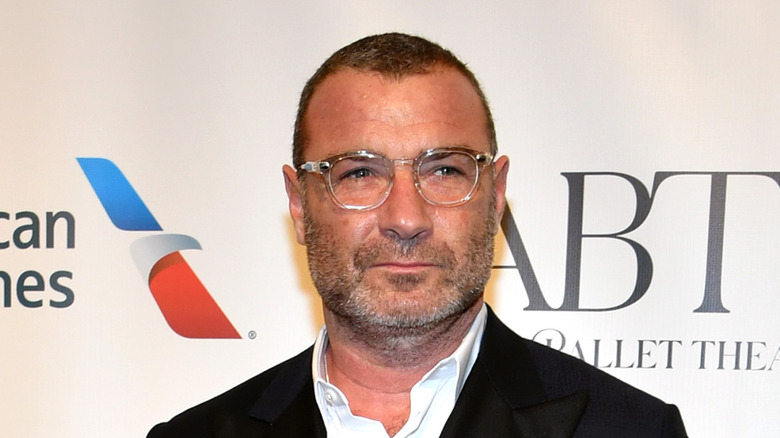 Slaven Vlasic/Getty Images
For Liev Schreiber, "Scream 2" served as a popular supporting role that helped further his career in the late 1990s. The actor began working in the industry back in 1994, where he was able to get a supporting role in the Steve Martin and Adam Sandler movie "Mixed Nuts" (via IMDb). From there, Schreiber would get a small part in Drew Barrymore and Chris O'Donnell's "Mad Love" one year later — which also featured future "Scream" alum Matthew Lillard — until he appeared in the first "Scream" as Cotton. After "Scream 2" and "Scream 3," Schreiber would grow and earn big supporting roles alongside actors like Denzel Washington in "The Hurricane," and in 2008, Schreiber became known to X-Men fans as Sabertooth during "X-Men Origins: Wolverine."
In the past decade, Schreiber has had a number of roles in popular movies like "Pawn Sacrifice" and "Spotlight," and he landed a voiceover part as Wilson Fisk in 2018's "Spider-Man: Into the Spider-Verse." However, he has most notably led the show "Ray Donovan" as the titular character from 2013 to 2020. Schreiber is currently set to star in "Across the River and Into the Trees," an adaption of Ernest Hemingway's last finished novel before his death (via Variety). The movie follows Schreiber's Colonel Richard Cantwell as he struggles with life after war, and it's also set to feature Josh Hutcherson and Danny Huston in supporting roles. According to IMDb, the film is now in post-production and awaiting an official release date. We'll keep you posted.