The Queen Charlotte Moment That Went Too Far On Bridgerton Season 2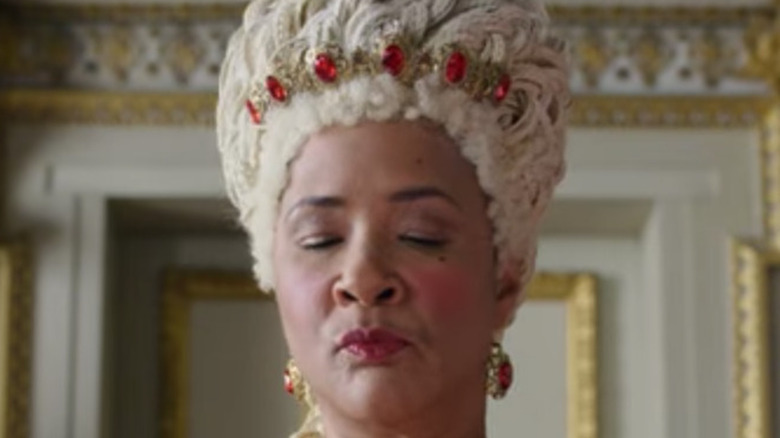 Netflix
This article contains spoilers for "Bridgerton" Season 2.
"Bridgerton" Season 2 is here at last, and there is no shortage of scandals brewing among London's elite. Although some fans may lament the absence of Regé-Jean Page's Duke of Hastings, fear not because Jonathan Bailey's Viscount Anthony Bridgerton brings his heartthrob A-game. In the series' second outing, the eligible young ladies and men of the Ton are again looking to find their mates. Anthony is determined to make an advantageous match with this season's "Diamond," Miss Edwina Sharma (Charithra Surya Chandran). The only thing standing in his way is her older half-sister Kate (Simone Ashley), who considers Anthony a lackluster suitor.
Overseeing the Regency-era London courtship ritual is Queen Charlotte (Golda Rosheuvel), who remains vexed by Penelope Featherington's (Nicola Coughlan) Lady Whistledown (voiced by Julie Andrews). The relationship between the monarch and the gossipmonger remains as adversarial as ever, and the queen takes a more duplicitous approach than in Season 1 to uncover Whistledown's real identity.
Caught in the crossfire is Eloise Bridgerton (Claudia Jessie), the season's most reluctant debutante. The queen's obsession with Whistledown causes the monarch to go too far when trying to unmask the woman who wields the poison pen.
Queen Charlotte's treatment of Eloise goes too far on Bridgerton Season 2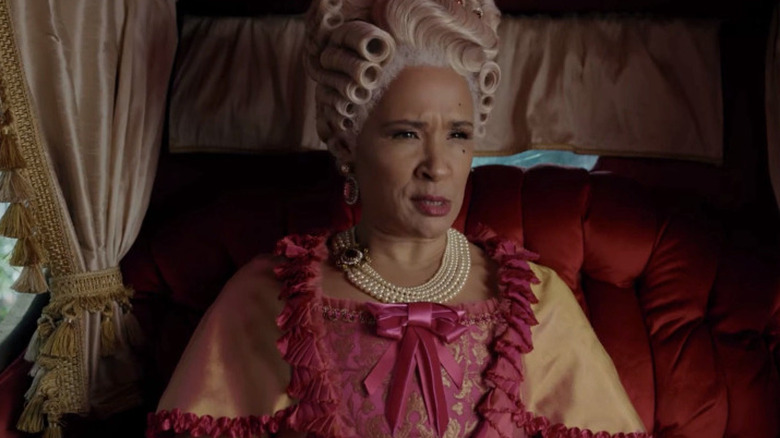 Netflix
Queen Charlotte spends most of "Bridgerton" Season 2 scheming, coming up with a way to discover Lady Whistledown's true identity, but despite her vast resources, she still gets it wrong. The queen's belief that a teenager has one-uped her leads to an over-the-top response. She refuses to allow Eloise to prove her innocence, telling the accused, "your denial will only enhance your punishment." Queen Charlotte intimidates and threatens Eloise, making it clear that Eloise can work with the queen or become her rival, guaranteeing her family's ruin.
The conversation takes an even more insidious turn when the queen tells Eloise, "Pride may not be as precious to you as your breath." In this case, the punishment far outweighs the severity of the crime, which is simply wounding the Queen's pride. At this moment, Queen Charlotte resembles the Queen of Hearts in "Alice's Adventures in Wonderland," demanding someone's head as payment for any perceived slight.
Until this moment in Season 2's penultimate episode, Queen Charlotte's fascination with uncovering the identity of Lady Whistledown feels like sport, something to take her mind off her husband's ill mental health. Her treatment of Eloise, who is just a young girl, doesn't just raise the stakes, but it seems uncharacteristic of the queen. She, while formidable, also displays great generosity, kindness, empathy, shrewdness, and an appreciation and affinity for other strong, independent women. The queen's attempt to take down Eloise makes her appear as nothing more than a schoolyard bully.