Who Plays Queen Charlotte On Bridgerton?
When it first premiered in December 2020, Netflix's "Bridgerton" was a smash success. Adapted from Julia Quinn's novels, the series follows the Bridgerton family in Regency era England, attempting to further their family name and find suitable matches. The first season centers around the love story between Daphne (Phoebe Dynevor) and Duke Simon Basset (Regé-Jean Page). While the series is devoted to the story of the Bridgerton siblings, there is one character if without the show would just not be the same.
Though Queen Charlotte (Golda Rosheuvel) is not involved in any of the romantic drama, she does provide motivation for these matches. Every season young women come out into society and it is her they want to impress. With the Queen's attention, young debutantes are more likely to get suitors. The Queen is also relevant because of her personal story. Her struggles with King George III's illness is emotionally gripping, even though it is rarely seen (via Insider). The Queen is so important that Netflix has announced her own spin-off. With such an significant character, many may be wondering what roles Rosheuvel had before that made her such a compelling actor.
Rosheuvel has had mainstream success in recent years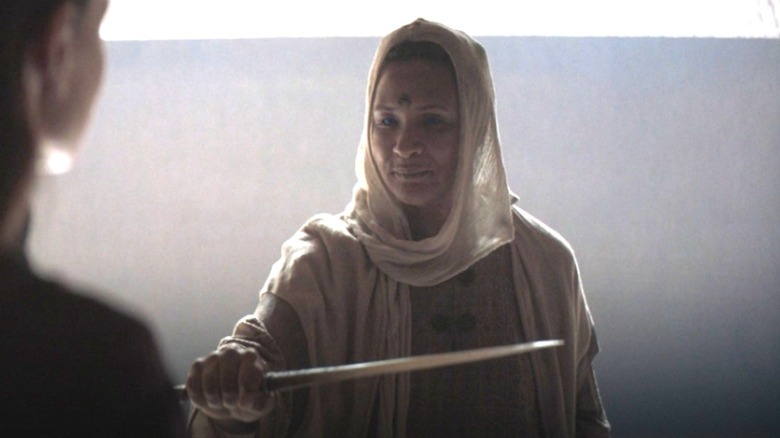 Warner Bros./HBO Max
Anyone familiar with British film and television will recognize Golda Rosheuvel. With over two decades in the entertainment industry, she has been a part of many iconic television shows. She has had appearances in Idris Elba gritty detective show "Luther" as well as a role on "Doctor Who" spinoff "Torchwood" (via IMDb). However her role in one of the most anticipated blockbusters of the past year may garner the most recognition.
In 2021, Rosheuvel appeared in Denis Villeneuve's adaptation of "Dune" as Shadout Mapes. The role was brief, but integral to establishing the culture of the film. Rosheuvel plays Shadout Mapes, a Fremen who is in the running to take care of the Atreides estate on Arrakis. At first Lady Jessica (Rebecca Ferguson) thinks that Shadout Mapes means to do her harm. Instead, she offers Jessica a crysknife. The Fremen have been anticipating the arrival of their messiah for centuries and Shadout Mapes suspects that Jessica is the mother to the Kwisatz Haderach.
She unfortunately does not survive the attack on House Atreides by the Harkonnen forces, but she is important nonetheless. She gives context to the Lisan al Gaib prophecy and gives credence to the idea that Paul (Timothée Chalamet) is the Kwisatz Haderach. Rosheuvel demonstrates great acting ability, one that she continues with in "Bridgerton." Netflix's series has brought the actor to mainstream audiences, as well as her appearance in "Dune."