The Daphne Moment That Went Too Far On Bridgerton Season 2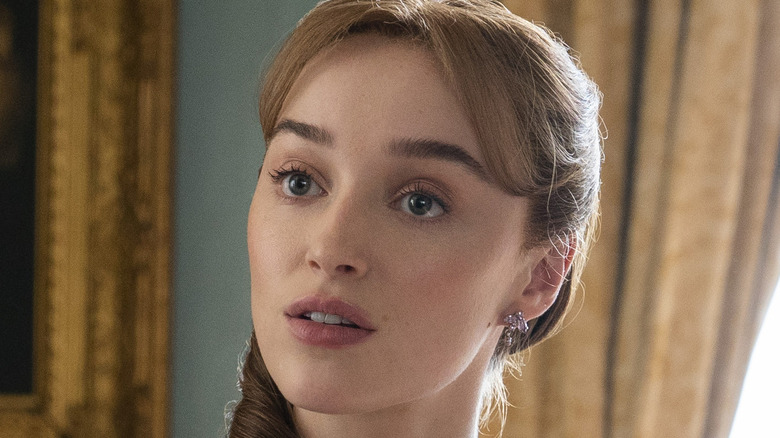 LIAM DANIEL/NETFLIX
After what seems like an eternity to wait, "Bridgerton" Season 2 has finally been released. The series that got viewers all hot and bothered with Season 1's Duke of Hastings (Regé-Jean Page) has a new man at the forefront — the season's most eligible bachelor, Lord Anthony Bridgerton (Jonathan Bailey). As the viscount, Anthony knows it's his duty is to marry well, so he decides to choose a wife in the season's so-called diamond (aka the most-eligible bachelorette), Edwina Sharma (Charithra Chandran). However, courting her isn't so simple with her hard-to-please older sister Kate (Simone Ashley) judging his every move. He has to first win Kate's approval if he wants to marry her sister, but in doing so, he realizes Edwina may not be the one he actually wants.
The latest season sees Daphne Bridgerton (Phoebe Dynevor), who was the star of Season 1, take a backseat to her brother Anthony's marriage prospects. As the new Duchess of Hastings, Daphne doesn't have as much time to deal with her family's antics, but she does pop in a few episodes throughout Season 2. In one of these instances, she causes quite a big stir for Anthony and Kate.
Daphne ruined Anthony and Kate's big moment
Ever since Kate overheard Anthony speak about marriage in a not-so-gentlemanly way, she's made it her mission to stop his courtship to her sister, Edwina. On the outside, things between the two seem hostile at best, but Kate and Anthony know their hostile feelings for each other are turning a bit more romantic. In Episode 4, the Bridgerton family invites all of the Ton, including the Sharmas, to enjoy a ball at their country estate. After days of spending time together, Anthony and Kate are in the midst of a lust-filled argument in the library when Daphne bursts in, completely breaking their pent-up tension.
Of course, Daphne didn't ruin Anthony and Kate's big moment on purpose, but nonetheless, her interruption stopped them from finally crossing the line from enemies to lovers. The entire episode is filled with sexual tension from Anthony and Kate, from the lord nestling up to Kate to show her how to shoot to their romantic dance. It seemed things between Anthony and Kate were finally coming to a head, and they would reveal what they actually felt for each other in the library scene. That's why when Daphne walks in, it's such a disappointment. It's also the moment she realizes her brother feels much more strongly for Kate than he does for her sister, whom he's supposed to be courting. She spends the rest of her time trying to convince Anthony to be true to his feelings and to Edwina.