The Worst Sam Elliott Movie You Probably Don't Need To See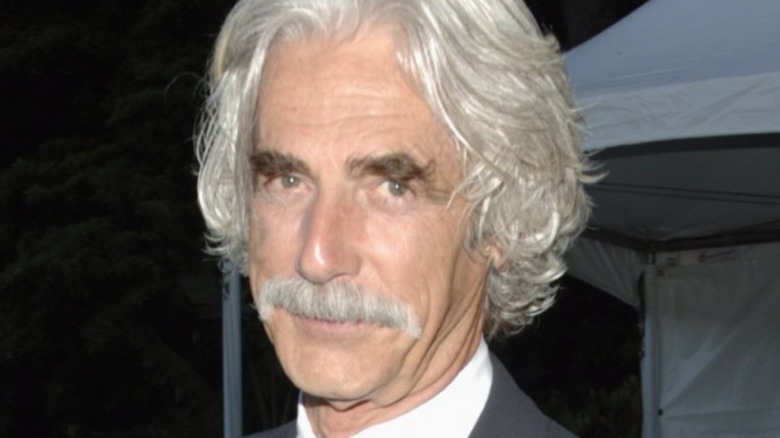 John M. Heller/Getty
Sam Elliott is one of the most respected actors working today. His filmography dates back to the 1960s, with his distinct, deep voice and full mustache making him the perfect fit for a slew of westerns like "The Way West" and "Butch Cassidy and the Sundance Kid." While the western genre has struggled to maintain relevance in the decades that followed, Elliott had no such problem, as he continues getting regular work well into the 21st century. Most recently, he could be seen in the western drama series "1883," which functions as a prequel spinoff to the immensely popular "Yellowstone."
However, that's not to say Elliott has nothing but hits to his name. Every actor is going to have a few stinkers over the course of a career, especially when it spans nearly 60 years. If you're considering a Sam Elliott binge-watch, here's the one title you'd probably be better off skipping.
Critics wanted to put Marmaduke down
Sam Elliott has a gruff, unique voice, making him an ideal actor for voiceover work. Therefore, there really was no one better to voice the abominable Chupadogra in 2010's "Marmaduke." The only problem is that the rest of the movie didn't exactly live up to the caliber Elliott's generally associated with. 
The film currently has a critics' score of only 9% on Rotten Tomatoes. It hasn't fared much better with general audiences, with 42% positive ratings from them. Critics didn't hold back in their disdain while writing their reviews. As the commenter for The Guardian wrote, "Fans of the single-panel cartoon that has run in newspapers since the 1950s will find plenty to disappoint them in this live-action adaptation." The reviewer for Metro didn't have anything much better to say: "That Marmaduke makes a point of farting when Phil and Debbie kiss sums up the film's level of appeal."
"Marmaduke" is pretty out of line with the rest of Elliott's body of work. Plus, he doesn't physically appear in the film, so anyone wanting more Sam Elliott to watch would be better off checking out the likes of "Tombstone" and "The Man Who Killed Hitler and Then the Bigfoot."