This Is How Much Blue Blood's Tom Selleck Is Actually Worth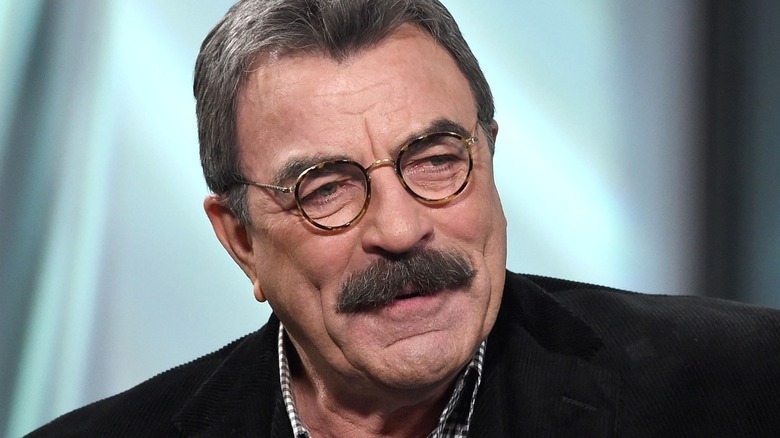 Jamie Mccarthy/Getty
Tom Selleck and his mustache have been an iconic part of the TV landscape since the 1980s, when Selleck starred on "Magnum, P.I." Selleck has graced the small screen, however, since the '60s, both as a commercial actor for brands like Right Guard and Dubbonet, and in series like "Charlie's Angels," "Taxi," and "The Rockford Files" (via IMDb). But it was Selleck's role as Thomas Magnum that catapulted him to fame. The crime drama series ran from 1980 to 1988 and regularly enjoyed top ratings, a trend that would continue once it was in syndication (via Museum of Broadcast Communications). "Magnum, P.I." also won Selleck an Emmy Award for Outstanding Lead Actor in a Drama Series in 1984.
With his actorly accolades and newfound celebrity in tow, Selleck took on a number of high-profile film roles across genres, including "Three Men and a Baby," "Runaway," and the 1990 western "Quigley Down Under." Still, Selleck couldn't resist the siren song of television, returning as a recurring character on "Friends" between 1996 and 2000. During that time he also played the lead part on the short-lived "The Closer," followed by roles on "Boston Legal," "Las Vegas," and in numerous made-for-TV movies (via IMDb). Since 2010, Selleck has starred as New York City Police Commissioner Frank Reagan in "Blue Bloods."
With such an impressive résumé, it should be no surprise that the star has an impressive net worth. 
Tom Selleck's net worth is about $45 million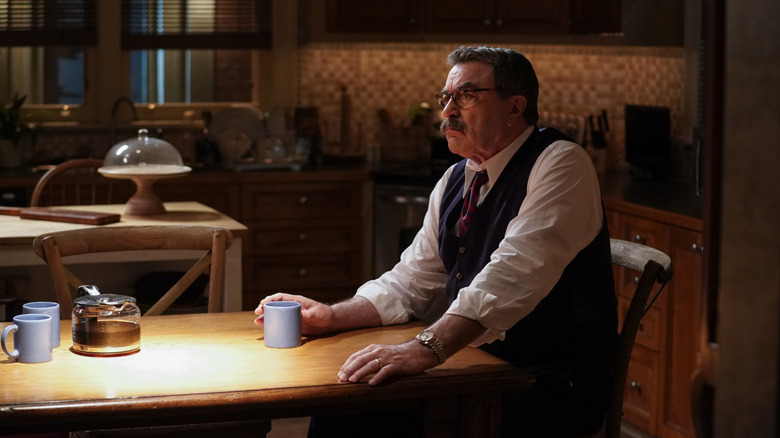 Patrick Harbron/CBS
With a number of films and consistent television roles under his belt, Tom Selleck's net worth is $45 million, according to Celebrity Net Worth. The actor began enjoying hefty paydays in "Magnum, P.I." Around the show's fifth season in 1985, Selleck was reportedly earning about $500,000 per episode. Adjusted for inflation, that's roughly $1.2 million — not bad for a day spent cruising around Hawaii in a Ferrari. Selleck surely put some of his handsome salary towards his firearms collection, as well as some real estate holdings; the NRA spokesman purchased a 65-acre Ventura ranch in 1988 (via Architectural Digest).
These days, Selleck's steady cashflow comes primarily from "Blue Bloods," for which he collects $200,000 per episode. For those keeping track, Celebrity Net Worth confirms that it's about $5 million per season. The actor also supplements his income with other projects, namely a series of TV films that he's been starring in since 2005. Based on novels by Robert B. Parker, Selleck has played police chief Jesse Stone in nine separate installments, the most recent of which, 2015's "Jesse Stone: Lost in Paradise," Selleck co-wrote (via IMDb).
While fans wait for the next Jesse Stone appearance, they can enjoy watching "Blue Bloods" on CBS.