The Jim Henson Classic You Didn't Know Spawned A Clothing Line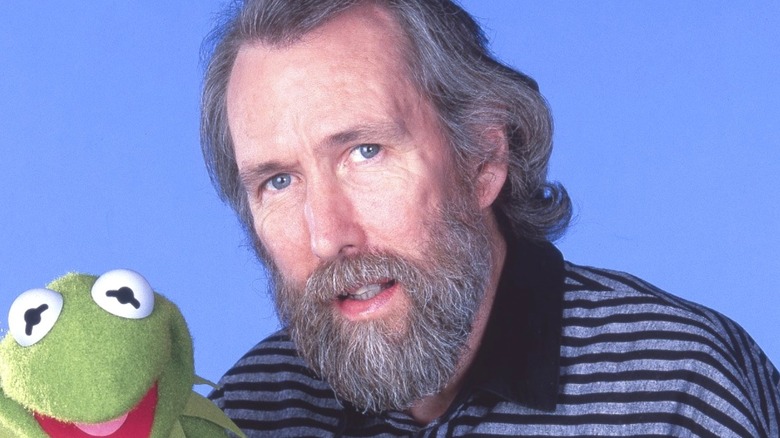 Michel Delsol/Getty
Jim Henson is a legendary figure in the world of puppetry and is primarily known for his massive contributions to pop culture like "The Muppets," "Sesame Street," and "Fraggle Rock." The defining characteristic that is shared across all of his franchises is his iconic use and style of puppets. One of his most popular properties is "The Muppets," which showcases the likes of Kermit the Frog, Miss Piggy, and Fozzie Bear, offering slightly different fare than the educational characters on "Sesame Street." Made famous in 1976 with "The Muppet Show," this particular series featured contemporary entertainers, sketch comedy, and much more adult-focused comedy (via Rolling Stone).
Originally appearing in "Sam and Friends" in 1955, the Muppets went on to earn their own show, but their success also created several movies, such as "The Muppet Movie" in 1979, "The Great Muppet Caper" in 1981, and "Muppets Take Manhattan" in 1984. Disney later purchased the rights to the characters, but these did not include any of the puppets featured in "Sesame Street" (via Entertainment Weekly). "The Muppets" franchise continues to do well financially, and the movies have cumulatively made a staggering $452 million at the box office (via The Numbers), while its characters continue to pop up everywhere from TV shows, commercials, movies, music, and merchandising. Few can resist the power of Kermit the Frog's "The Rainbow Connection," which continues to receive musical covers to this day, and his visage is used on shoes, ornaments, stuffed animals, and so much more. But there's also a lesser-known Jim Henson property that inspired a clothing line hoping to capitalize on Henson's creative vision — one that, unfortunately, doesn't seem to have left a lasting mark on the world of fashion.
The Dark Crystal inspired high-end fashion
The movie that created an entire high-end fashion line is the dark fantasy film "The Dark Crystal." Originally, the film did not do well financially, having made only $40 million over its entire theatrical run (via The Numbers), but it is now considered a classic among Jim Henson's work, even spawning a short-lived prequel series on Netflix in 2019. As co-creator Frank Oz told SFGate of the original in June 2007, "There was only one review that was great, it was Variety, and then after that the reviews were only so-so. But Jim did what he thought was right. He only did what he felt was good in his heart." The movie currently holds a 79% on Rotten Tomatoes.
Released in 1982, "The Dark Crystal" is incredibly effective at worldbuilding with its fantastic creatures and designs, and as such, it was perfect for a high-end clothing line. According to Henson.com, the famous puppeteer was so impressed with his team's work on the film that he had 40 garment pieces created, with price tags ranging from $500 to $1,800, and they were released exclusively at four high-end outlets across the United States and the United Kingdom. The set, which Vogue featured in 1982, contained daywear, nightwear, hats, and jewelry that took color schemes from the characters and locations.
Henson's website preserved a press release for the clothing line from the time, which stated Henson's purpose for creating the line was "a desire to see the beauty of the film transposed into another creative medium; and, to acknowledge the strong influence that film has always had on fashion." Unfortunately, they also revealed that the clothing line did not do very well in sales, although most of the team of designers went on to help Jim Henson's next dark fantasy film, "Labyrinth," where their influence is keenly felt.