The Psychological Thriller That Left Jake Gyllenhaal Needing Stitches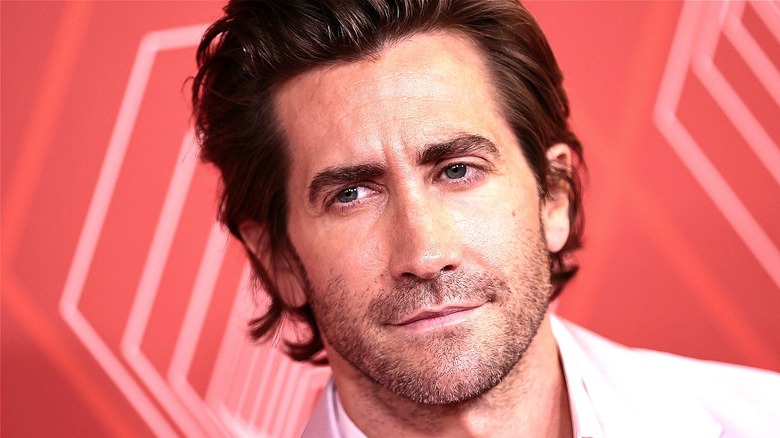 Dimitrios Kambouris/Getty
It's been well-documented how actors have sometimes gone above and beyond the performance that was asked of them and suffered injuries as a result, all for the love of the craft. Daniel Craig had a fair few injuries as Bond, Leonardo DiCaprio made a meal of a scene that cost him a nasty cut on his hand in "Django Unchained," and Halle Berry even broke her arm filming an intense scene during her appearance in "Gothika."
Another star who also sustained a few injuries during a performance is the Oscar-nominated actor Jake Gyllenhaal. The turn that critics praised as an outstanding moment for his career demanded sweat and tears, and it ultimately led to a splash of his own blood being thrown in for good measure. But in hindsight, it seems understandable that things got intense during filming, given the equally driven, hardworking co-star that he was playing off against during the scene — himself.
Jake Gyllenhaal was injured after fighting with a mirror in Nightcrawler
In the 2014 thriller "Nightcrawler," Gyllenhaal plays a deeply unethical freelance journalist, Louis "Lou" Bloom. The film presents an immensely dark perspective on the media industry and one man's desperate effort to be a part of it, leading to his own sanity being tested as a result. One such instance is during a noticeable bout of rage that had Gyllenhaal screaming at himself in a mirror before smashing it to pieces. Over the course of director Dan Gilroy's intense thriller, it's a standout moment highlighting Gyllenhaal's performance, but it's one that came at a pretty severe cost.
As reported by E! Online and revealed by a rep, "During the shooting of the scene his character (purposefully) banged his hand into the mirror. Unfortunately, the mirror broke and Jake's hand was badly cut up." Ever the dedicated professional, a quick trip to the emergency room saw him back in action shortly afterward. Speaking to Vulture about the incident later, Gyllenhaal said, "If you're committed, sometimes, accidents happen. But we got it on film, so it'll be in the movie, I hope!" As we now know, it did make for an intense moment in a film filled with many others, only with the addition of some unplanned broken glass.