Why The Star Behind Shrek's Gingerbread Man Is More Important Than You Think
A hilarious, often-repeated scene from "Shrek" is when the villainous Lord Farquaad (John Lithgow) is holding the Gingerbread Man (Conrad Vernon) captive. As he's being tortured to reveal the location of other fairytale creatures in hiding, the Gingerbread Man responds, "No, not the gumdrop buttons!" Then, he seems to give in, and he tells Lord Farquaad hesitantly, "Do you know the Muffin Man?" Lord Farquaad quizzically repeats the name — "The Muffin Man?" — and the interrogation devolves into a twist on the classic nursery rhyme, recited in varying degrees of terror and frustration as the characters trade off lines. The comical exchange takes no more than 20 seconds, but Vernon's delivery is so perfect that the scene sticks out as a memorable one.
Vernon voiced the Gingerbread Man in all of the "Shrek" films and featurettes, and he also voiced other characters in the franchise, such as Cedric, the Muffin Man, Mongo, Rumpelstiltskin, and the Headless Horseman. But you may not know that the person behind the familiar voice has done a lot more work in film and television besides playing the Gingerbread Man, and he's responsible for bringing many of your favorite animated stories to life.
Conrad Vernon is a longtime force in the world of animation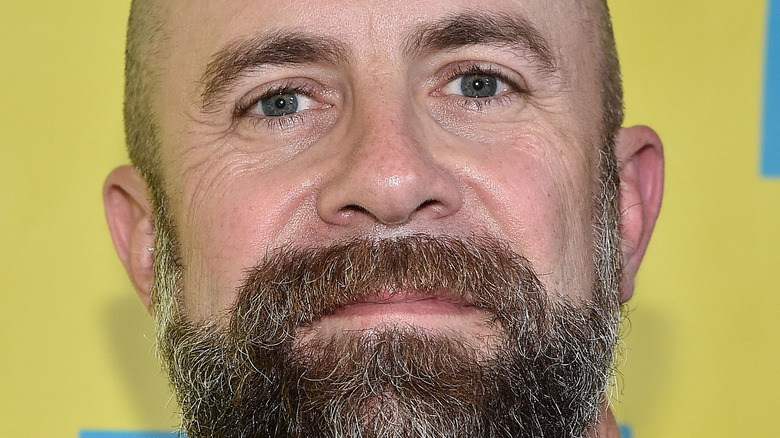 Mike Windle/Getty Images
Conrad Vernon loves voicing the characters he's helped create in animated films, but he's much more intertwined in the films than people may realize. Near the start of his career, he worked as a writer and storyboard artist for "Rocko's Modern Life" and "Antz" (via IMDb). With "Shrek," not only is he the voice of a memorable character in the franchise, but he also developed the Gingerbread Man scene in the first film and directed "Shrek 2" (via Polygon). Similarly, he voiced Advisor Hawk and several other characters in "Monsters vs. Aliens" while also directing it alongside Rob Letterman.
As with "Shrek," Vernon started work in the "Madagascar" franchise in a smaller role, serving as a consultant on "Madagascar" and "The Madagascar Penguins in a Christmas Caper" as well as voicing Mason and Rico for the films. When it came time for the next film, "Madagascar 3," Vernon was chosen to direct along with Eric Darnell and Tom McGrath, who had previous directing credits with the franchise.
In 2016, Vernon and Greg Tiernan got on board to direct the R-rated animation "Sausage Party," of which Vernon said, "The pitch was hilarious, quick, and I've been wanting to do something like this since I was 13 years old" (via Gold Derby). He also added a new title to his growing list: producer. Since then, he has directed and produced the reimagined "The Addams Family" and its 2021 sequel, "The Addams Family 2." We can't wait to see what animated projects he's involved in next.