The Lady Bridgerton Scene That Went Too Far On Bridgerton Season 2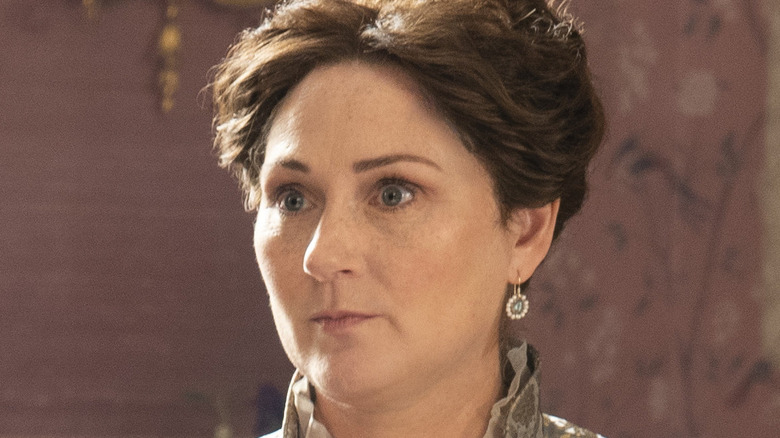 Liam Daniel/Netflix
With the recent release of "Bridgerton" Season 2, Lady Whistledown (Julie Andrews) is officially back and has plenty of piping hot tea to spill on The Ton's aristocratic families. This season, London's most eligible bachelor, Lord Anthony Bridgerton (Jonathon Bailey), has decided to settle down and find himself a wife. However, he's not willing to settle down for just any respectable lady. He sets his sights upon Edwina Sharma (Charithra Chandran), the queen's so-called "diamond" of the season. If he wants to win her hand, he must first get the approval of her protective older sister, Kate (Simone Ashley), which quickly proves to be a challenge in itself.
Meanwhile, Lady Featherington (Polly Walker) is left scheming to provide for herself and her three daughters after the death of Lord Featherington in Season 1. Queen Charlotte (Golda Rosheuvel) moves ever-closer to uncovering the true identity of the famed gossip columnist Lady Whistledown.
Additionally, Lady Bridgerton (Ruth Gemmell) is tasked with bringing out her next oldest daughter, Eloise (Claudia Jesse), into society. While Eloise is determined on being much more than an embroidery-loving debutante, her mother is set on finding her a suitor. But, in Lady Bridgerton's attempt to set her daughter up, she may have gone a bit too far.
Lady Bridgerton embarrasses Eloise with her scheming
While most of Season 2 deals with Anthony attempting to woo the Sharmas over, the season also sees Eloise enter society and her mother scheming to win her a match. In comparison to her siblings, Eloise is much more interested in intellectual affairs than The Ton's social events, but nonetheless, Lady Bridgerton still drags her out to every ball she can.
At one of these balls in Episode 4, Lady Bridgerton has set her up with some high-ranking gentleman for a dance, and poor Eloise is not able to finesse her way out of it. She and the gentleman share an awkward dance until he offensively comments, "Many [women] can't even articulate a thought." After a few more insulting comments from her would-be suitor, Eloise storms off the dance floor with her mother in tow. Lady Bridgerton claims she invited the gentlemen specifically for Eloise as he was hoping to share her "rebellious spirit." Eloise tearfully shouts that her "rebellion" isn't something to attract a suitor like "singing or painting" then retreats to her room for the rest of the ball.
This whole ordeal could have been avoided had Lady Bridgerton simply let Eloise dance with who she chooses, or not dance at all like she would've preferred. Lady Bridgerton should have known that Eloise is far less likely to meet her match in a traditional way, like dancing, since she scorns all things customary to society. The unsuccessful set-up sadly leaves Eloise embarrassed and feeling more like a disappointment to her mother.