Is There A New Chicago P.D. Episode On Tonight? (March 23, 2022)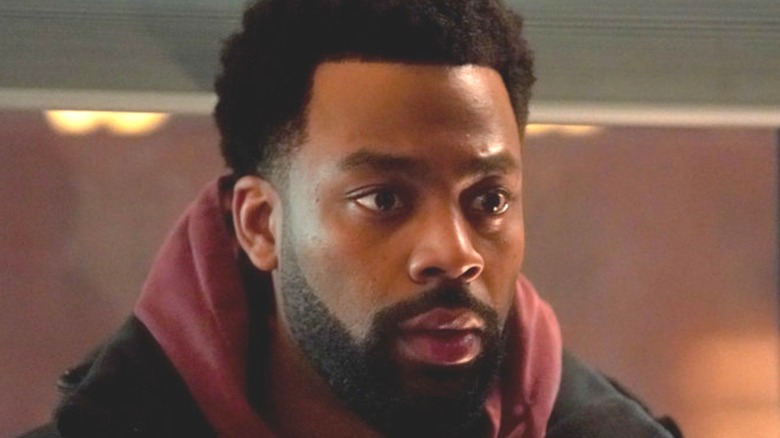 Lori Allen/NBC
The NBC crime drama "Chicago P.D.," part of the Dick Wolf-created Windy City-based franchise, is currently in its 9th season. Hank Voight (Jason Beghe) heads the CPD's Intelligence Unit, with detectives Jay Halstead (Jesse Lee Soffer) and Tracy Spiridakos (Hailey Upton) backed by officers Kim Burgess (Marina Squerciati) and Kevin Atwater (LaRoyce Hawkins). Season 9 begins with a cliff-hanger in which Burgess fights for her life after being shot multiple times. The season has been well received, with a Rotten Tomatoes audience score of 92% and IMDb ratings between 7.5 and 9.0 for each of the first 16 episodes.
The show's popularity comes despite an erratic broadcast schedule. NBC's airing of the 2022 Winter Olympic Games interrupted "Chicago P.D." in February, and that delay was extended by a couple of weeks after a bout of COVID struck the set (via Chicago Sun-Times). With the numerous disruptions and unpredictable schedule, can we count on a new episode of "Chicago P.D." this week?
There will not be a new episode of Chicago P.D. on Wednesday, March 23, 2022
Sadly, fans of NBC's "Chicago, P.D." will have to do without Burgess, Voight, and company for just a while longer. The series will broadcast a rerun on March 23, with new episodes returning in two weeks (via NBC). Steve Kern, NBC's head of scheduling, told Variety that the "One Chicago" shows all have 22 episodes prepared for a 35-week season, leaving 13 slots to fill with preemptions or reruns.
According to TV Guide, this week's "Chicago P.D." will be a re-airing of this season's fifth episode, "Burnside," which originally aired on October 20 of last year. After Atwater meets a woman at a club and spends the night with her without revealing he is a police officer, she ends up being a person of interest in a murder investigation, and he goes undercover to help arrest the killer.
The next new episode, "Adrift," will be the 17th of the season and will air on April 6. A promo available on YouTube shows some brief flashes of action and a couple of lines of dialogue but offers no real clues about the plot. This season's 22 total episodes will bring the series back in line with its pre-COVID numbers, having aired just 16 last season and 20 in Season 7.