Zendaya Confirms What We Suspected About Her Net Worth On Google
Arnold Jerocki/Getty Images
Thanks to Zendaya's popular mainstream acting roles as M.J. in the most recent three "Spider-Man" movies, Chani in "Dune," and her star turn as Rue Bennett on HBO's "Euphoria," the 25-year-old actress has grown into one of the most sought-after performers in the film and television industry.
Zendaya brings years of goodwill with her fans to any project; she's been active in the industry since getting a major first break on the Disney Channel series "Shake it Off" alongside co-star Bella Thorne in the early 2010s (via IMDb). Her fans are fervent followers of her work, prompting entire news cycles built around her small amount of screen time in Denis Villeneuve's "Dune," for example — not many artists have that kind of popularity going for them (via BuzzFeed).
2021 in particular was a major year for Zendaya's career. Outside of "Dune," "Spider-Man," and finalizing Season 2 of "Euphoria," Zendaya starred alongside John David Washington in Sam Levinson's "Malcolm & Marie," and took on an iconic voice role as Lola Bunny in the Warner Bros. basketball comedy "Space Jam: A New Legacy." To start 2022, Zendaya is filming Luca Guadagnino's upcoming film "Challengers" with "West Side Story" star Mike Faist — a film she is also serving as a producer on (via Deadline).
Given all the high-profile work Zendaya has done in recent years, it's reasonable for fans to wonder just what her net worth might be. Zendaya herself pointed toward an answer to that question in a recent viral video.
Zendaya says her net worth is more than $1.5 million in a viral TikTok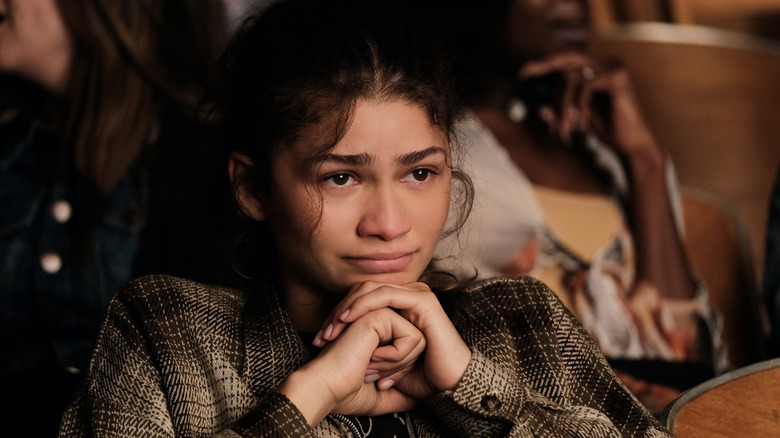 Eddy Chen/HBO
A recent viral TikTok features an audio clip of Zendaya reacting to a Google search for her own net worth, which is listed as $1.5 million at the time of the video's creation. In the nine-second video — prompted by TikTok's AI voice saying "remember when Zendaya Googled her own net worth" — Zendaya quips that she doesn't quite know the exact number, as a search finds one website listing her net worth at $1.5 million. If Zendaya didn't know the exact number at that time, she at least knew the baseline, because she immediately takes issue with $1.5 million.
"Girl, I'm worth more than that, I can tell you that [right now]," she says in the video.
It's hard to tell exactly where or when this audio originates from — the short video clip of Zendaya used is from her May 2019 appearance on Vogue's "73 Questions with Zendaya" video, but she does not address her net worth in that interview. The audio is from a separate interview entirely, and given more recent estimates of Zendaya's net worth, the clip is likely a few years old.
Despite the fact that Zendaya knows she's worth millions, she told Vogue in 2021 that she does not like spending money on herself and will always feel a need to keep working to make sure she stays financially solid. Given the amount of money she appears to make, that shouldn't be a problem as long as she remains financially savvy.
What is Zendaya's real net worth?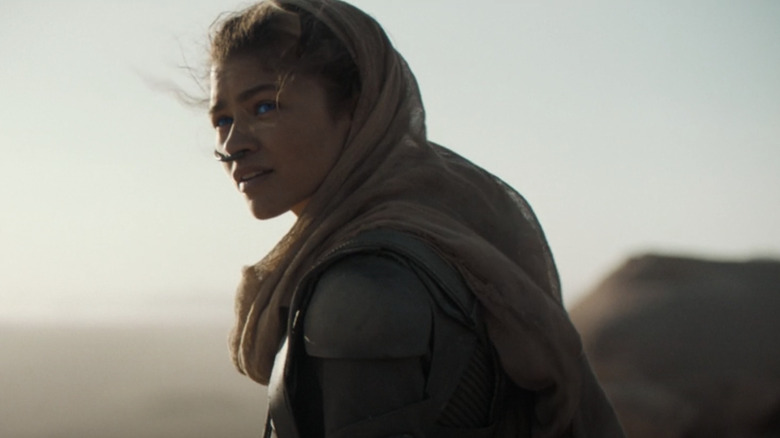 Warner Bros. Pictures/HBO Max
A more recent estimate of Zendaya's net worth by Celebrity Net Worth claims the actress is worth $15 million as of 2022 — significantly higher than the $1.5 million that Google listed her net worth as in the viral TikTok.
Zendaya comically scoffed at the $1.5 million number in that video, but it's unclear how close to $15 million her net worth may have been at that time. It's also unclear exactly how this net worth estimate has been amassed: the website notes that Zendaya reportedly dished out $1.4 million for her home in Northridge, California in 2017, and spent another $4 million on a property in Encino, California, as well. Additionally, the New York Post reported in 2021 that Zendaya purchased a condo overlooking New York Harbor in Brooklyn Heights for $4.9 million.
The website ShowBiz Galore claims that in 2021, Zendaya made $300,000 for her role as Chani in "Dune: Part One," and that she was paid $2 million for reprising her role as M.J. in "Spider-Man: No Way Home" — which helps account for some of the recent increase in her overall net worth. Beyond Zendaya's acting projects, she stepped up to serve as an executive producer on Season 2 of "Euphoria" on top of her starring role, which likely provided her with a larger salary from the series (via IMDb). Zendaya has also worked as a brand ambassador for fashion powerhouses like Tommy Hilfiger and Valentino (via Harper's Bazaar).