Why Monty From 13 Reasons Why Looks So Familiar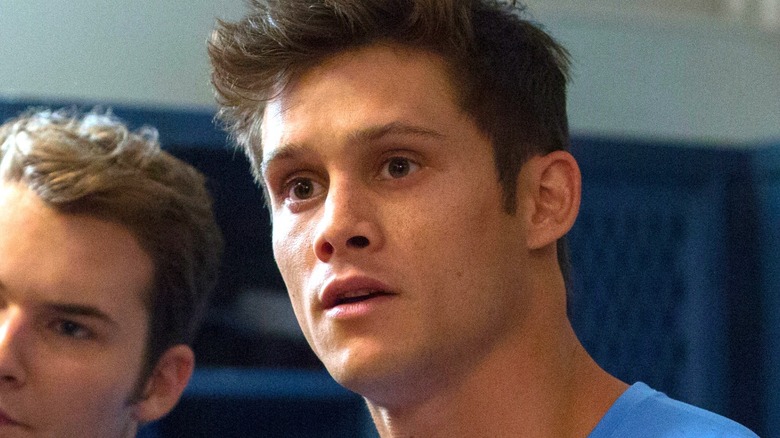 Beth Dubber/Netflix
"13 Reasons Why" on Netflix showed the trials, tribulations, and hardships teenagers go through in the modern era. It's not just bullies at school kids these days have to deal with, although there are certainly plenty of those around ready to cause trouble. Amongst school shooting threats and drug use, the protagonists of the series also have to contend with the offensive words and actions of Monty de la Cruz (Timothy Granaderos). He's on the football team and is best friends with Bryce (Justin Prentice). The two often use their status as football stars to avoid repercussions for their harmful actions.
While it's easy to hate Monty initially, the audience soon becomes aware of his depressing backstory, and even though it doesn't excuse his actions, it at least provides context for how someone turns out as vicious as him. And Granaderos embodies all of the intricate facets of the character. If you were impressed with the actor's ability to sink into a role as complex as Monty, you'll want to check out some of the other parts he's had over the years. 
He broke out in one of Selena Gomez's music videos
Many people may not have realized initially that Selena Gomez is an executive producer for "13 Reasons Why," and star Timothy Granaderos actually had a connection with the pop singer before being cast on the hit Netflix series. In 2011, a lot of people were probably introduced to him for the first time seeing how he had an appearance in the singer's music video for "Love You Like a Love Song."
However, the Gomez connection goes back even further than that. As the actor told ABC Radio, "When I first started working in the industry, I was a production assistant, and I worked on 'Wizards of Waverly Place' with Selena in it" (via KSRO). However, he earned a spot in her music video without her aid, going on to say, "At the same time, I just started kind of loosely auditioning and modeling a little bit, and I booked her music video independently of her."
It would appear the collaboration between Granaderos and Gomez was merely destined to be.
Granaderos went back to high school in Marvel's Runaways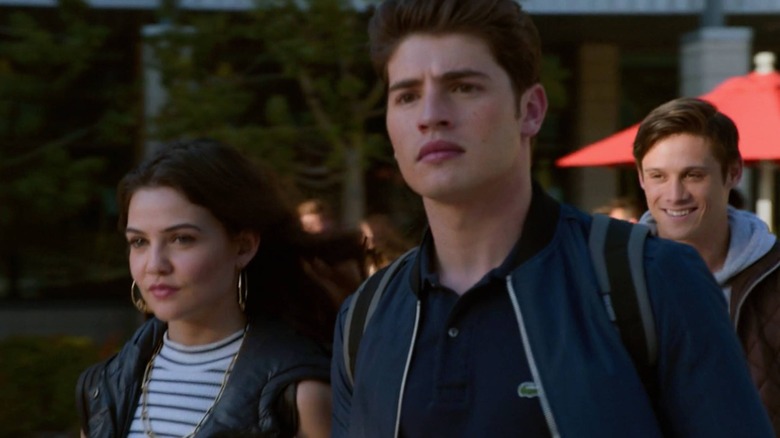 Hulu
While he was still appearing in new episodes of "13 Reasons Why," Timothy Granaderos had another high school-themed show to add to his resume. Namely, he appeared as Lucas on Marvel's "Runaways." The series follows a group of teenagers who discover they have secret powers, and they must use their gifts to stop their parents from unleashing untold horrors upon the world. Granaderos isn't one of the superpowered individuals. Instead, he's one of Chase's (Gregg Sulkin) friends. You can find him in two episodes of Season 1 — "Reunion" and "Fifteen" — as well as Season 3's "Cheat the Gallows."
He plays a similar character to Monty from "13 Reasons Why." Lucas is a jock who regularly finds himself in trouble with his fellow classmates as he can't help but rub people the wrong way. Too bad in the Marvel Cinematic Universe, it's never a good idea to mess with people who actually have powers ...
Audiences could recently find him on The Sex Lives of College Girls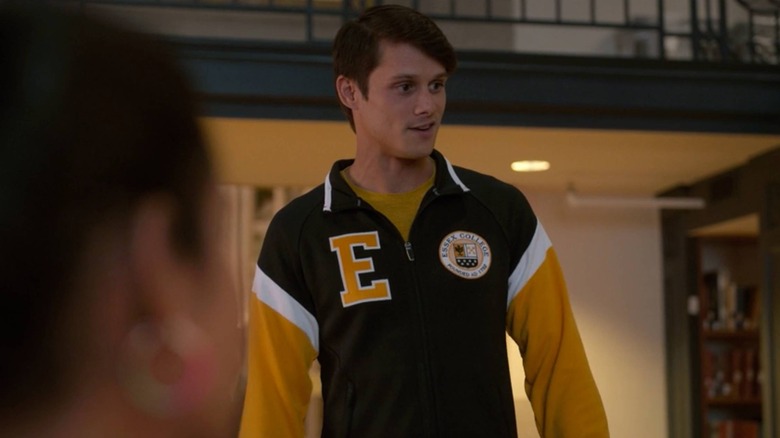 HBO Max
It would appear Timothy Granaderos' penchant for playing jocks even extends to the college-aged characters he plays. One of the actor's more recent credits is as "Locker Room Guy" on "The Sex Lives of College Girls." His character gets into a bit of a verbal sparring match with some of the main characters in the episode "That Comment Tho" when he sports a pretty slick new outfit. The girls don't appreciate the fact the boys' sports teams always get free apparel even though they're not as good as the girls' teams. 
This is just a tiny sampling of the kind of work Granaderos has partaken in over the years. He's gotten consistent work and has plenty of projects on deck, so if you loved to hate him as Monty in "13 Reasons Why," there will be plenty of opportunities to see what he manages to do next.