George Lucas Allowed Seth MacFarlane To Parody Star Wars In Family Guy Under One Condition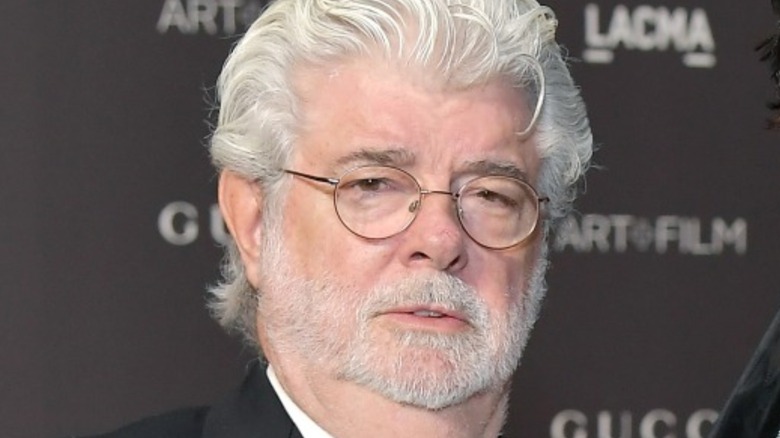 Barnard/Getty
Seth MacFarlane is a notorious funnyman who has created several animated series which include "Family Guy," "American Dad," and "The Cleveland Show." Not only is he the mastermind behind these hilarious television series, he has also appeared in person in "Ted," "A Million Ways to Die in the West," and "The Orville" (via IMDb). "The Orville" itself is a parody of "Star Trek," and has been met with critical acclaim once the show found its bearing, with Season 2 of the show hitting the impressive milestone of a 100% critic score on Rotten Tomatoes.
George Lucas is legendary in his own rights, being the brains behind the behemoth pop-culture cornerstone known as the "Star Wars" franchise. Having created a world full of mystic warrior-priests and daring dog fights with spacecraft, "Star Wars" is always ripe for parody, and has been riffed by everyone from Weird Al to Mel Brooks to Kevin Smith. Mel Brooks created "Spaceballs" in 1987 (via IMDb), and the movie is wholly inspired by "Star Wars" and it thoroughly lampooned aspects of the story. According to Maxim, when Brooks went to make the movie he asked for Lucas' blessing, to which the only stipulation provided was that there were no actions figures from "Spaceballs" because they would look too similar to the original characters. Considering that Lucas is open to people making fun of his properties, what hoops did MacFarlane have to go through in order to make his "Star Wars" parody?
Lucas asked MacFarlane to make sure that the parody characters looked like their original versions
MacFarlane created a three-part series that hits all of the same beats that the original "Star Wars" trilogy hit, with "Blue Harvest" lampooning "Star Wars: A New Hope," "Something, Something, Something, Dark Side" eviscerating "Star Wars: The Empire Strikes Back," and "It's A Trap!" parodying "Star Wars: Return of the Jedi" (via IMDb). Instead of the likes of Harrison Ford and Carrie Fisher, we get Peter and Lois Griffin, with many of the characters from "Family Guy" filling in all of the iconic roles from "Star Wars."
However, considering that Mel Brooks sought George Lucas' blessing before embarking on the production of "Spaceballs," what was the caveat that MacFarlane had to comply with? It turns out that Lucas had but one request when it came to the MacFarlane project, and that was that the characters should look like their original inspirations. MacFarlane told the Los Angeles Times, "The first episode came about because we were doing so many 'Star Wars' gags that finally Fox's legal department said, 'Hey, we got to start clearing this with Lucas or we're gonna get sued.' We got very depressed and thought, 'Well, this is it.' But to our surprise, Lucasfilm said something we never, ever hear: 'OK, you can do it, just make sure the characters look exactly like they do in the movies.'" It seems then that Lucas is generally okay with people making fun of his intellectual creations, as long as they are willing to honor simple requests.