Don Cheadle Agreed To Appear In Rush Hour 2 Under One Condition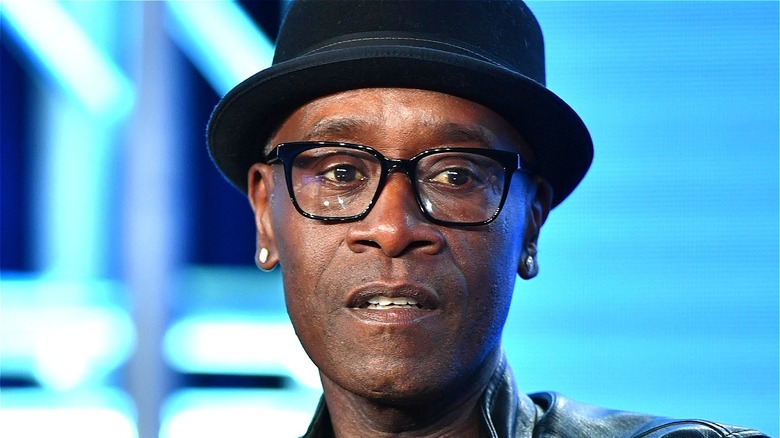 Amy Sussman/Getty
New Line Cinema had a new franchise on its hands when "Rush Hour" debuted to commercial success in 1998. The buddy-cop picture featured Hong Kong action film superstar Jackie Chan in his first major American role, making the Brett Ratner film a must-watch for fans of the actor. Joining Chan was comedian Chris Tucker. Together, the two actors formed one of the most memorable on-screen duos: Inspector Lee (Chan) and Detective Carter (Tucker).
After the success of the first film — it grossed over $240 million (via Box Office Mojo) — New Line Cinema quickly swooped up Ratner, Chan, and Tucker for a sequel that would see the two police officers traveling to Hong Kong on vacation, only to get caught up investigating a new conspiracy. In true sequel fashion, 2001's "Rush Hour 2" was bigger, with more action sequences, higher stakes, and star-studded cameos, though critical reviews were mixed.
Award-winning actor Don Cheadle, who now has a steady gig as Marvel Studios' War Machine, played a small role in "Rush Hour 2." Cheadle, who had previously appeared in Ratner's "The Family Man," only agreed to star in the action-comedy if he got to do something every Jackie Chan fan has dreamed of.
Don Cheadle wanted to fight Jackie Chan
In the "Rush Hour" sequel, Don Cheadle appears as Kenny, an ex-con and an informant of Carter's. Kenny is fluent in Chinese and has a brief, playful brawl with Lee who acknowledges his prowess in martial arts. When it came time to cast Kenny, Ratner immediately sought out Cheadle, who agreed to film the cameo as long as he go to hold his own against Chan.
"I told him, 'I'll be in the movie if I can speak Chinese and fight Jackie Chan,'" Cheadle recounted to Mic. "So they wrote the part, and I went and met Jackie and met his team and choreographed it and practiced it...Then we got on set and improvised and messed around and then we did the fight scene. And I was like, 'Wow, I got to fight Jackie Chan in a movie.' That was the whole draw of the job for me."
Chan's characters are known for being brutal and deadly when it comes to fighting, so it's no wonder Cheadle would want to be able to brag about going toe to toe with the master. The resulting scene is definitely one of the highlights of the sequel.