The Highest-Rated Episodes Of Breaking Bad According To IMDb
For many people, AMC's "Breaking Bad" is the "Citizen Kane" of television. The critically acclaimed series currently owns a 96% critics score on Rotten Tomatoes, only a single point lower than the audience's estimation. While more than a few critically heralded series rest comfortably above a 90% average on Rotten Tomatoes, it is certainly rare for a series like "Breaking Bad" to enjoy such an astoundingly high rating more than eight years after its series finale. Of course, "Breaking Bad" isn't just any TV series.  
The story of the chemistry teacher turned meth kingpin is a riveting tale of shocks and surprises. On IMDb, "Breaking Bad" is also consistently ranked as one of the greatest television series in the history of the medium. The series currently owns an average IMDb rating of 9.5 out of 10. Season 5 is the highest-rated season of the series, earning 9.4 out of 10. Conversely, the lowest-rated season of the series, Season 1, still sits at a very respectable 8.7. So, with all of this in mind, which episodes of the series do IMDb users consider the greatest of the great?
It's a three-way tie for near perfect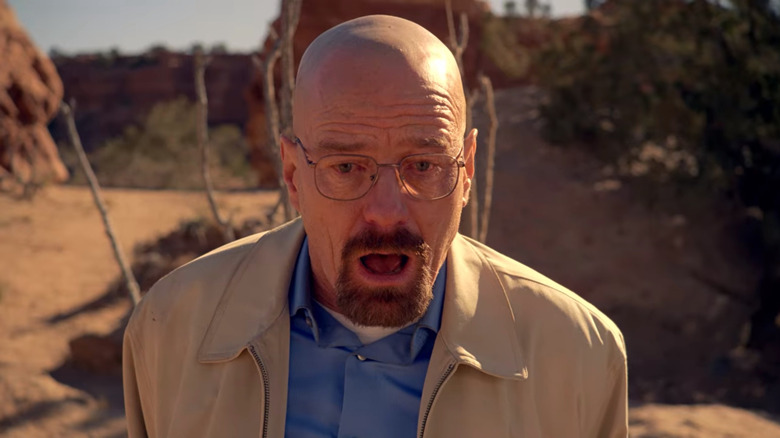 AMC/Netflix
A whole three episodes of "Breaking Bad" have earned a near-perfect score on the popular internet movie data base. The first "Breaking Bad" episode currently sitting at 9.9 out of 10 stars on IMDb is Season 4, Episode 13 ("Face Off"). This is the episode in which Walter White (Bryan Cranston) murders Gustavo Fring (Giancarlo Esposito) in a nursing home. Not only does this episode mark the end of a season, but it also signifies Walt's victory over a particularly menacing villain.
The second episode of the series with a near-perfect IMDb rating is Season 5, Episode 14 ("Ozymandias"). Of course, "Breaking Bad" fans should recognize this episode better than almost any other. Often cited by many critics and fans alike as the greatest episode of the series, "Ozymandias" features the true unraveling of Walt's life when his brother-in-law, DEA ASAC Hank Schrader (Dean Norris), is murdered by Jack Welker (Michael Bowen), an associate of Walt's. Just when Walt thinks he's about to escape the aftermath of the disaster, Skyler (Anna Gunn) decides she has had enough of Walt's lies and takes a stand against the meth kingpin. As of this writing, this episode has been reviewed by more than 163,000 IMDb users, the most of any episode in the entire series.
The third episode of "Breaking Bad" to receive such love among IMDb users is also its last. Since its release in 2013, "Breaking Bad" Season 5, Episode 16 ("Felina") has repeatedly been labeled by critics as one of the greatest series finale in television history (via Rolling Stone). Following Walt's departure from Albuquerque in Episode 15 ("Granite State"), Walt returns to his home city to set a few things right.
While it remains to be seen if any episodes of "Better Call Saul" will ever manage to reach this same level of universal acclaim, the spin-off series is set to begin airing its final season soon.