The Hulk Scene In Endgame That Was Surprisingly Difficult To Film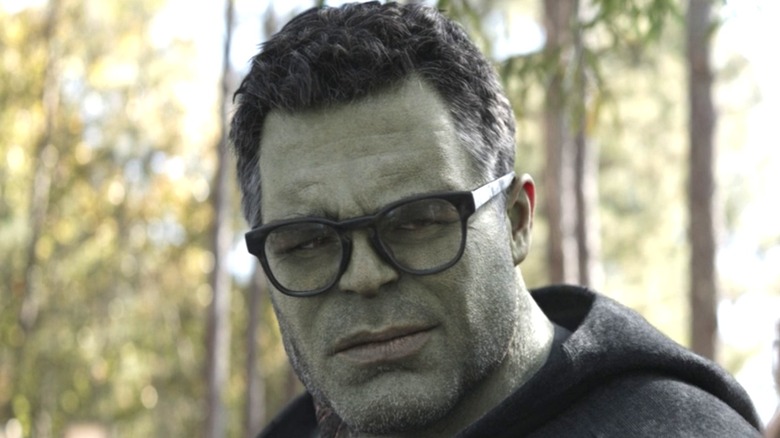 Marvel Studios/Disney
With the upcoming "She-Hulk" Disney+ series drawing nearer, Marvel fans are anxiously awaiting the arrival of Tatiana Maslany's Jennifer Walters. Marvel Entertainment confirmed a while back on Twitter that Mark Ruffalo's Bruce Banner (who should now technically be Smart Hulk) would be returning as well, likely in a sort of mentor role to assist Walters with her newfound abilities. However, based on the post-credits scene at the end of "Shang-Chi and the Legend of the Ten Rings," it appears that Bruce somehow went back to his human form separate from the Hulk, although his arm remains in a cast from using the Infinity Gauntlet.
Witnessing Bruce become Smart Hulk during the events of "Avengers: Endgame" was one of the most controversial aspects of the film among fans. Nevertheless, Bruce still came through when the Avengers needed him most in less smash-y ways. He worked with Tony Stark (Robert Downey Jr.) and Scott Lang (Paul Rudd) to create their time travel device, and he was still the only one strong enough and mentally stable enough, considering Thor's situation, to make the first snap that truly brought the rest of the Avengers and half the Marvel Cinematic Universe back from the dead.
The Hulk's scenes also notoriously take a lot to film, including a big motion capture suit, among other things (via Marvel Entertainment). This was no different in "Avengers: Endgame," although the most difficult scene to film with the Hulk may surprise you. Here's what we know.
The Hulk signing autographs was one of the most difficult scenes to shoot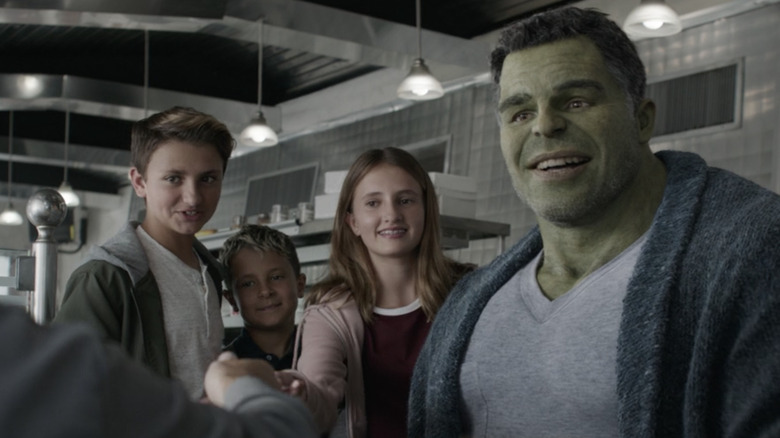 Marvel Studios/Disney
Although "Avengers: Endgame" is completely filled to the brim with CGI, large-scale sets, and green screens, the diner scene where Scott, Steve Rogers (Chris Evans), and Natasha Romanoff (Scarlett Johansson) confront Smart Hulk for the first time in years was the most difficult to arrange according to director Anthony Russo. While speaking with Cleveland.com in a 2019 interview, Russo noted that although there were plenty of cameos from characters that fans had seen in other movies — like Tilda Swinton's the Ancient One, Michael Douglas' Hank Pym, John Slattery's Howard Stark, and of course, Hayley Atwell's Peggy Carter — the cameos of the children who ask for the Hulk's autograph was especially challenging.
That's because the young actors in that scene are the Russo brothers' own sons and niece. Russo explained that their school schedules were tough to work around. In fact, the cameos from Academy Award winners like Robert Redford were easier to make happen. Of all the reasons a scene in a mega-scale blockbuster like "Avengers: Endgame" could be hard, this one is pretty funny.
Bruce Banner will return in the "She-Hulk" series with a release date expected sometime around this summer. We'll keep you updated.