The Agents Of S.H.I.E.L.D. Star You Likely Missed In American Rust
Slow-burn detective stories have become like catnip to actors seeking to make their marks on the world of television, from Matthew McConaughey and Woody Harrelson in 2014's "True Detective" to Kate Winslet in last year's "Mare of Easttown." "The Newsroom" actor Jeff Daniels also got the call to head one of these twisty crime stories last year with Showtime's "American Rust."
Based on a novel by Philipp Meyer, "American Rust" is a gloomy look at rural America featuring Daniels as Del Harris, a Pennsylvania chief of police who finds himself investigating the son of the woman he loves for murder. The show didn't quite take off like "True Detective" or other dark cop dramas, getting slapped around by critics with a 27% rotten rating on Rotten Tomatoes. Showtime canceled it after only one season (via Variety).
Audiences will not be seeing more of Del Harris or his troubles again anytime soon, but the nine-episode series remains a significant work that will continue to earn fans, thanks in large part to the ensemble cast headed by Daniels. While the lead actor is the most recognizable face in the show, there are numerous others who disappear into their roles, including "The Affair" star Maura Tierney. The Showtime series also features an "Agents of S.H.I.E.L.D." star in an important role that you may have missed. 
American Rust actor Alex Neustaedter played a dark character on Agents of S.H.I.E.L.D.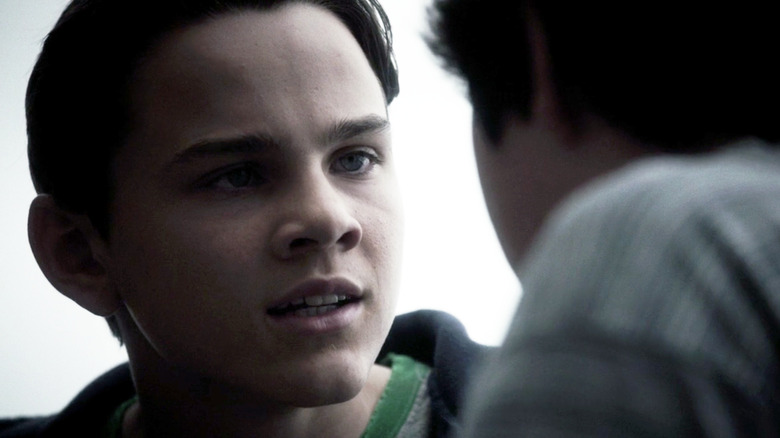 Marvel Studios/ABC/Disney+
In "American Rust," the character of young Billy Poe, a past high school football star who finds himself accused of murder, is portrayed by Alex Neustaedter. One of the actor's first roles was in ABC's Marvel television series "Agents of S.H.I.E.L.D.," which connected with audiences a little more easily than "American Rust," running for a total of seven seasons. 
Neustaedter appeared in one of the first episodes of the long-running series in Season 1, Episode 8, which was titled "The Well." He played the abusive older brother of the tortured, not-always-good-guy Grant Ward (Brett Dalton) in a flashback sequence, listed in the credits as Maynard. Grant confronts him about these memories in Season 2, though the character as an adult is played by Tim DeKay as an antagonist senator with the first name of Christian. Neustaedter's episode, directed by Jonathan Frakes, marks one of the more significant ones for the show since it also directly ties into the MCU films, with the story acting as a follow-up to 2013's "Thor: The Dark World" as the team searches for an Asgardian weapon.