1883's Tim McGraw Confirms What We Suspected About Sam Elliott's On-Set Behavior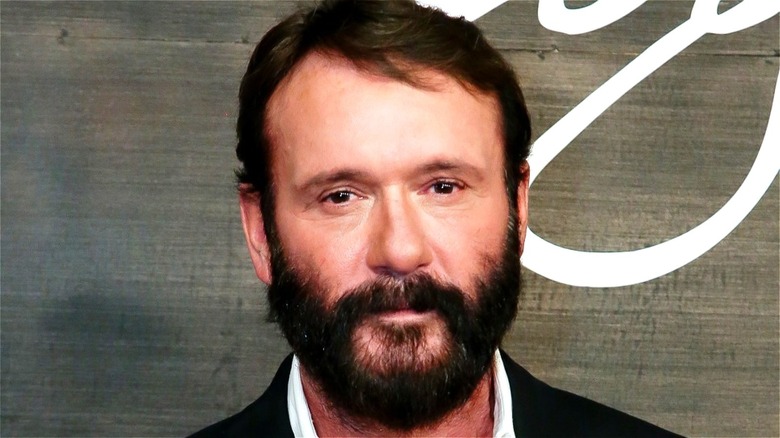 Greg Doherty/Getty
The "Yellowstone" prequel series "1883" aired its Season 1 finale on Sunday, February 27, bringing the latest chapter of the Dutton family saga to a close. In the show's gut-wrenching final chapter of the season, the Dutton family diverts from their goal of traveling to Oregon and instead settles in Montana, where the family remains in the present day, as we see on "Yellowstone."
As a prequel series to the original "Yellowstone," "1883" featured a new cast that was headlined by country music legends Tim McGraw and Faith Hill, who played the Dutton family patriarch and matriarch, James and Margaret, respectively. For McGraw and Hill, the job was a challenge. Both musicians have appeared on TV shows and movies before, but playing the main characters of a 10-episode Western was a whole different beast.
Luckily, McGraw and Hill had Elliott as one of their fellow cast members and someone with whom they each shared a good deal of screen time. Elliott is a beloved screen veteran with over 100 credits to his name (via IMDb). Furthermore, roles in classics like "Butch Cassidy and the Sundance Kid" and "Gunsmoke" made him such a legend in the world of Westerns that, by the time he shows up in "The Big Lebowski," his character feels like a winking nod to his cowboy roles of days gone by.
In terms of acting skill, Elliott is on a whole different level and is pretty much the gold standard when it comes to playing hardened men of the frontier. As such, it might be easy to see why acting opposite the mustachioed thespian would be exciting, even for seasoned performers like McGraw and Hill. Recently, McGraw shed some light on what it was like working with Elliott, and it is totally surprising.
Tim McGraw reveals Sam Elliott teased him at the end of filming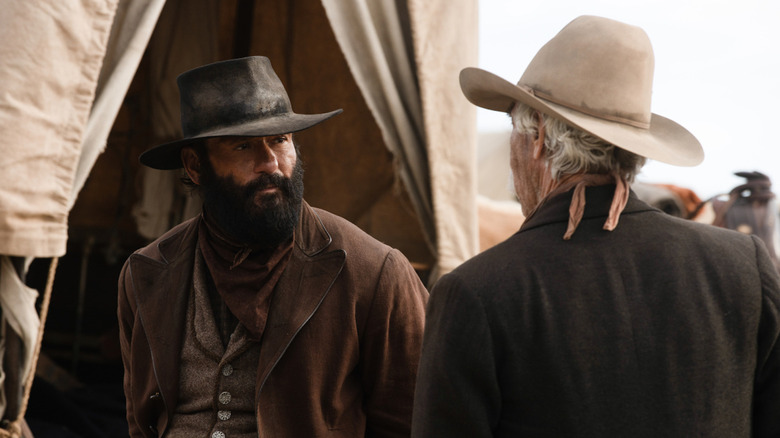 Emerson Miller/Paramount+
Following the release of the final episode of "1883" Season 1, titled "This Is Not Your Heaven," Tim McGraw shared a farewell video to fans on his Instagram page and Twitter timeline. The video featured an attention-grabbing caption that read, "What Sam Elliott learned from me while filming '1883,'" teasing fans that the country singer was about to reveal a whole new side to his co-star. McGraw began by saying, "We had so much fun [while filming]. My favorite thing was getting to work alongside my wife [Faith Hill]." He then went on to say, "But getting to work alongside Sam Elliott, who's just a legend. Everything you'd ever think that he was, he lived up to. He was one of the nicest, sweetest guys in the world."
Then, McGraw told a story about one of their last days working together. "One particular day, I told Sam, you know, 'Thanks for doing this and being a part of this. I just wanted to let you know that I've learned so much from watching you.' And he just looked at me and said, 'Oh yeah?' He says, 'Well, I haven't learned a f***ing thing from you."
Although McGraw left out the part we'd expect to hear next — how he responded to Elliott's hilarious yet cutting one-liner — it's still a top-tier, chuckle-worthy anecdote. The "1883" star's story also reminds us of another incredible on-set story he shared in early February that's worth revisiting now.
McGraw and Elliott have had more than one memorable run-in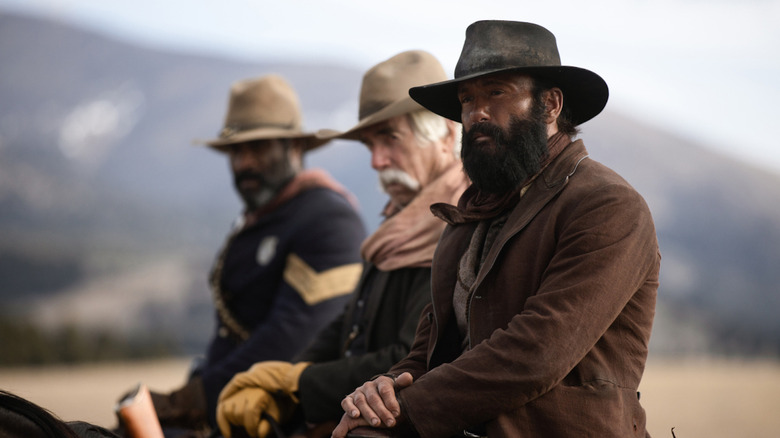 Emerson Miller/Paramount+
Tim McGraw's "1883" Season 1 finale story about Sam Elliott seems to match up with another tale the James Dutton actor shared during an early February appearance on "The Late Show with Stephen Colbert" (via YouTube). At one point in the actor's chat with host Stephen Colbert about the oddities of filming a TV show set in the late 19th century, he touched on working with Elliott. 
The change in the topic of conversation allowed McGraw to recall an awkward moment while filming Episode 2, "Behind Us, A Cliff." While shooting a scene that featured Billy Bob Thornton, the singer-actor said he was so distracted by Thornton's performance that he stepped on Elliott's line. "I totally forgot I had a line with Sam, so I just blow right by Sam and don't stop and deliver my line," he told Colbert. Although McGraw apologized for the goof, he was met with a withering comment from Elliott: "At least you got the squint down." Yikes.
It sounds like everyone on the set had a great time making the "Yellowstone" prequel series. Unfortunately, since we learned Brennan's fate in "This Is Not Your Heaven," Elliott most likely won't be back for "1883" Season 2.