The Best Time James Gandolfini Ever Broke Character On The Sopranos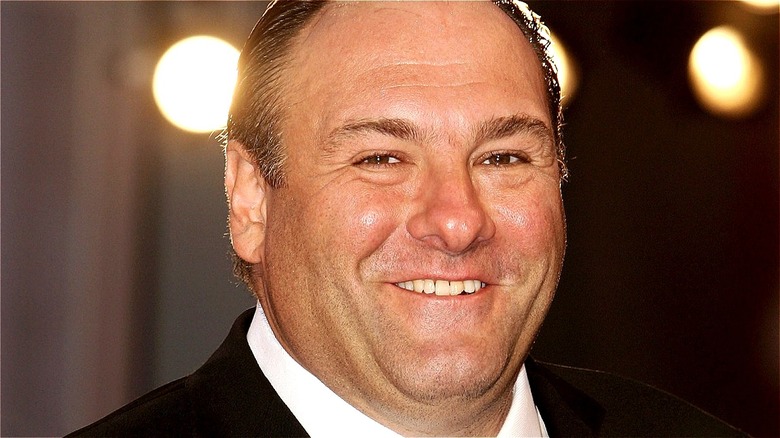 Pascal Le Segretain/Getty
Many stories emerged after James Gandolfini's unexpected death in 2013 about his generosity and kindness on the set of "The Sopranos," including the anecdote that he gave his co-stars $33,000 each after a contract dispute (via The New York Post). But playing the starring role of depressed, turbulent gangster Tony Soprano also took a serious toll on the character actor.
Gandolfini had signed on to play violent monsters before in movies like Tony Scott and Quentin Tarantino's "True Romance," but not for months and years at a time. He often showered after filming because he felt "dirty," acknowledging to a friend that to become Soprano, he had to tap into his dark side (via Vulture). His return to substance abuse to cope with his performance even inspired loved ones to stage an intervention in 2003.
However, as the affectionate and good-natured leader of the cast during production of the show, Gandolfini had moments of levity on set as well. One ridiculous incident in Season 3 would even lead to one of the funniest scenes on "The Sopranos."
Gandolfini didn't expect his co-star to be wearing a sex toy
A famous moment in the already classic "Sopranos" episode "Pine Barrens" sees Tony laughing hysterically when the sweet, put-upon Bobby Baccalieri (Steve Schirripa) arrives at Junior's (Dominic Chianese) house in an extremely puffy hunting outfit. Bobby is outraged at the humiliation but goes with Tony anyway to search for wayward gangsters Christopher (Michael Imperioli) and Paulie (Tony Sirico).
Schirripa revealed in the "James Gandolfini: Tribute to a Friend" documentary that before filming, Gandolfini asked that he really make him laugh, as he'd already seen the hunting outfit. Schirripa then talked to the prop guy for the show and soon he'd received "the biggest dildo, looked like an Italian bread." So when the actor walked into the room, the filmed scene audiences saw was really "Jim basically [falling] over laughing" because Steve was wearing a prosthetic the entire time offscreen. Whether or not you know the truth behind the reaction, it's still one of the funniest moments on an already hilarious show, and a testament that Gandolfini did sometimes enjoy the role of Tony Soprano.