How Better Call Saul Actually Started Out As A Joke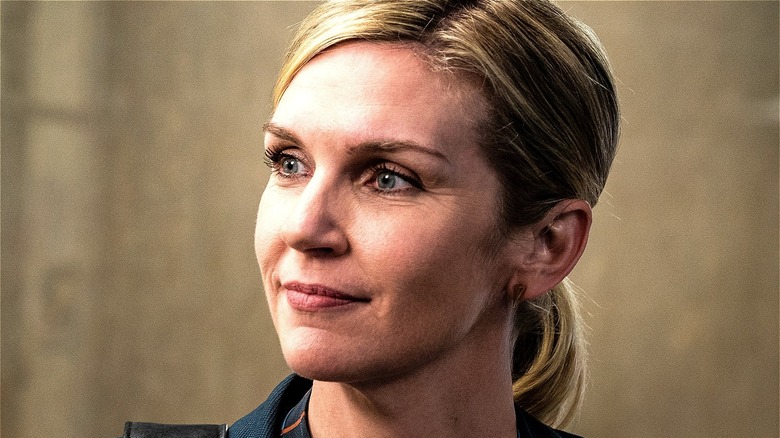 Greg Lewis/AMC/Sony Pictures Television
Considering how Vince Gilligan's "Breaking Bad" became such a pop culture behemoth over the years, it isn't really surprising that he and co-creator Peter Gould managed to make "Better Call Saul" something truly special in its own right. We're in the era of spin-offs, prequels, and sequels, and somehow, the 2015 series manages to expand the "Breaking Bad" universe in all directions. It tells the story of Jimmy McGill (Bob Odenkirk), an ex-con artist who decides to become an attorney. Eventually, he remakes himself into "Saul Goodman," the charismatic, yet shady lawyer fans came to know and love in "Breaking Bad."
The show reveals backstory and new characters, while also reintroducing fans to the likes of Mike Ehrmantraut (Jonathan Banks) and Gus Fring (Giancarlo Esposito). It has proved to be a hit with professional critics and AMC viewers alike, as the series holds an average 98% critics rating and 96% audience rating on Rotten Tomatoes. So, considering the acclaim the series has received, it may surprise you to learn that "Better Call Saul" actually started out as a joke before Gilligan and Gould took the idea seriously.
Better Call Saul could have been a sitcom
When hosting a screening of the "Breaking Bad" Season 2 episode "Better Call Saul" at the ATX Television Festival, Bob Odenkirk revealed that one of the "Breaking Bad" cameramen first suggested they do a spin-off revolving around the corrupt lawyer, apparently asking the star, "Can I get a job in the sequel?" According to reporting by Entertainment Weekly, Vince Gilligan explained that the joke carried all the way through to the writer's room, "It was a joke, and then we joked about it so often in the writers' room we thought maybe it's not a joke." Gilligan also added, "By the time 'Breaking Bad' wrapped up, we started talking to Sony."
However, the showrunner explained that they pitched the concept without having a full idea for the series, saying, "We sold it to Sony and AMC without knowing what it was." In fact, they went through a few radically different possibilities before really taking it seriously. Gilligan explained, "We thought it might be a half-hour sitcom. We thought about ripping off 'Dr. Katz.' Week in and week out famous comics would come in with their legal problems."
But Gilligan also confessed that they "knew nothing about writing straight-up comedy." Thankfully, the series turned into the crime drama that pushes the scope of the "Breaking Bad" world much further. It's a shame that it's ending with Season 6, but what a ride it's been.