Why Cobra Kai's Season 3 Finale's Fight Music Means More Than You Think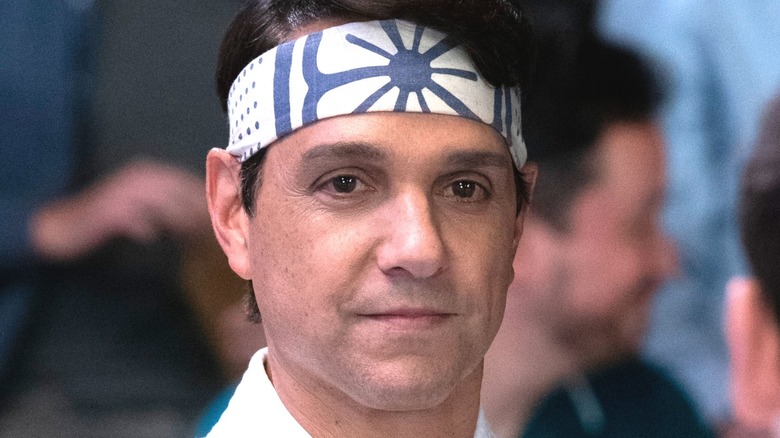 Netflix
"Cobra Kai" debuted on the now-shuttered YouTube Red service in the Spring of 2018 and moved to Netflix after its second season. The "Karate Kid" spinoff joins Daniel LaRusso (Ralph Macchio) and Johnny Lawrence (William Zabka) nearly 35 years after they faced off as teenagers in the All-Valley Karate Tournament. LaRusso is now a successful luxury car dealer with a family and beautiful home while Lawrence lives in a bare, dingy apartment and is fired from his job as a handyman in the series' first episode.
Martin Kove also returns as Cobra Kai sensei John Kreese for Seasons 2-4, as does Elisabeth Shue as Ali Mills for two episodes in Season 3. "Cobra Kai" also introduces a new generation of karate kids, including Daniel's daughter Sam (Mary Mouser), her rival Tory Nichols (Peyton List), Lawrence's son Robby Keene (Tanner Buchanan), and his neighbor and protege Miguel Diaz (Xolo Maridueña).
The Season 3 finale features two epic fight scenes; the students battle at Miyagi-do while Lawrence returns to Cobra Kai to confront Kreese. The face-off between Cobra Kai senseis turns into a six-minute battle including Robby and Daniel complete with flashbacks to Kreese's time in Vietnam.
The musical score throughout "Cobra Kai" is a mix of classical, '80s, and heavy metal themes. Composers Leo Birenberg and Zach Robinson leaned on those standbys when scoring the season-ending confrontation at Cobra Kai, but you might be surprised how much thought goes into matching the music to the action.
Each Cobra Kai character has their own musical theme
Birenberg and Robinson detail their process in an Instagram video posted to the show's official page. Birenberg explains that they had "themes for people, dojos, [and] places" and used a full orchestra to give weight to the show's epic storylines. Robinson pointed out that the Vietnam scenes in particular presented "an opportunity for us to pay homage to our favorite '80s war action film scores."
"There's a lot of '80s hair metal influence in the score in general, but it's in these moments when the characters are in conflict that we get to mash it up with the orchestra," says Birenberg. Kreese's theme, "Duel of the Snakes," dominates Season 3's final scene and Birenberg explains that the character's manipulative nature made him a pleasure to score. "There's always bits of his musical DNA floating around, even when he's just an off-screen presence."
Robinson said that the complex relationship between Kreese and Lawrence was "super fraught" and "provides a lot of drama for us as composers to work with." The title of Kreese's theme evokes the Star Wars "Duel of the Fates" theme, and it's not the only obvious parallel — musical or otherwise — between the two franchises.
"You've got father-son betrayals, master-student betrayals, the stakes are literally life and death," Birenberg told Variety. Their masterful use of individual musical themes to bring those conflicts to life is just one of many strokes of genius that make "Cobra Kai" so enjoyable.