Michael Douglas, Alan Arkin To Star In Chuck Lorre Comedy For Netflix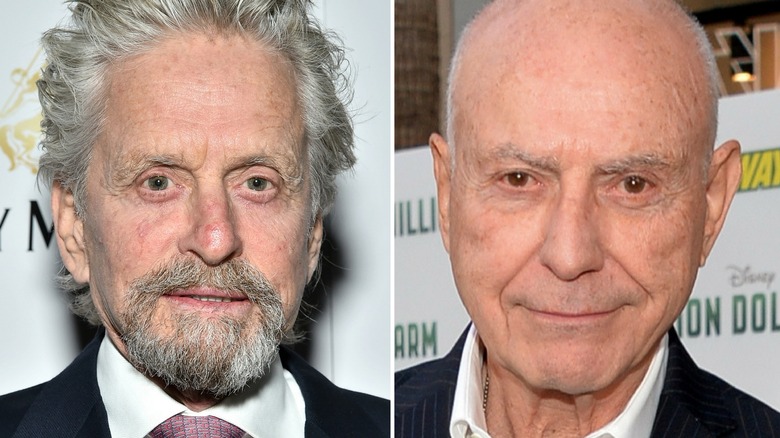 Getty Images
Chuck Lorre's first Netflix comedy Disjointed hasn't even premiered yet, but the creator is already gearing up for another series at the streamer. According to The Hollywood Reporter, Michael Douglas and Alan Arkin are set to star in Lorre's The Kominsky Method.
The show will star Douglas as Sandy Kominsky, a formerly successful actor who now works as an acting coach. According to Lorre, Sandy had a "brief flirtation" with fame a long time ago, but those days have since passed. Arkin will play his long-suffering agent and friend Norman. Douglas is also set to executive produce the single-camera series, which has a 10-episode order.
"I wrote a script and we sent it to them and they said yes," Lorre said of bringing the two legendary actors onto the project. "I'm so excited to work with people that I've admired for 45-50 years. Streets of San Francisco is the first time I saw Michael. Alan Arkin in The Russians are Coming, The In-Laws... I didn't expect them both to sign on."
Lorre is one of the biggest names in television as the man behind The Big Bang Theory and Two and a Half Men. He is already in the Netflix fold for his pot comedy Disjointed, starring Kathy Bates. That series is set to debut in late August. Douglas, meanwhile, is a two-time Oscar winner for One Flew Over the Cuckoo's Nest and Wall Street, and he is currently hard at work filming Ant-Man and the Wasp. Arkin is an Oscar-winner for Little Miss Sunshine and recently earned another nomination for Argo.
Adding another series from Lorre into the mix is a big win for Netflix, and having Douglas and Arkin attached too is just icing on the cake. While we wait for the streamer's domination of the entertainment landscape to continue, see some originals you didn't know they were currently working on.