The Queen Cameo You Might Have Missed In Bohemian Rhapsody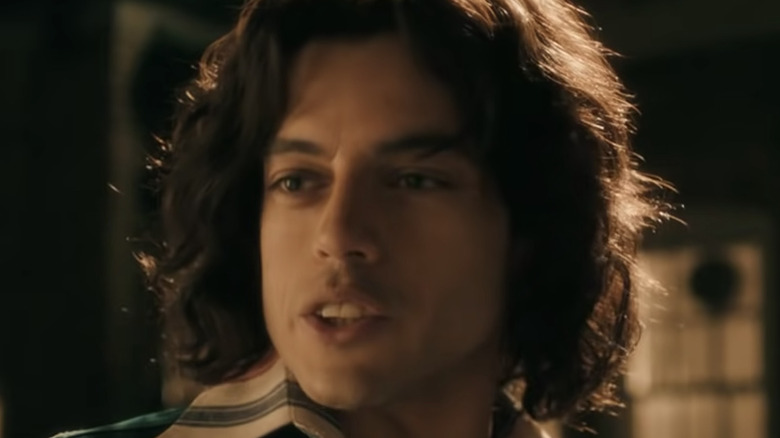 20th Century
In 2018, "Bohemian Rhapsody" hit theaters and rapidly transformed into an international sensation. During its run, the blockbuster film grossed $900 million worldwide, surpassing Marvel gems like "Spider-Man: Homecoming" and "Guardians of the Galaxy, Vol. 2" (via IndieWire). The award-winning biopic tracked the meteoric rise of Queen front-man Freddie Mercury (Rami Malek) as he carved out a singular niche for himself in the music world alongside his bandmates Brian May (Gwilym Lee), John Deacon (Joe Mazzello), and Roger Taylor (Ben Hardy). Despite mixed reviews from critics (via Rotten Tomatoes), the film largely appealed to old-school fans and newcomers dazzled by the music, per Thrillist.
Moreover, the remaining members of Queen, May and Taylor, worked for more than a decade to bring the story to the big screen. At the time of production, they worked closely with the main actors, offering advice and impromptu music lessons. During an interview with the Press Association, May celebrated Malek's portrayal of his late friend, noting, "He inhabited Freddie to the point where we even started to think of him as Freddie" (via Marie Claire). In the end, their tireless efforts paid off in dividends. Not only did fans turn out in droves to watch the movie, but the project itself received a number of prestigious accolades. While "Bohemian Rhapsody" garnered a Best Picture nod at the Academy Awards, Malek took home the Oscar for Best Actor (via Reuters).
When taking into account the enduring popularity of Queen itself — and the band's collaboration with the film — it is no wonder that a surprise appearance made its way onscreen.
Adam Lambert plays the truck driver who catches Freddie's eye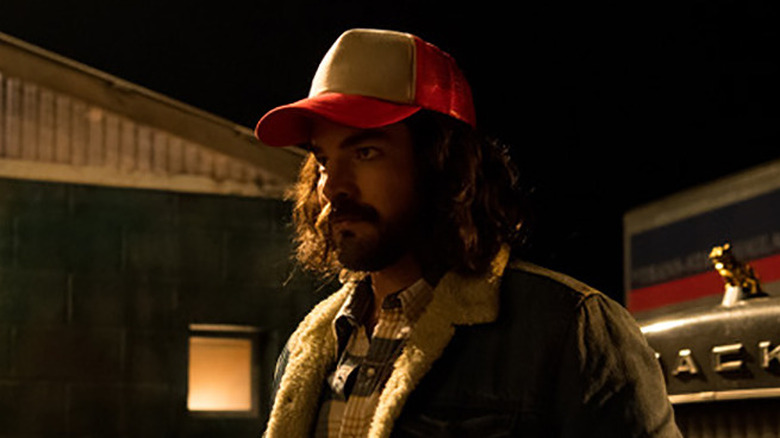 20th Century Fox
Midway through the film, Adam Lambert, the current lead singer of Queen, makes a quick — but notable — entrance. While at a truck stop, Mercury speaks on a payphone with his fiancée, Mary Austin (Lucy Boynton), and catches her up on his tour. At this moment, he makes eye contact with a truck driver who crosses his path. It's a blink-and-you-miss-it cameo, but the shaggy-haired stranger is none other than Lambert. Although uncredited, the singer shared a still of his appearance in the film on Twitter to promote the digital release. In a later interview, Lambert commended Malek's Mercury, noting that he appreciated his "very sensitive portrayal" (via THR). 
While on American Idol in 2009, Lambert met visiting performers May and Taylor (via Express.co.uk). Later, after impressing the Queen bandmates with his vocal range, he was eventually invited to sing with them as main vocalist on tour. Since 2012, Lambert has traveled worldwide with the group, which is now officially known as Queen + Adam Lambert. During this time, May has applauded the singer's abilities, noting, "Adam can do all the stuff that Freddie did and more. It doesn't matter what you throw at Adam — he can do it" (via Guitar World). In light of such high praise, the star's cameo appears to be a subtle, yet heartfelt way to pay homage to Mercury's legacy.