The Best Time Zendaya Ever Broke Character In Spider-Man: No Way Home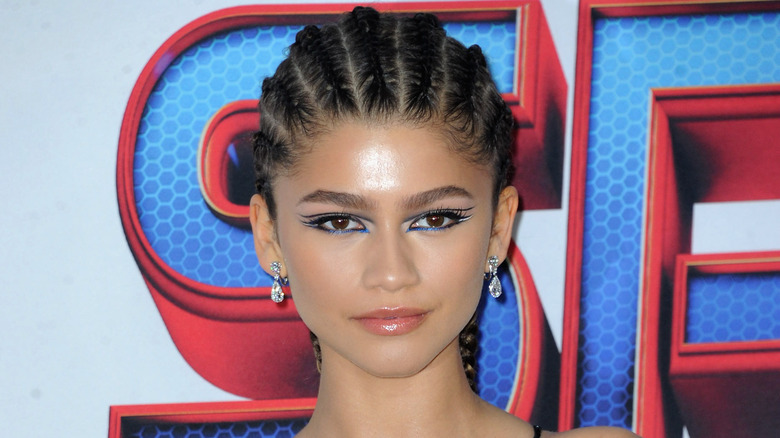 Albert L. Ortega/Getty Images
The digital release of "Spider-Man: No Way Home" is finally here, and fans are absolutely loving all of the behind-the-scenes content. Aside from a few interviews long after the movie's release this past December, we've barely seen Tom Holland, Andrew Garfield, and Tobey Maguire all sit together and discuss the process of shooting "Spider-Man: No Way Home" while keeping Garfield and Maguire's appearances a secret. Fortunately, in the extras from "Spider-Man: No Way Home," we're able to see much of this.
New footage is slowly starting to appear online through fans who have purchased the digital version of "Spider-Man: No Way Home," and it seems that the bloopers are getting highlighted the most — which isn't surprising. The Marvel Cinematic Universe often accrues large compilations of great bloopers over the span of their digital releases. "Spider-Man: No Way Home" is no different, and fans are able to see plenty of laughable interactions between the three Spider-Men, the villains, and of course, Jacob Batalon's Ned and Zendaya's MJ. Both Ned and MJ are arguably the heart of "Spider-Man: No Way Home," making the ending of the film that much more brutal. MJ goes through quite the emotional ride watching Tom's Peter Parker deal with trauma, and losing out on her own college dreams.
Although she was able to play these heavy scenes incredibly well, there are still times where a somewhat serious moment can make for a funny blooper. Here's the best time Zendaya broke character while filming "Spider-Man: No Way Home."
The bread-throwing scene made Zendaya crack up
Courtesy of a little leak of blooper footage from user @dayaspideyx on Twitter, there was one particular scene that truly made Zendaya break character as MJ during the filming for "Spider-Man: No Way Home."
It's unsurprising, as this particular scene in the theatrical release of the movie made many fans laugh as well. Zendaya's break of character takes place during the scene where Ned and MJ first meet Andrew Garfield's Peter after he appears when the two are looking for Tom's Peter. MJ is particularly skeptical of Garfield's Peter, proceeding to make him prove that he's actually Spider-Man through a number of tasks. One of these was notoriously improvised by Zendaya, as she picked up a piece of bread, throwing it at Garfield's Peter to test his "tingle thing" (via Insider).
Garfield's Peter reacts in a way that reflects amusement at her distrust, which makes for a funny moment. However, in the bloopers, it appears that during one take, Garfield fired the piece of bread back at Zendaya, ultimately making her and Jacob Batalon break out in infectious laughter. Given that the scene was mostly improvised, Zendaya was clearly not expecting Garfield to throw the bread back.
You can check out all of these amazing bloopers by purchasing "Spider-Man: No Way Home" on almost any digital platform available. The physical copy of the film will be released on April 12th.