Denis Villeneuve Just Revealed What It Was Really Like To Make Dune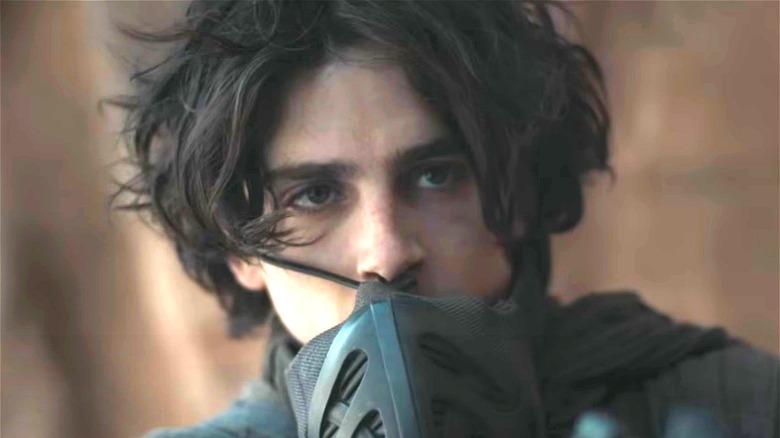 Warner Bros. Pictures
This fall, the latest version of the science-fiction fantasy epic "Dune" is coming to screens (both theatrical and through HBO Max) on Oct. 22 (via Deadline)  — and it's been a long time coming. There have been numerous attempts to adapt the book by Frank Herbert to screen over the decades, but none have properly captured the scope and feel of the dense novel series that focuses on the drug called spice, noble and powerful hereditary houses, and the supernatural Bene Gesserit. 
Production companies have tried, because the grand narrative, while dated with its "colonizer-as-savior" mentality, has always been just that compelling and influential (think "Star Wars" and "Blade Runner," for example). It's also been challenging — remember when Universal Studios famously gave out a vocabulary sheet to movie-goers attending screenings of the 1984 film? That's the level of complicated we're talking about here. 
Legendary Pictures first acquired the rights to the 1965 Frank Herbert novel in 2016, Deadline says, signing director Denis Villeneuve to helm the project in early 2017. The first of two films was scheduled for release in December 2020 by Warner Bros. Pictures, but was moved to Oct. 1, 2021 and then set back just a few more weeks. Finally, it looks like "Dune" is ready for release, and in a new interview, Villeneuve has revealed exactly what it was like bringing this famously hard-to-adapt-successfully IP to life.
Villeneuve said it was the biggest challenge of his career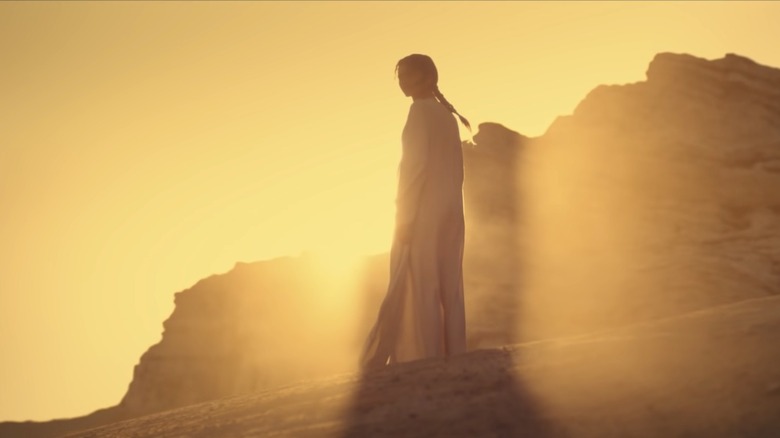 Warner Bros. Pictures
Villeneuve, whose previous projects include "Arrival" and "Blade Runner 2049," seems like a natural choice for another, hopefully definitive "Dune" adaptation. He's a fan, and he's been imagining his version of the movie since he was young, but this simply made his job as director more difficult. "There are deep pleasures when there are images that you're able to achieve that are close to what you had in mind as a teenager; then it's orgasmic," he told GamesRadar+'s Total Film. "But the failures are very difficult, because you disappoint the teenager in yourself."
He refers to "Dune" as "by far, the toughest thing I've done," and Villeneuve is echoing comments he's made before (to Italy's Il Venerdi di Repubblica, via contactmusic.com), when he noted that the project's difficulty stems from the fact that "It's a book that tackles politics, religion, ecology, spirituality — and with a lot of characters." In fact, the director told Total Film that this is a movie he could not have done ten years ago, and he views previous projects as stepping stones to his current position. "Incendies" allowed him to discover the Wadi Rum, Jordan landscape that would stand in for alien deserts in "Dune." He said, "I remember taking mental notes at the time: 'If ever I do the movie, I'm coming back here and there.'" Later, "Arrival" helped him tell "interior" stories on a large canvas, and "Blade Runner 2049" showed him how to build future worlds in a comprehensive way.
Nevertheless, he called the idea of being involved with "Dune" an "inaccessible, out-of-reach dream," and admitted, "I have some kind of a self-destructive device inside me to take projects that are out of my reach." Fans will be able find out if that's true in just a few months — but if this "Dune" can do justice to the source material, it'll be worth all the difficulty, as far as we're concerned.