Misty Knight Meets Colleen Wing In New Defenders Clip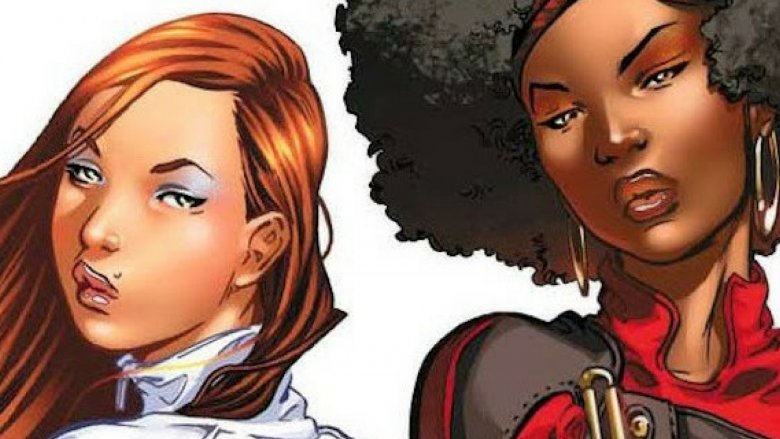 Marvel
Get ready for an epic team-up. A new clip from Marvel's upcoming The Defenders series teases the long-awaited meeting between Misty Knight (Simone Missick) and Colleen Wing (Jessica Henwick), the comic book pairing that would later become known as the Daughters of the Dragon.
"I'm told my uniforms confiscated something unusual from you," Misty says to Colleen in the police station at the start of the clip, which you can watch at the bottom of this article. Colleen replies by saying that it was her katana, which was passed down through her family, but Misty interrupts her to say that it's "weird." From what it seems, Colleen has been called into the station for protection, but she says she can defend herself. Misty counters, though, saying that she came in "pretty bloody." "Are you sure about that?" she asks. "Yeah, I am," Colleen replies.
Considering Missick is set to join Iron Fist's upcoming second season, it's fair to say that Misty and Colleen's relationship will graduate beyond just an awkward interaction in the police station. Still, seeing the two together, however briefly, is definitely exciting for comic book fans, and hints at one of the many highly anticipated team-ups that The Defenders will have to offer.
Charlie Cox's Daredevil, Krysten Ritter's Jessica Jones, Mike Colter's Luke Cage, and Finn Jones' Iron Fist unite to form The Defenders, who will use their eight-episode miniseries to fight against Sigourney Weaver's Alexandra. Jon Bernthal, Rosario Dawson, Elodie Yung, Scott Glenn, Rachael Taylor, Deborah Ann Woll, Carrie-Anne Moss, Elden Henson, and Eka Darville are also set to appear in the series, which will hit Netflix on Aug. 18. For now, get some hints on what to expect by reading up on the superhero team's untold truth.
Feel free to stop by Chikara Dojo anytime. #DEFEND pic.twitter.com/pGjoWTS9e6

— Iron Fist (@MarvelIronFist) August 13, 2017